Hong Kong: Rally and Parade Held to Commemorate the April 25 Peaceful Appeal and to Call for an End to the Persecution (Photos)
April 29, 2011 | By a Falun Gong practitioner in Hong Kong
(Clearwisdom.net) On April 24, 2011, Falun Gong practitioners and other human rights organizations in Hong Kong held a rally and parade to protest the persecution of Falun Gong in China and to commemorate the 12th anniversary of the April 25 Peaceful Appeal. Many well-known human rights activists from Hong Kong, Taiwan and Mainland China gave speeches. They praised Falun Gong practitioners' persistence in their righteous belief in Truthfulness-Compassion-Forbearance over the past twelve years, and declared their firm support for Falun Gong practitioners' peaceful and rational resistance to the persecution.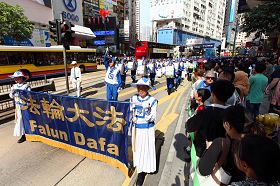 The parade passes through Causeway Bay, catching the attention of spectators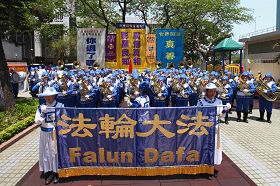 Divine Land Marching Band performs before the rally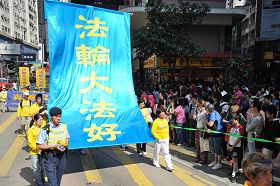 Large banner reading "Falun Dafa is great" is hoisted in the parade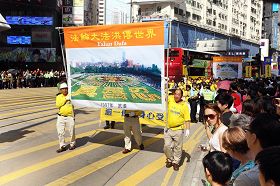 Large poster telling how Falun Dafa is embraced all over the world caught the interest of many spectators
Former Civic Party Leader: I Firmly Believe that the Power of Good Triumphs over the Power of Evil
A Hong Kong Legislative Council member, and former Civic Party leader attended the rally. She said, "I firmly believe that the power of good triumphs over the power of evil, and that doing good deeds is met with good rewards, and being evil is met with retribution." She added that she trusted that Falun Gong practitioners will remain steadfast in their belief and she hoped that more people will benefit from Falun Gong.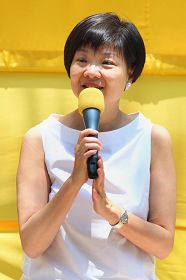 Hong Kong Legislative Council member, former leader of the Civic Party, gives her speech at the rally
Democratic Party president, Legislative Council member Mr. He Junren expressed his support via an audio recording. He stated that he fully supports Falun Gong practitioners and said they enable Mainland China to have freedom of religion. He said that Falun Gong has the support of human rights organizations all over the world. He also conveyed his sympathy to the relatives of practitioners who have been persecuted.
Democratic Party and Legislative Council Member: The False, Evil and Brutal Regime will Be Cast Aside
Democratic Party and Legislative Council member Mr. Huang Chengzhi repeated the three words "Truthfulness, Compassion, and Forbearance" that were displayed on a large banner. He lamented that the communist regime even refuses to accept Truthfulness-Compassion-Forbearance, which in fact demonstrates that it is a false, evil and brutal regime and will be cast aside by people. Mr. Huang highly praised Falun Gong practitioners' long years of contribution toward human rights and freedom of religion, which he said gives him great encouragement. He stated, "There is indeed hope for Chinese people."
HKASPDMC Deputy President: Great Righteous Deeds, Heroic and Moving
Mr. Cai Yaochang, deputy president of the Hong Kong Alliance in Support of Patriotic Democratic Movements in China (HKASPDMC) said that 12 years ago, Falun Gong practitioners peacefully gathered near Zhongnanhai to have their righteous voice be heard. It was a heroic and moving event, recorded in history. He said that he hopes that Falun Gong practitioners continue holding firmly to the truth, compassion and their belief.
Ms. Cai Shufang, spokesperson of the organization Support Group for Prisoners of Conscience in China expressed her gratitude and said, "Thanks so much to Falun Gong practitioners who persist in bringing the truth even after experiencing so many tribulations." She believes that from time immemorial, people who turn against God all come to no good; she highly agreed with the words, "Heaven Will Eliminate the CCP; Heaven Will Protect China."
Support for Truthfulness-Compassion-Forbearance from Mainland China
Several well-known activists from Mainland China also gave speeches at the rally via audio recordings. They expressed their support for Falun Gong practitioners' peaceful and rational protests, and strongly condemned the communist regime's persecution of Falun Gong, which not only violates the law, but which has also brought a huge disaster to China and even to all mankind.
Mr. Bao Tong, secretary for former Central Communist Party Committee Secretary Zhao Ziyang, pointed out, "When Jiang Zemin gave the order to declare that Falun Gong was illegal, and authorized the Congress to make so-called regulations, he was totally trumping up a charge against Falun Gong; it is a crime against humanity."
Mr. Bao considered the persecution of Falun Gong a tragedy that is similar to the Cultural Revolution. He said, "There are so many people in China who believe in Falun Gong. I think Falun Gong is good and necessary for people's morality and health."
Mr. Sun Wenguang, retired professor from Shandong University, said, "The freedom of thought and the freedom of religion are the most basic human rights. When these rights were persecuted, [Falun Gong] practitioners stood up and resisted. It is absolutely a righteous act. Resisting the persecution in a peaceful and rational way manifests Falun Gong practitioners' positive contribution to society."
Mr. Ma Xiaoming, former editor of Shanxi TV Station, strongly condemned the communist regime's harsh persecution of Falun Gong practitioners. He said, "It is beyond all reason; it is violating laws. It is a huge disaster for all mankind."
Awakening the International community
Mr. Zeng Ning from Guizhou Province also expressed his opinion: "The regime's brutal and inhuman persecution against Falun Gong practitioners is completely unacceptable by human moral values and standards in a civilized world. The communist regime is not only committing a crime, but they are also the shame of the civilized world and all human beings." Mr. Zeng said, "It's time the international community woke up. If people still turn a blind eye to the persecution and remain silent, that is the real disaster for the Chinese people, and also a disaster for all the human races and the entire world."
Many people believe that the truth of the persecution will be known to the world, and that practitioners will be eulogized for their contributions to the freedom of belief.
Ms. Yi Rong, from the Global Service Center for Quitting the CCP (Chinese Communist Party), said through a remote connection, "Twelve years ago, ten thousand Falun Gong practitioners peacefully appealed to the government on April 25. Today, 93 million Chinese people have quit the CCP and its affiliated organizations. From this we can see the path clearly; this is a path of conscience and courage, this is the blood of the Chinese people. They are creating hope and a future for China."
Ms. Teresa Chu, spokesperson for the Falun Gong Human Rights Lawyers Working Group, joined the rally through the Internet. She also talked about the great impact the April 25 appeal had on the world. She said the appeal was not only a milestone for Falun Gong practitioners' effort to end injustice in mainland China, but also a great event for Falun Gong to enter the world stage to let the rest of the world know about this peaceful practice.
Spreading the Truth and Promoting Conscience
At the beginning of the rally, the chair of the Hong Kong Falun Dafa Association, Mr. Jian Hongzhang gave a speech. He emphasized that as cultivators, Falun Gong practitioners are not pursuing personal gain or fame. They only hope to spread the truth, promote conscience and stop the persecution, in order to help more people have a bright future.
After the rally, led by the Divine Land Marching Band, the practitioners started a parade through downtown Hong Kong. Many citizens and tourists were drawn to stop and watch it.
Witnessing the Parade, Chinese Tourists Now Long for Freedom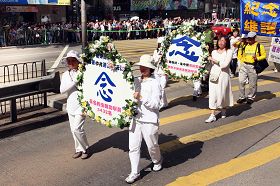 Mourning the Falun Gong practitioners who were persecuted to death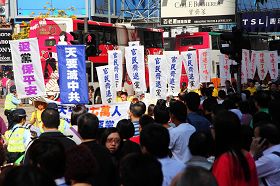 Calling on people to quit the CCP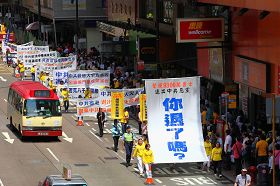 More than 93 million Chinese people have quit the CCP and its affiliated organizations
During the parade, many Chinese tourists stopped to watch. Some appeared to be surprised, some were thoughtful, and some took out their cellphones or cameras to take pictures of the parade. For many tourists, it was the first time they'd seen such a parade. Some said, "What a free society it is in Hong Kong! We can't see this freedom in mainland China at all."
A tourist from northern China said he used to believe the CCP's propaganda and thought that Falun Gong practitioners were paid to do things publicly. But today he saw the Hong Kong police safeguarding the parade, which was so peaceful and organized. What's more, he also learned that practitioners voluntarily explain the facts about Falun Gong to the public, and they have persisted in calling for an end to the persecution all these years. He said that he finally understood the truth and he believes that Chinese people will eventually make the right decision. "What you are doing is indeed very good, you should keep on doing it."
Public Support to End the Persecution
Hong Kong citizens who have seen so many different parades, highly praised this parade and the Falun Gong practitioners. Some people specifically praised the performance by the Divine Land Marching Band. Some said the parade was "great and magnificent," "The music is wonderful. There are so many people in the parade, it feels really good." One person, moved by the practitioners' consistent and peaceful effort to stop the persecution, said, "They adhere to their belief and they've made a lot effort in that."
A tourist from South Africa described the parade as "very phenomenal." He supports practitioners who are striving for freedom of belief. He gave them the thumbs up and said enthusiastically, "I support you!"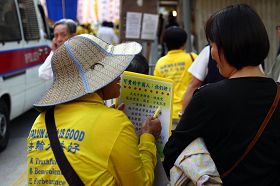 Falun Gong practitioner helps a tourist from mainland China quit the CCP and its affiliated organizations