Florida: Tampa Bay Practitioners Participate in Earth Day Celebration
(Clearwisdom.net) On a warm Saturday this past weekend, in an oasis nestled in a corner of the University of South Florida campus, the Tampa Bay area community held its 41st annual Earth Day celebration. As several thousand attendees wound their way along the shaded paths of the beautiful USF Botanical Gardens visiting the various exhibitors and demonstrations, the Falun Dafa booth was once again well received at this annual event.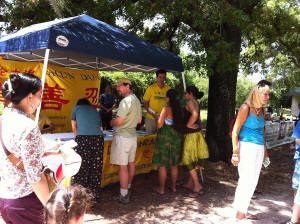 Many visitors stopped by to talk with local practitioners to learn more about the Falun Dafa practice and learn the exercises, and they appreciated the synergies of the benefits of Falun Dafa with this year's event theme: "Creating a Healthy and Sustainable Lifestyle."
Attracted by the beautiful music, one guardian who had escorted several young and mid-aged children to the event was very surprised when her otherwise "rambunctious and over-excitable" ones showed much interest in learning the exercises. She expressed her thanks and gratitude to the local practitioners for taking the time to patiently explain and help the young boys experience the peaceful exercises, "I have never seen them take to something like this before, and stay focused for so long... They are never this calm and interested."
Many visitors expressed interest in learning more about Falun Dafa and attending the weekly exercise practice at local sites. They expressed surprise and dismay at the continued persecution in China of such a peaceful and beneficial practice. One young man who had attended school in China in 1998 remembered the many parks throughout Beijing where thousands of Chinese citizens peacefully practiced Falun Gong in the mornings.