Australia: Melbourne Falun Gong Practitioners Commemorate April 25 Appeal--Police Stop Man From Chinese Consulate from Interfering (Photos)
April 28, 2011 | By a Falun Dafa practitioner from Melbourne Australia
(Clearwisdom.net) April 25, 2011 is the twelfth anniversary of April 25 grand appeal when over ten thousand Falun Gong practitioners peacefully appealed to the Beijing government in 1999. For years, Falun Dafa practitioners have been organizing the "Great Wall of Truth" in downtown Melbourne, held candlelight vigils near the Chinese General Consulate in Melbourne to commemorate the fellow practitioners who have died in the persecution, and protested the on-going Chinese Communist Party's persecution of Falun Gong.
Falun Gong practitioners started the candlelight vigil at 6:30 p.m. on April 25, 2011, on a lawn across the road from the Chinese Consulate. Banners were displayed and the practitioners started a peaceful sitting protest. Many drivers beeped their horns to show their support and respect. The local police patrolled as usual.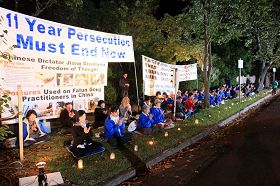 On the evening of April 25 2011, Falun Gong practitioners hosted a candlelight vigil peaceful sitting protest in front of Chinese General Consulate in Melbourne Australia.

At about 7:30 p.m., a side door of the Consulate opened and a man appearing to be in his sixties, with grey hair, came out. He walked across the road toward the practitioners and began yelling loudly at them.
According to witness Ms. Chen, a Falun Gong practitioner attending the activity, the man appeared drunk. She tried to talk to the man but was interrupted abruptly as the man yelled at her. She believed the man was trying to disturb the activity after drinking alcohol.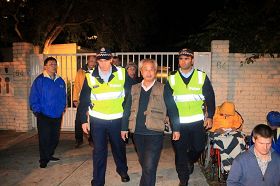 Two police officers escorted the drunken man back to Chinese Consulate after he tried to interfere with the Falun Gong practitioners' candlelight vigil activity.
The patrolling police stopped the man from interfering. At first, the man tried to argue with the police but when he realized the two officers had surrounded him and were ready to carry him away, he gave up and was escorted back to the consulate building.
Falun Gong practitioner Ms. Zhang said she felt pity for the man who is still living in the Communist Party's lies in a free country, Australia. "He forgot this is Australia. This is not a country under the Chinese Communist Party's tyranny. He can't commit the same lawless acts and do whatever he wants as in China," Zhang said.
Zhang believes that the Chinese Communist Party will only lose more face if they continue sending hired thugs to interfere with legally-approved peaceful protests. This will damage the image of China.