Canberra, Australia: Commemorating the April 25 Peaceful Appeal in Front of Chinese Embassy (Photo)
April 28, 2011 | By Hua Qing
(Clearwisdom.net) On the evening of April 25, 2011, practitioners in Canberra held a candlelight vigil in front of the Chinese Embassy to commemorate the peaceful appeal of 10,000 practitioners in Beijing 12 years ago and to urge to the Chinese Communist Party (CCP) to stop the persecution immediately.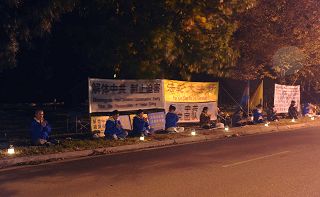 Practitioners hold a candlelight vigil in front of the Chinese Embassy in Canberra to commemorate the April 25 peaceful appeal and protest the CCP persecution.
Practitioners unfurled banners reading "Falun Dafa Is Good" and "Disintegrate the CCP and Stop the Persecution." They also exhibited display boards to explain to passersby the goodness of Falun Gong and expose the CCP's wrongdoings. They called upon people to work with Falun Gong practitioners to stop the persecution.
Background
On April 25, 1999, over 10,000 Falun Gong practitioners in China gathered outside the State Council Appeals Office to demand their basic right of belief and the immediate release of 45 fellow practitioners who had been unlawfully arrested. Though as a result of the appeal the Chinese Communist regime promised to protect the practitioners' rights and released the arrested practitioners, three months later, the regime started a nationwide persecution to "eliminate Falun Gong." The brutal persecution has continued for 12 years.