Seoul, Korea: Divine Land Marching Band Delights the Crowd at Yeouido Cherry Blossom Festival (Photos)
April 20, 2011 | By a practitioner in Korea
(Clearwisdom.net) The Seventh Yeouido Cherry Blossom Festival was held from April 11-18, 2011, in Seoul. The celebration reached its culmination on Sunday, April 17 with wonderful performances presented by over 20 groups, including the Divine Land Marching Band.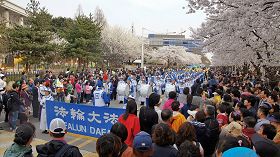 Divine Land Marching Band performed on April 17, 2011 at the Cherry Festival held at Yunjungno Avenue in Seoul, Korea
Yeouido Cherry Blossom Festival is the largest spring flower festival in Seoul, and the annual celebration takes place in mid April each year at Yunjungno, the avenue that circles Korea's National Assembly building. During this time, more than 1400 cherry trees are in full bloom at Yunjungno. The colorful blossoms turn into a sea of flowers, attracting throngs of locals and tourists who come to enjoy the beautiful scenery and festivities.
At 3:00 p.m. on April 17, the Divine Land Marching Band, entirely composed of Falun Gong practitioners, as one of the performance groups invited by the organizers, captivated the crowd at the celebration. Their performance won warm applause and cheers from the audience. Many people were eager to get Falun Gong flyers and wanted to find out more about Falun Gong.
Many Chinese tourists were shocked and surprised when they saw the Divine Land Marching Band and the Falun Gong exercise demonstration. Many of them asked for Falun Gong flyers, some took photos of the band, and others posed for photos in front of the band.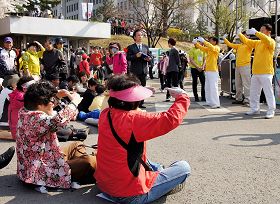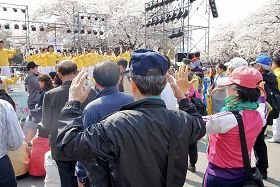 Audience follow along as practitioners demonstrate the exercises at the Cherry Blossom Festival
During the exercise demonstration, many audience members followed along to learn the movements. Among them was a Korean woman in her 80s. Her whole body was usually stiff, but today after learning the Falun Gong exercises, she felt very comfortable. Her stiffness seemed to be eased. She said that the practice was so good and that such a spiritual discipline is very necessary to help people relieve stress and anxiety.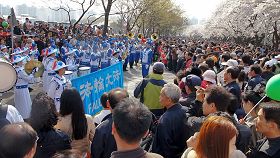 The Divine Land Marching Band's performance at the 7th Yeouido Cherry Blossom Festival in Seoul, Korea captivates the audience
Several tourists from Taiwan praised Falun Gong practitioners, saying, "Falun Gong is remarkable! We have learned that it is being persecuted in mainland China, but it is very popular in Taiwan. We know that Falun Gong is a very good group."
The director of the Divine Land Marching Band said, "We plan to perform more beautiful music for audiences in the future."