Mr. Yang Zhanjiu Continues to Suffer Persecution After Torture Rendered Him Disabled; His Wife Died in Custody (Graphic Photos)
April 15, 2011 | By a Clearwisdom correspondent in Jilin Province, China
(Clearwisdom.net) Fan Hongkai, director of the Domestic Security Division in Yushu City; Li Xiao, assistant director; and several police officers illegally arrested practitioner Mr. Yang Zhanjiu again from Yushu City, Jinlin Province on March 5, 2010. They also ransacked his home and confiscated a printer, a computer and more than 2000 yuan in cash. So far, they have only returned about 900 hundred yuan. After he was detained for seven days at a detention center, Mr. Yang was released for medical treatment because his legs were severely injured from being tortured and he was unable to take care of himself.
Mr. Yang Zhanjiu was arrested in August 2002 and detained at Yushu City Detention Center. There, he suffered brutal tortures. He was then sentenced to a seven-year prison term in March 2004. At Shiling Prison in Siping City, Jilin Province, the tortures continued. As a result, both of his legs were fractured, he had a broken ankle, and his heel bone was completely gone. He became handicapped and was released towards the end of August 2009. His left foot still oozes pus and he has to depend on others to take care of him.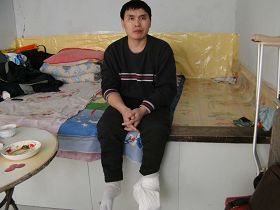 Yang Zhanjiu
Yang Zhanjiu's left foot
Mr. Yang's wife, Li Shuhua, was illegally arrested and taken to the Yushu City Detention Center on September 24, 2003. Fourteen days later, she died as a result of torture. She was only 32 years old. More information on Ms. Li Shuhua can be found at http://www.clearwisdom.net/emh/articles/2004/5/6/47765p.html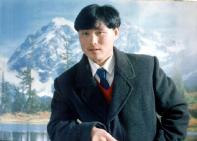 Mr. Yang Zhanjiu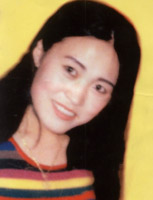 Li Shuhua, Yang Zhanjiu's wife. She was persecuted to death by the CCP in 2003
The fractures in Mr. Yang's feet have recovered, but his feet are now deformed and ooze pus. Furthermore, he can no longer walk or take care of himself.
Mr. Yang's two children are now in middle school. He has to rely on his relatives for support.
For more information on Mr Yang and his wife:
Mr. Yang Zhanjiu Suffered an Unjust Seven Year Jail Term and His Wife Died in Custody (Photos)
http://www.clearwisdom.net/html/articles/2010/6/11/117782.html
http://www.clearwisdom.net/emh/articles/2004/10/20/53636.html
http://www.clearwisdom.net/emh/articles/2003/11/13/42204.html