Denmark: Practitioners Protest the Illegal Detention of Falun Gong Practitioners in Front of the Chinese Embassy (Photos)
April 14, 2011 | By a practitioner in Denmark
(Clearwisdom.net) Practitioners in Denmark recently protested in front of the Chinese Embassy, condemning the Chinese Communist Party's persecution of Falun Gong practitioners inside China. They called for the immediate release of Ms. Chen Man from Wuhan City, Hubei Province.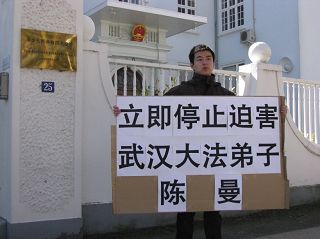 A Denmark practitioner holds a display board with the message "Stop Persecuting Practitioner Ms. Chen Man from Wuhan City NOW" in front of the Chinese Embassy in Denmark
Sunny, daughter of Mr. Zhang Weijie and Ms. Chen Man, is an overseas student. She said, "I'm here sincerely calling upon governments and people to help stop the CCP's persecution and rescue my mother and tens of thousands of illegally detained Falun Gong practitioners."
Ms. Chen Man is former instructor at a university in China. She was frail and suffered from many illnesses since she was young. After she started practicing Falun Gong in 1996, all her illnesses disappeared. Since the onset of the CCP's persecution of Falun Gong, Ms. Chen and her family members have been harassed, threatened and intimidated by Jiang'an District 610 Office agents.
Ms. Chen's practitioner husband, Mr. Zhang Weijie, was arrested on his way to work on March 20, 2007. Participating in the arrest were agents from 610 Offices in the Jiang'an District and Wuhan City. Their excuse was, "If he is not 'reformed,' many practitioners will be influenced and make trouble." The arrest was carried out without going through any legal procedures. In the ensuing 50 days, Ms. Chen Man visited different levels of government and legal organizations in three towns in Wuhan City. She also visited the 610 Offices and all the brainwashing facilities under the control of the 610 Offices. She mailed her husband's appeal letter to provincial and district level officials and publicized Mr. Zhang Weijie's arrest to the outside world, which drew attention and concern from the international communit, and became one of the cases that the European Union quoted during its human rights dialogue with the CCP.
Jiang'an District 610 Office head Hu Shaobin was extremely angry after finding out that Ms. Chen had exposed his wrongdoing to the outside world. He arrested Ms. Chen on June 8, 2007, when she visited her husband in a brainwashing center and had her taken to the Chenjiaji Law Education Center in the Jiang'an District. On February 11, 2008, Ms. Chen was holding a "winter study camp" activity at the Chailin Hotel in the Wuchang District of Wuhan City, when a group of plainclothes police officers arrested her. On April 16, 2009, the Hongshan District Court officials arbitrarily sentenced Ms. Chen to seven years in prison. Ms. Chen appealed to the Wuhan Intermediate Court. The intermediate court did not hold a hearing, but it did uphold the original sentence and inform the Hongshan District Court of its decision. Ms. Chen has been held in the Wuhan Women's Prison for more than three years.
Prison officials have not allowed Ms. Chen's family to visit. Even when Ms. Chen's mother passed away in August 2009, the prison didn't allow Ms. Chen to attend her funeral, nor have they told Ms. Chen about it. Ms. Chen's family has yet to hear from her. Her bank account has been frozen and her family is not allowed to deposit money into her account.
Practitioners in Denmark urged the CCP to immediately release Ms. Chen Man. They condemned the CCP for its nearly 12 years of brutal persecution of Falun Gong. They also urged the embassy staff members to see clearly the wicked nature of the CCP and to quit the CCP and its affiliated organizations for the sake of their own safety.
Parties responsible for the persecution of Falun Gong practitioners in Wuhan Women's Prison:
Rao Qinhai, Wuhan Women's Prison warden: 86-13808680878, 86-27-68831069, 86-27-67878186 (Home)
Han Hanyun, political head: 86-13907167155, 86-27-83865948
Wuhan Women's Prison 610 Office agents: Cheng Zhi, Sun Yuehong, Guo Yan, Wan Qin