Montreal: Support for the 92 Million Withdrawals from the Chinese Communist Party (Photos)
(Clearwisdom.net) On April 9, Falun Gong practitioners and local citizens in Montreal, Canada held a rally in Chungshan Park, Chinatown, supporting the 92 million withdrawals from the Chinese Communist Party (CCP), and offering service to those who want to quit the CCP.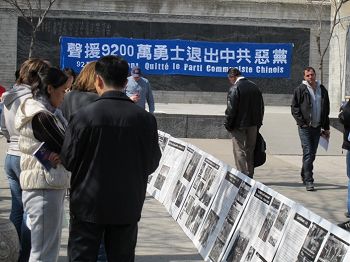 People view the materials that expose the evil nature of the CCP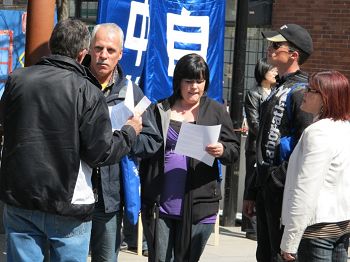 Attendees of the rally talk to people about the CCP's evil history
Mr. Li Zhenwen, a winner of a competition of solicited articles on reading the Nine Commentaries on the Communist Party, gave a speech at the rally. He pointed out that the CCP has destroyed traditional Chinese culture, wasted natural resources, and killed 80 million Chinese people. He believes that the CCP will fall soon, because it needs to clear its debts.
Mr. Li warned those who are still following the CCP, "It is time to make your choice. If you choose to stay with the CCP, you will be tainted by it; if you choose to leave it, you will be a clean person, a good Chinese citizen."
Mr. Zhang Li, a retired engineer and a former CCP member, told the public his own experiences of being persecuted by the CCP. He called on Chinese people to quit the party for a bright future.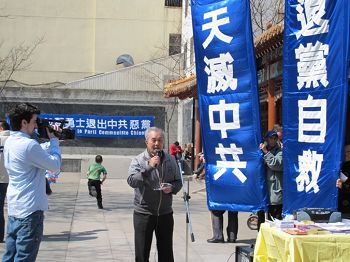 Mr. Zhang Li gives a speech
Ms. Chen Jingxin, a Falun Gong practitioner, told of her experiences in China. She was arrested and jailed for four years because she practices Falun Gong. She witnessed many practitioners being tortured in the prison.
A Chinese lady listened to the speeches for a long time. She told the reporter that her apartment in China was taken away by the government. She came to Canada, and felt that individuals cannot do anything to stop the CCP's evil behavior. A volunteer from the Service Center for Quitting the Party talked to her for a long time. This lady realized that quitting the party would bring her a bright future. She quit the party and said that she would love to learn more about Falun Gong.
Several Chinese people who listened to the conversation between the volunteer and the Chinese lady also recognized the evil nature of the CCP and withdrew.