Ms. Wu Bilin, 62, Arrested Again and Sent to Chenjiaji Brainwashing Center in Wuhan City (Photo)
April 10, 2011 | By a Clearwisdom correspondent from Hubei Province, China
Name: Wu Bilin (吴碧林)
Gender: Female
Age: 62
Address: Laodong Street, Jiangan District, Wuhan City, Hubei Province
Occupation: Auditing department staffer
Date of Most Recent Arrest:March 10, 2011
Most recent place of detention: Chenjiaji Brainwashing Center (谌家矶洗脑班)
City: Wuhan
Province: Hubei
Persecution Suffered: Detention, brainwashing, home ransacked, force-feedings, living under surveillance
(Clearwisdom.net) On March 10, 2011, Falun Gong practitioner Ms. Wu Bilin was once again arrested at her home by Wuhan City police officers. She has been sent to Chenjiaji Brainwashing Center. Over the 11 years of persecution of Falun Gong by the CCP (Chinese Communist Party), Ms. Wu has been arrested 13 times.
Ms. Wu was a staff member of the audit department of Wuhan City Materials Bureau. She retired in 1996. After she began practicing Falun Gong, she benefited from it both physically and mentally.
On April 13, 2010, Ms. Wu accompanied Ms. Song Wenxiu, who is the mother of practitioner Ms. Li Shihong, to the Jiangan District Court to submit an appeal form for Ms. Li's misjudged case. The officials in charge were very angry that Ms. Wu accompanied the relative of the detained practitioner to sue Jiangan District police for arresting Ms. Li and ransacking her home. Because the facts surrounding the persecution of Ms. Wu have been exposed globally, the local officials have held a vendetta against Ms. Wu ever since.
I. Ms. Wu Arrested and Taken to Chenjiaji Brainwashing Center the First Time
At 5:00 pm on March 31, 2009, Ms. Wu went to Ms. Li's home and ran into police officers who were ransacking Ms. Li's home. They were State Security officers from Jiangan District Public Security Bureau Branch and Danshuichijie Police Station. After arresting Ms. Li, the policemen also detained Ms. Wu, and then sent her to Chenjiaji Brainwashing Center in Jiangan District that night. Ms. Wu went on a hunger strike to protest the persecution. On the second day of the hunger strike, she passed out while taking a shower. She fell and hit the back of her head. She was taken to the 161 Hospital and got four stitches. She was released from detention on the fourth day.
II. Arrested and Sent to Chenjiaji Brainwashing Center a Second Time
On the morning of April 30, 2010, Ms. Wu accompanied practitioner Ms. Li's mother to the Jiangan District Court. They went before tribunal judges Wu Shanrong and Ye Li, and appealed to the two judges about Ms. Li's misjudged case. The court had heard Ms. Li's case on April 7. In the process of arresting and prosecuting Ms. Li, there were many illegal actions. For instance, the Jiangan Public Security Bureau Branch first arrested Ms. Li's mother, Ms. Song, and confiscated the keys to her home. Then, without obtaining a search warrant and without any of the family being there, they entered and ransacked their home. They then arrested Ms. Li when she came back. In the indictment, there were many fabricated pieces of evidence, including falsified evidence from the Public Security Bureau. When Danshuichijie police officers Yu Jiming, Wan Baozhu (female), and others ransacked Ms. Li's home, 1,200 yuan in cash was stolen. The family reported this to the police department several times, but the Danshuichijie police have not placed this case on file. As a witness of the ransacking, Ms. Wu accompanied a family member to submit an appeal letter to the judge, with the purpose of exposing these facts. However, judge Wu Shanrong openly threatened her and called in people from the Jiangan district 610 Office, the Jiangan Public Security Bureau Branch's State Security, and the Houhu Police Station. Wu Shanrong then ordered the police from Houhu to arrest Ms. Wu and Ms. Song, and they were sent to the Jiangan District Chenjiaji Brainwashing Center. Ms. Wu persisted in resisting the persecution. She was detained for over 20 days and ended up in critical condition. The brainwashing center officials were afraid of taking responsibility and released her.
III. Hubei Province and Wuhan City 610 Offices Again Arrested Ms. Wu and Sent her to Chenjiaji Brainwashing Center
Soon after, the Clearwisdom website exposed judge Wu Shanrong's crimes, and the "World Organization to Investigate the Persecution of Falun Gong" (WOIPFG) investigated and placed Wu Shanrong's case on file. The Hubei Province and Wuhan City 610 Office officials were very angry about this. On June 20, 2010, Wuhan City Public Security Bureau officers went to Ms. Wu's home and arrested her again, and sent her to Chenjiaji Brainwashing Center. They also ransacked her home, hoping to find something to charge her with.
Ms. Wu was detained in the brainwashing center for seven months. During this time, the Jiangan 610 Office head Hu Shaobin personally directed the mental and physical torture of Ms. Wu. He was unable to "transform" Ms. Wu, so he used many cruel ways to torture her. For instance, one day they brought Ms. Wu to a game room with a ping pong table inside. They put Falun Gong founder Li Hongzhi's picture on a chair and tried to force Ms. Wu to sit on it. Ms. Wu refused, and then Hu Shaobin ordered Zhang Jian and security officer Jiang Mingliang to place Ms. Wu on the chair. Ms. Wu then struggled and hit her head on the ping pong table. Hu Shaobin did not achieve his goal, so he sat on the picture himself.
Afterwards, Jiangan District'CCP Secretary Huang Weiguo came to the brainwashing center to try to "transform" Ms. Wu. She exposed Hu Shaobin's crimes against her to him. Huang Weiguo did not say a word about it, and this led to Hu Shaobin torturing Ms. Wu even more. Hu Shaobin later tortured Ms. Wu for a second time, and then a third time, each time more severe than the last. He also said that if Ms. Wu would not be "transformed", they would sentence her to prison. In August 2010, Jiangan District Procuratorate officials came to the brainwashing center and attempted to find ways to prosecute Ms. Wu. She went on a hunger strike to protest the persecution. They then tied Ms. Wu to a chair and brutally forced-fed her, causing severe injury.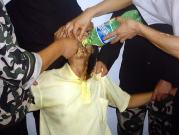 Torture illustration: forced-feeding
After hearing that Ms. Wu had been tortured so badly, her family members sued Hu Shaobin for illegally detaining and torturing her. The Jiangan District Procuratorate received the letter, but just had someone secretly go the brainwashing center to talk to Hu Shaobin, and then found an excuse to not accept the case. It was not until January 19, 2011, when Ms. Wu was tortured so badly that she was again in critical condition, that they finally released her. Her status was classified as being "on bail and awaiting trial."
IV. Recently Detained at Chenjiaji Brainwashing Center Again
On March 10, 2011, which was still less than two months after Ms. Wu was released, she was again arrested at home by Wuhan City public security officers and was again put in Chenjiaji Brainwashing Center. She had not yet fully recovered from the previous torture. During her short time at home, Ms. Wu was monitored the whole time by the resident staff. Later, they turned the case over to the Jianghan District Procuratorate to further persecute Ms. Wu.