Model Technician at Yuanjiang Paper Mill Sentenced to Three Year Prison Term (Photo)
April 01, 2011 | By a Clearwisdom Correspondent in Hunan
Name: Mr. Ruan Fanghua (阮放华)
Gender: Male
Age: 59
Address: Unknown
Occupation: Retired from Ruanjiang Paper Mill
Date of Most Recent Arrest: August 2, 2010
Most Recent Place of Detention: Ningxiang County Detention Center (宁乡县看守所)
City: Ningxiang County
Province: Hunan
Persecution Suffered: Forced labor, brainwashing, home ransacked, interrogation, detention
Defense Attorney: Lawyer Jin Guanghong from Beijing (北京律师金光鸿)
(Clearwisdom.net) Mr. Ruan Fanghua, a retired former model technician at the Yuanjiang Paper Mill, as well as a Falun Gong practitioner, was sentenced to a three-year prison term by Yuelu District Court on February 25, 2011. Mr. Ruan filed an appeal with the Changsha Intermediate Court.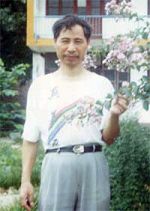 Caption: Mr. Ruan Fanghua
Mr. Ruan was arrested on August 2, 2010, on orders from the Changsha 610 Office, Yuelu District 610 Office, and the Domestic Security Division of Yuelu District Police Station. The following day he was transferred to the Changsha Law Education Camp in Laodaohe Town, Kaifu District, Changsha, although no legal procedures were observed. Practitioners are being brainwashed at that camp. Mr. Ruan was physically and mentally tortured for 22 days. He was then transferred to the Ningxiang County Detention Center on August 25.
His case was heard by the Yuelu District Court on January 24, 2011. Attorney Jin Guanghong of the Beijing Jingfa Attorney Office pleaded not guilty on behalf of Mr. Ruan. One month later, the Yuelu District Court sentenced Mr. Ruan Fanghua to a three-year prison term.
Further information about Mr. Ruan Fanghua can be found at:
http://www.clearwisdom.net/html/articles/2011/2/16/123275.html
http://www.clearwisdom.net/html/articles/2011/1/5/122330.html
Contact information for those responsible for the persecution of Mr. Ruan:
Changsha 610 Office
Director Wu Zhibin: 86-731-88667548 (office), 86-731-85070065 (home), 86-731-13307310607 (cell)
Yuelu District 610 Office: 86-731-88999610 (phone), 86-731-88999053 (fax)
Director: Lin Juan
Assistant director: Wei Tieqiang (involved in torture of Mr. Ruan)
Yuelu District Political and Judiciary Committee: 86-731-88999096 (phone), 011-86-731-88999073 (fax)
Secretary: Zhao Fudong
Ningxiang County Detention Center: 86-731-87882968, 86-731-87820877
Director Xiong Shiqing's cell number: 86-731-13907490017
Yuelu District Police Station
Director Chen Dingjia: 86-731-88858222 (Office), 86-731-84780280 (Home), 86-731-13808453788 (Cell)
Yuelu District Court: 86-731-88926130 (phone), 86-731-88926157 (fax)
Judge Huang Bo: 86-731-88926137