Indonesia: Practitioners Participate in Hindu New Year Parade (Photo)
March 03, 2011 | By a Falun Dafa practitioner in Indonesia
(Clearwisdom.net) A parade was held in the city of Semarang in central Java, Indonesia on February 27, 2011, to celebrate the Hindu New Year. Falun Dafa practitioners were invited to participate in the festival celebration.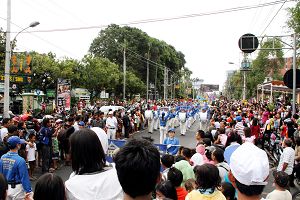 Divine Land Marching Land performs in the parade. Local people pack the heart of Semarang to view the festivities
The parade set off from Balai Kota Semarang, and marched for 2.5 km to the destination at Simpang Lima. The Falun Dafa procession remained in good order during the entire parade, even though there was a sudden downpour in the middle of the parade. The spectators along the parade route warmly received them.
The practitioners' band once again played for the audience in front of Simpang Lima City Hall. The mayor said that he will invite Falun Dafa practitioners once again on the upcoming anniversary of the city's founding.