Ottawa Public Health Apologizes to a Falun Gong Practitioner Unfairly Treated by Its Employee (Photo)  
March 25, 2011 | By a Clearwisdom correspondent
(Clearwisdom.net) Sally Zhang of Ottawa Public Health rejected Ms. Lee's application for a booth to introduce Falun Gong at the "Health Is Wealth Fair" celebrating Asian Heritage Month in Ottawa, Canada, in April 2008. Ms. Lee filed a petition with the Ontario Human Rights Tribunal citing unfair treatment because of her belief in Falun Gong. After tribunal mediation, Ottawa Public Health recently issued an apology to Ms. Lee for its employee's decision, made compensation, and promised to educate its employees to make sure there will be no recurrence of similar unfair treatment of Falun Gong practitioners.
In April 2008, Ms. Lee, a Falun Gong practitioner, filed an application for a booth to distribute information about Falun Gong at the Health Is Wealth Fair. On May 15, she was informed that a booth was reserved for her. On May 21, three days before the event, Sally Zhang sent an email to all exhibition applicants, including to Falun Gong, listing information concerning booth locations, parking, and exhibitors, at about 11 a.m. But three hours later, Sally sent another email to Ms. Lee alone, saying the Falun Gong booth had been cancelled due to insufficient space.
Ms. Lee called Ms. Zhang to ask why. Ms. Zhang explained on the phone that the reason for the cancellation of the Falun Gong booth was because a Chinese group, one of the exhibition sponsors, threatened to withdraw if Falun Gong practitioners participated. And, they said, other groups would withdraw, too. Ms. Zhang said repeatedly that the cancellation of the Falun Gong booth was not her personal decision but was brought about by a group of people.
Falun Gong practitioner Ming Tao went to the exhibition and saw many vacant booths. Ming asked Ms. Zhang to explain why she said there was a shortage of booths. She refused to answer Ming and did not explain.
Ms. Lee told the correspondent that the Chinese group Sally Zhang mentioned has a close relationship with the Chinese embassy. She thought that Ms. Zhang's explanation was not acceptable and that Falun Gong was unfairly treated. She sent emails to Ms. Zhang, hoping to have a face to face discussion. Ms. Zhang never responded.
In 2009, the same thing occurred. Sally Zhang rejected Ming's application for a booth at the Health Is Wealth Fair that year, too.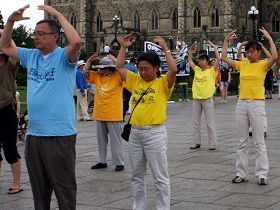 Ms. Lee (middle) benefits from practicing Falun Gong and tells others about it in communities nearby so that more people can benefit.
After multiple efforts to contact Sally Zhang failed, Ms. Lee decided to file a petition with the Ontario Provincial Human Rights Tribunal. She thought that an Ottawa government employee should not openly discriminate against a citizen based on his or her belief, should not be rude, and should not be dishonest.
She wrote in her petition, "As a city government employee, Sally Zhang treated us unfairly just because of our belief and denied our participation in a public event hosted by the city government. In past years, we have participated in many public events on health and have never gotten such treatment."
After Human Rights Tribunal mediation, Esther Moghadam of Ottawa Public Health recently wrote to Ms. Lee to apologize for the unfair treatment. The letter stated that, in the eyes of the city government, each citizen has an equal opportunity to participate in city-level public events, regardless of belief. The letter specifically mentioned the proclamations and resolutions honoring Falun Gong presented by the City of Ottawa. Every May, the City of Ottawa issues a proclamation to Falun Gong.
Spokesperson Lucy Zhou of Ottawa Falun Gong welcomed the apology from Ottawa Public Health. She said during an interview, "Some Chinese people are misled by the Chinese Communist Party (CCP). The Chinese embassy also exerts pressure on the Chinese community to isolate Falun Gong practitioners. Refusing to let Falun Gong practitioners participate in this event is an example of how the CCP manipulates the Chinese community. The city government's letter of apology shows that mainstream society appreciates us."
Ms. Zhou said this incident was not an isolated one, as it was due to the CCP's extension of its persecution policy to other countries. In 2008, the Divine Land Marching Band was denied permission to perform as scheduled in the Canada Tulip Festival due to pressure from the Chinese embassy. On May 12, 2008, Directors Teri Kirk and David Luxton formally apologized to the band and all its members and invited the band to perform at the closing ceremony on May 18.
In the past few years, three Ottawa mayors, including current Mayor Larry O'Brien, have issued proclamations in honor of World Falun Gong Day, praising Falun Dafa and practitioners' contributions to the community. But in May 2010, after an 11-day visit to China, Mayor O'Brien changed his attitude and declined to issue the proclamation again. He indicated to the media that the reason was because he had "made a promise." On the afternoon of June 9, in an Ottawa City Council meeting, all council members present passed a motion proposed by Member Alex Cullen to proclaim June 9 "Falun Dafa Day in the City of Ottawa."