Vancouver, Canada: Practitioners Participate in St. Patrick's Day Parade (Photo)
March 22, 2011 | By a Falun Gong practitioner in Vancouver
(Clearwisdom.net) Falun Gong practitioners in Vancouver, Canada were invited to participate in the annual St. Patrick's Day Parade held on the morning of March 20, 2011, in downtown Vancouver. The waist drum team, with its unique and colorful reflection of traditional Chinese culture, stood out among nearly a hundred parade entries.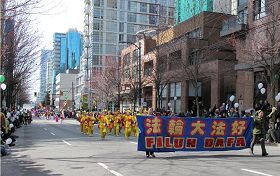 Falun Gong waist drum team in the St. Patrick's Day Parade in Vancouver, Canada
The waist drum team is composed entirely of local Falun Gong practitioners. They were in high spirits and full of energy. Their resounding and powerful performance was warmly received by spectators along the parade route. Many people took pictures of the Falun Gong contingent, which was led by a huge banner reading "Falun Dafa Is Good" in both Chinese and English. The practitioners brought good messages of Falun Gong to parade-goers.
Among the spectators were two middle-aged ladies from China. They came together to watch the parade. One of them had received a Falun Gong flyer, but the other one didn't. She immediately said that she also wanted to have one. They said that they had learned about Falun Gong in China, and now, in the freedom of Canada, they wanted to learn even more about it.