The Chinese Communist Party Imprisons Falun Gong Infants and Children (Photos)
March 16, 2011 | By Yi Jiayan in Mainland China
(Clearwisdom.net)
A Study in Contrasts – Chinese Kindergardens
It is time to enroll my daughter in kindergarden. However, here in Mainland China, there are no good kindergartens. Good kindergartens not only allow the children to eat, play, and learn, but also provide them with a good moral education. Unfortunately such kindergartens are impossible to find in Mainland China.
This is in stark contrast to the situation in Taiwan. For example, the Dodo Kindergarden at the Minghui School is located in Yongho City, Taipei County. Although it was established not long ago, it has already become well known and respected by parents and students alike.
Tangtang, a child from Taipei, began attending one kindergarden when he was around six years old. However, he still could not count to one hundred. His parents then transferred him to a country school. One month passed and Tangtang was still not happy. In the end, his parents sent him to Dodo Kindergarden just to try it.
Just a few days after attending his new school, Tangtang came home and said, "Thank you, Mom!" In subsequent days, his parents found that Tangtang had become emotionally stable and calm and made obvious progress in learning and his ability to express himself. Counting to one hundred was no longer a challenge for him. He learned the principles of Truthfulness-Compassion-Forbearance in the kindergarden. He shares what he has learned with his family. One time when his mother was angry Tangtang said, "Mom, you need to learn forbearance." During the graduation party, Tangtang's father went on stage to express his gratitude. He said that the education his son received in Dodo Kindergarden saved him. As the father described his experience and feelings, he could not help shedding tears.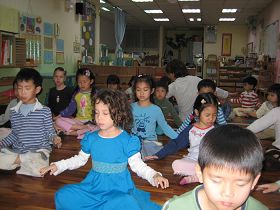 Children in Dodo Kindergarden practicing Falun Gong together
The children who attend Dodo Kindergarden and their parents all express similar feelings of happiness and gratitude. Yuanshuo could not sit still, and Kaikai tended to yell loudly and was rebellious, and did not like learning; however, ever since they went to Dodo Kindergarden, they have been happy every day. They love to go to school and learn. Their mothers are moved to tears over the changes in their children.
The parents of two sisters, Shanshan and Zhenzhen, are from France. Their mother said, "They liked this place ever since they came here the first day. Before, they often quarreled and would not listen to me at home. They like to come here. They have made a lot of friends. Now they no longer quarrel. They say that they are happy every day when they come home."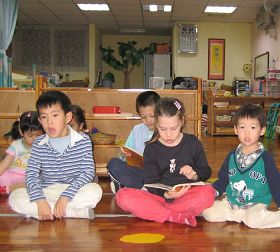 The children in Dodo Kindergarden read Hong Yin, a book of Falun Gong
Dodo Kindergarden is founded on Falun Dafa's principles of Truthfulness-Compassion-Forbearance. The students and their parents have benefited greatly by following these principles. The children have both Eastern and Western cultural backgrounds. They have all enjoyed the blessings of Truthfulness-Compassion-Forbearance. The children can display their natural innocence and kindness and their parents also enjoy good relationships with them.
This is indeed a very precious thing. But here in Mainland China, things are much different. Under the iron-fisted rule of the Chinese Communist Party (CCP), Falun Gong practitioners' children are in quite different conditions. How could a six-month old infant be jailed? How could a six-year old child be put into a detention center, twice? Do you know that a four-year old child was abducted by the CCP and his whereabouts are still unknown? Such things as these happen all too often in Mainland China.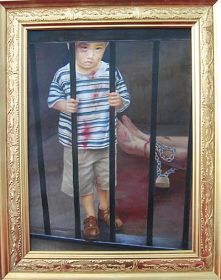 "Why," an oil painting based on a true story
Numerous Falun Gong Practitioners' Children Detained in a Sichuan Province Prison
Let us look back at a case from 2002. There was a six-month old infant from Yanggu County of Shandong Province, who had not yet seen his grandparents. Because his grandparents practice Falun Gong, he, together with his parents, were taken away by 610 Office police and sent to an ice-cold detention center. What did the infant's grandparents do? They had simply spoken publicly about Falun Gong and the persecution. Because the grandparents practice Falun Gong, their infant grandson was sent to jail.
In May 2004, Falun Gong practitioner Ms. Men Xiangrong was abducted by 610 Office agents from her Beijing home. The police also took away her husband, who did not practice Falun Gong, and her daughter, who was only one and a half years old. Later, the police brought Ms. Men's husband back to his home to search for the family's money and property. To this day, no one knows the whereabouts of Ms. Men and her daughter. What had Ms. Men done? She broke no laws, she just spoke out about the persecution of Falun Gong.
In March 2003, a two-year old child in Mengyang Town, Pengzhou City, Sichuan Province, along with his parents who are Falun Gong practitioners, and his grandmother, were taken away by 610 Office agents to the Town government, where they were detained in a shabby room for three months. The toilet in the room was filthy and they had to endure mosquitoes and insects. Maggots were crawling everywhere. Later because they had no money to pay the so-called fine, four of them were transferred to the Pengzhou City Detention Center, where this two-year old child was detained for at least nine months. The child was detained multiple times with his parents. Because of the long detention, he was very thin and pale. Every day he patted the iron door of the cell, calling, "Let me out! I want out!"
A reporter phoned and asked the detention center about the child's situation. The policewoman who answered the phone asked, "What is the name of his mother?" The reporter said, "I am not sure." The policewoman said, "How do I know which child you are referring to without knowing the name of his parents?" which indicated that there were more children detained at that detention center.
It is hard to believe that among the infants and children in this prison there are some who have been imprisoned twice.
The Story of Guo Yuetong, Twice Detained Since She Was One-Year-Old
Guo Yuetong is a six-year old girl from Changli County, Hebei Province. She knows that there is a terrifying brainwashing center located in Changli County. When she was only one year old, she was detained there for a long time. Five years later, in 2006, she was sent there again.
Yuetong's mother, Liu Aihua and her father, Guo Yuting are Falun Gong practitioners in Changli County. After Yuetong was born, she and her mother, who refuses to give up her belief, were sent to a brainwashing center in Changli. Yuetong was only one year old.
In Changli Brainwashing Center, Falun Gong practitioners were crammed into cells with no sunlight; they had to eat, drink, urinate and defecate all in the same room. In attempts to force them to give up their beliefs, the brainwashing center personnel forced practitioners to watch videos that slander Master Li Hongzhi and to read slanderous books and newspapers. They subjected the practitioners to sleep deprivation, kept them shackled and handcuffed, beat them with rubber batons, forced them to run as a punishment, force-fed them, cuffed their hands behind their backs, fastened their mouths shut while shocking them with electric batons so that they could not cry out, cuffed their hands to the doors or windows while shocking them with electric batons, as well as many other torture methods.
Whenever the police tortured her mother, Yuetong was terrified; she would hide herself in a corner crying. When there were no people harassing them and when her mother was not dragged out to be tortured, Yuetong would lean on the cell's iron door, peering outside.
Yuetong and her mother's experiences were later exposed and many people learned about their sufferings. Only after their story was told were they released.
When they got out of prison, Yuetong saw her father, who was unable to walk due to the persecution. Because of the long separation, Yuetong, now three-years-old, could not recognize her father. However, just when Yuetong got used to calling him father, 610 Office agents broke into her home and again took her father away.
Her father later returned home. At last her family was able to live together. Yuetong was really happy. However, this was not to last long. In May 2006, little Yuetong and her parents were once again taken to a brainwashing center.
Other Falun Gong Youngsters Jailed

Zhang Yuanyuan
Zhang Yuanyuan's family is in Zitong Town, Tongnan County, Chongqing City. Her father Zhang Hongxu and mother Wu Yongmei practice Falun Gong. In December 2003, Zhang Liang, head of Domestic Security Division of Tongnan County abducted her mother. In the detention center, her mother Wu Yongmei staged a hunger strike to protest the persecution. On January 1, 2004, four policemen from the First Police Station of Tongnan County took little Yuanyuan away. Wu Yongmei was released because her life was in peril when she was detained. However, four-year old Yuanyuan was not released and her family still does not know what her condition is.
The same situation took place in Zhoukou City of Henan Province in 2004. Song Zhenling and Wang Jingui, a couple, from Zhoukou City, ran a business in Dancheng Town. On February 7, 2004, they were taken to Dancheng Detention Center. Later they were transferred to Huaiyang County Detention Center for further persecution. Because she was on the brink of death and the detention center authorities did not wish to be held responsible, Wang Jingui was released. After she came out, she became homeless to avoid further persecution. Before long, Wang Jingui was again abducted, this time from her mother's home. The city 610 Office and some ruffians from the Domestic Security Division also took away Wang's son, who was only four years old. Wang and her son were detained separately. The family still does not have any information about the little boy.
These children's fathers, mothers, grandfathers, grandmothers, uncles, and aunts have been illegally detained and tortured by the CCP just because they tell people the truth about Falun Gong. We should not continue to remain numb to the cries of innocent children as they weep behind prison cell doors.
References:
1. Dodo Kindergarden, Everyone's Favorite kindergarden (Photos) (http://www.clearwisdom.net/html/articles/2010/5/6/116721.html)
2. Police in Yanggu County, Shandong Province Send 6-Month-Old Baby to Detention Center with His Parents--Because His Grandparents Practice Falun Gong! (http://www.clearwisdom.net/emh/articles/2002/12/1/29237.html)
3. Whereabouts of 1.5-Year-old Girl and Her Mother Are Unknown After Being Arrested by the Beijing Police (http://www.clearwisdom.net/emh/articles/2004/5/21/48367.html)
4. Two-Year Old Child Detained in Jail for Nine Months with His Mother – Police Reveal That More Than One Child is Detained (Note: no English version available) (http://www.minghui.org/mh/articles/2003/3/20/46808.html)
5. Why Was a Six-year-old Girl Detained Twice? (http://www.clearwisdom.net/emh/articles/2006/8/4/76337.html)
6. Chongqing Police Illegally Detain Four-Year Old Child with a Vicious Motive (Note: no English version available) (http://www.minghui.org/mh/articles/2004/6/7/76552.html)
7. Husband Becomes Blind, Nine-Month-Pregnant Wife Injected with Drugs to Induce Abortion, Four-Year-Old Son Kidnapped (http://www.clearwisdom.net/emh/articles/2005/1/9/56304.html)