Australia: Falun Gong Practitioners Participate in Sydney's Chinese New Year Parade (Photos)
(Clearwisdom.net) An annual Chinese New Year Twilight Parade was held on the evening of February 6, 2011, in Sydney, Australia. The event promoted multiculturism and featured colorful floats and illuminated lanterns. Celebrities were invited to attend, and more than a hundred thousand spectators lined the parade route for the festivity.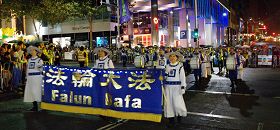 The Divine Land Marching Band in the parade

The band in the parade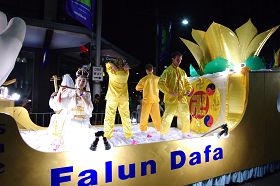 Falun Gong practitioners demonstrate the exercises on their beautifully decorated Fa boat float
Falun Gong practitioner band members, dressed in blue and white costumes, participated in the parade that included more than a hundred groups. The Sydney Divine Land Marching Band has taken part in different kinds of community activities many times and won awards. Closely following the band was a beautifully decorated golden Fa boat float. Practitioners demonstrated the five exercises on the float.
When the Falun Dafa contingent passed by the major stage, the provincial and city-level government officials applauded them. Hosts on stages along with the parade route introduced Falun Dafa to the audience, and the band's resounding music echoed in the night sky.
The Sydney police band conductor praised the Sydney Divine Land Marching Band, saying, "The Falun Dafa band is good!"