Shen Yun Leaves a Deep and Lasting Impression on Audiences in Rochester, New York (Photos)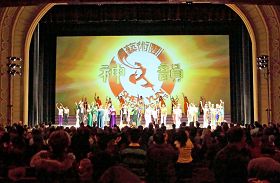 On the evening of February 19, 2011, Shen Yun Performing Arts-New York Company completed two shows at the Rochester Auditorium Theatre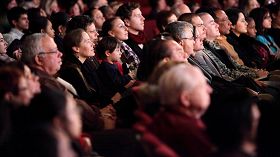 New York audience is mesmerized by traditional Chinese culture depicted by Shen Yun
(Clearwisdom.net) The New York-based Shen Yun Performing Arts Company staged two shows at the Rochester Auditorium Theatre in Rochester, New York, on February 19, 2011. The audience thoroughly enjoyed the world-class performance and its unique presentation of Chinese culture.
Sales VP: Shen Yun dancers are "extremely talented"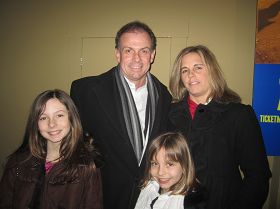 Sears with his daughters Rachel, 8, and Tori, 11, at Shen Yun Performing Arts on Saturday.
Attending the show was a vice-president of sales at Zimmer Upstate New York, a supplier of orthopedic products and services, who was accompanied by his two daughters, Rachel, 8, and Tori, 11.
He said he was impressed not only by the "pretty scenery and beautiful costumes" but also by the dancers. "They are extremely talented, very good at their craft, and you can tell they put a lot of hard work into it."
Pointing to his daughters, he said, "I've got two little dancers here, so it's maybe looking to the future. But it's a very interesting story and we're really enjoying it."
He particularly enjoyed the dance "The Monkey King Outwits Pigsy," based on the epic novel Journey to the West that tells of the pilgrimage of a monk and three disciples who travel a long way to obtain sacred scriptures.
"It was just a humorous bit—a little lighthearted. ... It was funny," he said.
While talking about Shen Yun's unique orchestra, Mr. Sears explained, "You can tell they're all true professionals, and it's very pretty music as well."
But the best part of all, he added, was "the pretty outfits and all the pretty, bright colors." His daughters agreed.
Magazine editor: Shen Yun carries a "great message"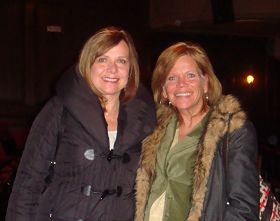 (L to R) Susan Dyer, editor of Rochester Woman Magazine, with Deborah, who works in financial investments, at Shen Yun Performing Arts on Saturday
Also in the audience was Susan Dyer, editor of Rochester Woman Magazine, who attended the show with her sister Deborah. The sisters admitted that they didn't know what to expect before attending the show, but after it was over, Ms. Dyer said it was "so different" from what they could have ever imagined.
"It was fantastic. It was just such a pleasure to see," she said. "One of the things that I really loved about it ... is looking around the room and seeing the people in my community. I loved to watch their faces; they were so moved ... They were so touched, as if [watching] human stories that were so familiar."
Deborah, who works in financial investments, was deeply touched by the profound meaning behind the legendary stories and tales brought to life through music and dance. "I enjoyed all of it. I enjoyed the meaning behind it ... the dancing and the rebirth and reincarnation, I thought that was fantastic," she said.
Ms. Dyer, who reviewed the show for her magazine, called Shen Yun "captivating." She said the alto singer who performed solo was so talented that her music "takes you out of your own body" to another world. "Besides that, the beauty of it; she invited us to experience her own culture, a culture unfamiliar to us," she explained. "I find beauty in that. And I think that's the great message."
The women felt that they had gained a deeper understanding of modern China through Shen Yun. For one thing, they became more aware of how the Communist authoritarian regime violently suppresses freedom of expression and belief. Ms. Dyer felt saddened and empathetic about the injustices she learned about. "They are still unable to go back to their own country and speak out," she said.
Although she found the stories both realistic and tragic at times, she still thought that Shen Yun leaves audiences with an abundance of hope. "My sister was saying to me, 'I feel kind of sad after all of this.' But at the same time ... the way it went through, in the end, spring was coming. And that's a sense of renewal," concluded Ms. Dyer.
Interior designer moved to tears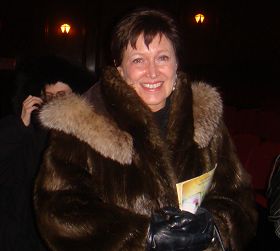 Interior designer Suzan Siple attended Saturday evening at the Rochester Auditorium Theater.
Also enjoying the show was interior designer Suzan Siple, who said that she was moved to tears by the performance. "It was inspirational," she said. "I was crying, it was so touching—the beauty of the dancers, their commitment. Their commitment to the work is just amazing; the discipline, the love, and the gentleness—you can really feel that," she said, adding that next time she'd like to bring her granddaughters along.
Ms. Siple said the show "combines art and beauty." She loved the colors in the show, saying they were "fabulous. The costumes and choice of color and mix of color were just artfully done. Really, really wonderful."
Accompanying Ms. Siple was anthropologist (currently a homemaker) Linda Zorella. "It was absolutely exquisite," she said of Shen Yun.
Ms. Zorella said that although she enjoyed all the pieces, "there was something about the 'Plum Blossom' piece that just stole my heart. It was beautiful, so natural."
She said the show made her feel not only elated, but also "very well informed about Chinese culture and history. Beautiful."
Pastor: Shen Yun evokes a "deeply spiritual feeling"

Rev. Mcguire said she would enthusiastically recommend the show to others.
Rev. Rachel Mcguire, pastor of the Immanuel Baptist Church, offered glowing remarks about the Shen Yun performance. "I loved everything," she said. "It was wonderful and just amazing, very beautiful. It gave me a very deeply spiritual feeling and I appreciate that a lot, because that's what I do, too."
She said that she appreciated not only the joyous, lively dances in Shen Yun, but also the depiction of life in modern-day China, where millions of Chinese people are not able to enjoy the freedom of belief and expression. "It's difficult to see, because it's sad to see any kind of repression. But it's wonderful that it's part of the message of the show. And I appreciate it, to help us learn more about it," she explained.
"The [dances] are all gorgeous, I liked every one of them. Everything was wonderful." She was impressed with the Shen Yun Orchestra, saying, "The musicians are terrific ... I loved everything."
Regarding the show's moving digital backdrop, she said it added a dynamic dimension to each dance. "It's interesting ... very joyful and inspiring. I love the way the screens were used to move between Heaven and Earth—very effective and fascinating, very creative."
She would enthusiastically recommend the show to others.
Shen Yun encourages cartoonist to "pour on the color"

Cartoonist David Boyer and his wife, Cindy, at Shen Yun Performing Arts in Rochester.
Cartoonist David Boyer said that after seeing Shen Yun he felt very inspired in his work and in his heart. "Some of the inspiration is to not be afraid to use a bold range of colors. A bold range of colors, I think, is very nice. Also, to be yourself and help others be their best," he said of his impressions of the show's theme.
"In other words, if somebody is a little weak or they're shy, please help them be their best and help everybody grow to their best potential."
That's something Boyer is already inclined to do. Besides working as a cartoonist, Boyer teaches classes on how to draw. Boyer paid particular attention to the visual elements in the show. "I thought the backdrops were very, very well done—very well illustrated. And then also very animated, because then characters came from the backdrop to the stage. And then they lived, as a real person on the stage—so I thought that was very clever."
He said Shen Yun reminded him of the importance of being virtuous, like being a sincere person. "We all should really be for the truth ,and we should not be afraid to express it. Because expressing it means expressing ourselves. So of course we should all live together in harmony and live together with nature. That, I think, is very important."
The artist said he loved the dance "Plum Blossom," in which dancers depict the brave little flowers that bloom in the snow—a symbol of bravery and resilience to the Chinese people.
His wife Cindy also praised Shen Yun's vocal soloists, who sang that night without a microphone or any amplification. "The soprano was wonderful but so was the tenor, he was very good. We were sitting very high and the music just flowed up to us, it was beautiful," she said. "We could feel the energy, it was lovely."
She said the show inspired her to think about where human civilization has been and where it is going and "to always hold the truth as the most important thing in your life."