Fort Lauderdale Audience Inspired by Shen Yun (Photos)
(Clearwisdom.net) On February 2 and 4, 2011, Shen Yun Performing Arts staged several shows at the Broward Center in Fort Lauderdale, Florida. The New York-based Shen Yun Performing Arts was an inspiration to the audience and many felt the deeper meanings conveyed through the performance.
On the evening of February 4, 2011, the Florida audience gave Shen Yun Performing Arts a standing ovation.
The audience mesmerized by Shen Yun Performing Arts' exquisite performance
Retired World Dance Teacher: Shen Yun's Choreography Is "At a Perfect Level"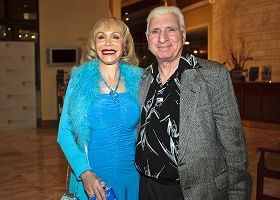 Mr. Jerry Schiffer (right), member of the International Dance Council
Mr. Jerry Schiffer, a retired chemistry professor from Temple University, and dance teacher of 28 years, has a deep understanding of dance. He is familiar with 2,000 dances from around the world, including Bulgarian, Romanian, Swedish, Irish and Scottish dance. Mr. Schiffer recognized the Shen Yun dancers' technical skills, and said they appeared to be doing some of the most difficult dances he has seen. "Just wonderful," he said. He conducted dance research in Romania under the Romanian Dance Choreographers' Association. He has developed an eye for choreography and said Shen Yun's choreography is incredible. "Professional. At a perfect level."
Joining Mr. Schiffer was Ms. Judy Van Patter, a retired university professor and former securities broker. The high-tech animated backdrop, which transports the audience to another world, really made and impression on her. "The scenic effects are gorgeous," she said. "I think the whole performance is just amazing. I think these people are so incredibly talented."
Interior Designer Impressed by Shen Yun's Precision and Symmetry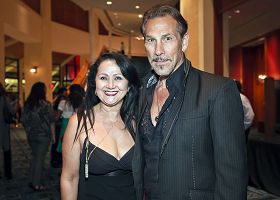 Anna Carlino, a realtor, with Charles Carlino, an interior designer and writer
Anna Carlino, a realtor, also attended the show. She was struck by the show's beauty, goodness, and spiritual strength, as well as by the gentleness and the vibrant colors that "bring to life everything that our world is all about." In ancient China, art was a means to connect with the higher universe. Ms. Carlino may have been picking up on the noble tradition that Shen Yun's artists follow—cultivating virtue, studying, and meditating. According to the company's website, they believe that in order to create true art worthy of the heavens, there must first be inner beauty and purity.
Charles Carlino, an interior designer and writer, who accompanied Ms. Carlino, was struck by the precision of the Shen Yun show. "It's precise. It shows perfect symmetry of the scenery and of the dancers," he said. Mr. Carlino was also impressed with the visual aspects of the show, noting, "The colors, the colors represent gods." He said he felt the show portrayed a belief in God and the universe, which is currently confronted by Chinese government influences that limit and control people, blocking them from following their natural aspirations from the heavens.
Mr. Carlino was referring to the 60-plus years China has been ruled by the communist regime, which has destroyed much of China's traditional culture. He said he has never understood that. "I believe that man will prevail through God and through the universe," he said. "The Chinese people are very refined … a blessing," Mr. Carlino further commented on the traditional Chinese culture portrayed through Shen Yun's performance, "They were so beautifully synchronized, it was incredible, like watching them on air. It was beautiful."
Shen Yun Dancers Have "Moral Character and Spirituality"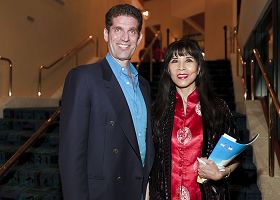 Chris Gordon, a professional dancer, brought his friend Frances Yu, a CPA.
Chris Gordon, a professional dancer, brought his friend Frances Yu, a CPA, to see Shen Yun Performing Arts. Ms. Yu loved every number. "Every one was my favorite until I heard the next one and liked it even more," she said. She said she had never seen anything like Shen Yun.
Mr. Gordon added, "It's a beautiful way to give a deeper message without a big speech. It's truth." Mr. Gordon described the dancers as "very clean and pure." He appreciated the technical merits of their performances, but was moved more by their spirit. Ms. Yu saw the dancers in the same way: "Not only are they technically very good, but you can see they have moral character and spirituality."
Ms. Yu's parent were in China when Mao's communists took over and Ms. Yu was raised in Taiwan. She said she didn't feel good about current conditions in China, even though she felt proud of the Chinese culture and very proud of being Chinese. Ms. Yu took from the show the importance of the principles of truth, compassion, and tolerance. She said she thought that the current Chinese regime wouldn't like this message."I just hope that the Chinese government won't do any harm to them," she said. "I'm sure they're not going to like the message they're sending out."
Mr. Gordon felt confident that righteousness would prevail in its own way. "This is like a seed and the voice keeps growing louder and louder and eventually people see that it [the current situation in China] doesn't need to be like this," he said. "It will happen. Even without violence it will happen."