Falun Dafa Group Performs in Vancouver's Christmas Parade (Photos)
(Clearwisdom.net) On December 4, the eighth annual Rogers Santa Claus Parade was held in downtown Vancouver. More than 300 thousand people watched the parade. The Falun Gong group was one of the largest entries.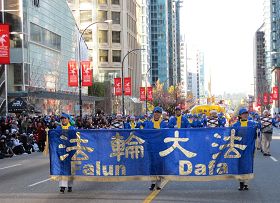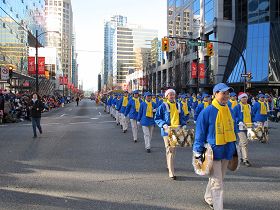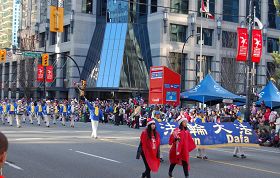 The Divine Land Marching Band
Falun Gong practitioners' float and "celestial maiden" dancers
Parade spectators watch the Falun Gong practitioners' waist drum troupe
It was a fine day. The Falun Gong group's parade entry consisted of the Divine Land Marching Band, a "celestial maiden" dance team, a large float, waist drum troupe and a banner team.
Practitioners' performances were warmly welcomed by the spectators. Two senior gentlemen said that that they came to the parade to see the Falun Gong group's procession.
A new practitioner, who had never participated in any of the Falun Gong group's activities, came to watch the parade. He was impressed by the practitioners' performances in the parade. He said: "Practitioners are really great, and they were very well-received by the audience. There were many elderly practitioners in the group, but they seemed just as energetic as the younger ones." He went to the Fa-study held that night for the first time.
Practitioners distributed Falun Gong informational materials during the parade. They also convinced several Chinese people to join the movement to quit the Chinese Communist Party.