Ms. Ding Xueping from Yilan County, Heilongjiang Province Seized and Force Fed
December 30, 2011 | By a Clearwisdom correspondent in Heilongjiang Province
Name: Ding Xueping (丁學平)
Gender: Female
Age: Unknown
Address: Yilan County, Harbin City
Date of Most Recent Arrest: October 29, 2011
Most Recent Place of Detention: Yilan Detention Center (依蘭縣拘留所)
City: Harbin
Province: Heilongjiang
Persecution Suffered: Electric shock, sleep deprivation, forced labor, brainwashing, beatings, hung up, solitary confinement, torture, force-feedings, extortion, fired from workplace, detention
(Clearwisdom.net) On October 29, 2011, Zhang Yingduo from the Domestic Security Brigade arrested Ms. Ding Xueping and Ms. Li Huihui from Yilan County, Harbin City, because they practiced Falun Dafa. They were illegally detained in the Yilan County Detention Center.
Ms. Ding was tortured and went on a hunger strike for many days. The guards handcuffed her behind her back and put shackles on her legs before force feeding her at the county hospital. When she was taken back to the detention center, the guards continued to torture her while she was still handcuffed and the force feeding tube was still inserted in her stomach through her nostril. She became very weak and needed intravenous injections twice. She has a two-year-old daughter at home.
Ms. Ding was tortured many times in the last dozen years
In March 2002, Ms. Ding went to Tiananmen Square to appeal for Falun Dafa. The police at Tiananmen Square dragged her into a police car and hit her in the head. She tried to tell them the facts about the persecution of Falun Gong, but they covered her mouth, held her down and punched her in the chest. As a result of the beating, Ms. Ding's shoulder was dislocated, her hands were bleeding, there was a 4-inch long cut at her waist, and her clothes were ripped. The police took her to the Qianmen Police Station and put her in solitary confinement. She was later taken to the Harbin City Office in Beijing and incarcerated there for three days. When she returned to Harbin, the police illegally searched her house, fined her 10,000 yuan, and confiscated her salary for three months. She was sent to Wanjia Forced Labor Camp in Harbin and tortured relentlessly for three years.
In July 2002, Falun Dafa practitioners unlawfully imprisoned in Wanjia Forced Labor Camp got up at night and meditated. Guard Wang Jiang beat them with a broomstick. He used a bed sheet to cover Ms. Ding's head, sealed her mouth, and hit her head with the broomstick. Ms. Ding almost suffocated.
On April 3, 2003, guards in the forced labor camp ordered the practitioners to memorize and repeat 40 prison rules they made up. All the practitioners refused to cooperate, and guard Fu Min was furious. He forced the practitioners to squat down again a wall. The guards shocked the practitioners with electric batons, put them in Iron Chairs, locked them in solitary confinement, and hung them up by their handcuffs so that their feet were off the ground. Ms. Ding could not withstand the torture, and fell down and lost conscious. She was in a coma for a week.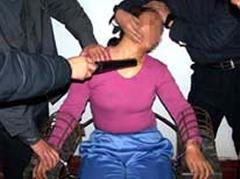 Torture re-enactment: Tied down on an iron chair and shocked with electric batons
The guards forced the practitioners to do manual labor so that the camp could profit from selling the products they made. Ms. Ding had to wrap paper leaves, glue medicine boxes and paper bags, pack toothpicks, pick Popsicle sticks, braid rope, sew car seat cushions and covers for the backrest, trim clothes, pick pumpkin seeds, and make flip-flops that would be exported to Korea and Japan. She had to work from 5 a.m to 10 p.m., or sometimes to 2 a.m. the next day. The guards ordered them to tell the inspectors from outside that they worked six hours a day. When Ms. Ding was tortured and was unable to work, guards Zhang Bo and Zhang Aihui yelled at her, "If you do not work, tell your daughter to come here and pay five yuan everyday. This brigade needs to give the camp 140,000 yuan every year. How are you going to pay for it? You have to work here."
One time all the practitioners in the 7th brigade went on a hunger strike. Guard Zhang Bo applied to have male guards come the the female brigade and torture the female practitioners. Ms. Ding refused to cooperate with the guards. The guards locked her in solitary confinement, handcuffed her behind her back, and hung her up in the air by her handcuffs. This put tremendous strain on her shoulders and arms, and they turned black and numb. Other practitioners who were tortured include the following.
Ms. He Miao, 31 years old, from Bayan, Heilongjiang, went on a hunger strike for 150 days to protest the persecution. She refused to wear the prison uniform, so guards Li Suo and Sun Qing tied her to an iron chair and shocked her with electric batons. Ms. He was covered with deep cuts that oozed pus and blood.
Ms. Zhou Lei, 53, from Harbin, was tortured for reading Falun Dafa books. Guard Fu Min stretched her head and limbs in five different directions. She was paralyzed after the torture.
Ms. Liu Xiumao, 64, from the Nan'gang District, Harbin, was tortured for having Falun Dafa books. Guard Zhang Aihui slapped her and forced her to squat, stand, and sit in an iron chair for over a week. The weather was freezing at the time and the guard left Ms. Liu's window open to let the cold air in.
Ms. Lu Fengxia, 53, was forced to make flip-flops until she could not see and her head hurt. She was unable to care for herself in the camp. The guards extorted several thousand yuan from Ms. Lu's daughter before they released her.
Ms. Chen Huiyi, 57, from the Daowai District, Harbin, was tortured until she had severe diabetes. The skin below her knees was purple and stiff. The guards extorted 3000 yuan from her before her release.
Ms. Wang Zhujun, 57, from Acheng City, Heilongjiang, was put in an iron chair because she refused to give up Falun Gong. A prisoner, Bai Xuelian, wrote statements for Ms. Wang to renounce Falun Dafa. Ms. Wang tore up the statements. Guard Zhao Yuqing fined Ms. Wang 300 yuan for doing so.
Organizations and individuals who participated in the persecution of Falun Dafa practitioners (area code +86-451):
Members of the Political and Legal Committee of Yilan County:
Yang Xu, secretary: 57237868(O), +86-13804629303(H)
Chen Ying'nan, deputy secretary and director of the General Administration Office: 57223055(O), +86-13304613008(H)
Xu Hongliang, deputy director of the Stabilization Office: 57223055(O), +86-13039992829(H)
Wang Yin, secretary of the General Administration Office: 57223055(O), +86-15084602678(H)
Li Jing, secretary of the Stabilization Office: 57223055(O), +86-13115517799(H)
Yilan County 610 Office:
Xu Haibo, director: 57238610(O), +86-13104663971(H)
Xu Yan, deputy director: 57238610(O), +86-15045297878(H)
Zhao Weidong, director: 57238610(O), +86-13796812221(H)
Yilan County Public Security Bureau:

Wang Qingfeng, bureau chief: 57235201(O), +86-13329315577(H)
Zhao Chaogui, Political commissioner: 57235202(O), +86-13796733333(H)
Domestic Security Brigade:
Zhang Yingduo, chief: +86-15045461234(O)
Hao Jianfei, collaborator: +86-13074567999(O)
Song Yuzhe, deputy chief: 57227499(O), +86-13936483388(H)
Ling Wentao: 57223113(O), +86-13936227777(H)
Bi Xiubo: 57237180(O), 55062888(H)
Yilan County First Detention Center:
Liu Dawei, director: 57281496(O), 57232593(H), +86-13936602593(C)