Ms. Shen Huafeng Illegally Sentenced to Four-Year Term in Tianjin
December 22, 2011 | By a Clearwisdom correspondent in Tianjin, China
Name: Shen Huafeng (沈华凤)
Gender: Female
Age: Unknown
Address: Tianjin Municipality
Date of Most Recent Arrest: December 21, 2010
Most Recent Place of Detention: Hexi Detention Center (河西看守所)
City: Tianjin
Persecution Suffered: Illegal sentencing, detention
(Clearwisdom.net) Falun Dafa practitioner Ms. Shen Huafeng was illegally sentenced to four years detention on September 19, 2011. Her appeal was rejected by a written statement issued on November 2, 2011, and she was not given a chance to appear in court to argue her case.
Ms. Shen was taken into custody on December 21, 2010 by Qi Bo from the 610 Office in Hexi District. She has been detained since then. Family members have been talking to a policewoman, Zhang Lihong, about seeing her, but Zhang told them nothing about her situation and did not allow her the right to send a letter home.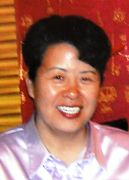 The District Court in Hexi District held a hearing on June 9, 2011, without informing Shen's family. Shen said at that time that she had done nothing illegal. She explained her situation and clarified the facts about Falun Dafa to everyone present.
On September 19, 2011 she was sentenced to a four-year term. She appealed, and her family found a righteous lawyer to defend her case based upon the existing law and the facts about Dafa. The detailed defense statement was forwarded to the Tianjin Second Intermediate People's Court on October 25. On December 2, 2011, the appeal was rejected by a written statement without a court hearing.
Tianjin Second Intermediate People's Court:
Zhou Hong, judge: +86-22-28024727
Zhang Yujun and Han Bing, judicial officers
Liang Yun, secretary: +86-22-28024740
Liu Haihong from the Second Intermediate Procuratorate, prosecutor: +86-22-88220160
Hexi District Court:
Yang Qingren, presiding judge: +86-22-58313582
Wang Xiaojiang, judicial officer: +86-22-58313585
Zhang Pei, judicial officer: +86-22-58313587
Hexi District Detention Center: +86-22-28385518
Tianjin, Hexi District, Jianshan Tucheng Police Station:
Liu Zongyi, director: +86-13312023636 (Cell)