Ms. Wang Hong Tortured at Benxi Prison
December 14, 2011 | By a Clearwisdom correspondent from Liaoning Province, China
Name: Wang Hong (王虹)
Gender: Female
Age: Unknown
Address: Liaoning Province
Occupation: Unknown
Date of Most Recent Arrest: May 24, 2008
Most Recent Place of Detention: Benxi City Prison (本溪监狱)
City: Benxi
Province: Liaoning
Persecution Suffered: Detention, illegal sentencing, imprisonment, torture, brutal beating, pouring cold water over her, sleep deprivation.
Key Persecutors: Tian Yong (Tian Yong)
(Clearwisdom.net) Ms. Wang Hong was arrested on May 24, 2008 and sentenced to four years in prison. At the end of December 2008, she was transferred to the Benxi Prison. Tian Yong, Chief of the First Division of Benxi Prison arranged eight or nine prisoners to torture Ms. Wang Hong. Ms. Wang is still being detained there.
Ms. Wang Hong was forced to sit on a stool. On the top of the stool, two floor boards with 5 cm width joint to form an edge with a 60 degree angle. They put an ashtray on her head and put burning cigarettes on top. If Ms. Wang could not hold still, the prisoners kicked her upper back. Ms. Wang had difficulty breathing due to the cigarette smoke.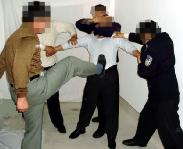 Torture re-enactment: Brutal beating
When Ms. Wang refused to sit on the stool, a group of prisoners beat her. They hit her chest and kicked her feet. They used a floor board to hit her neck and body. There were deep bloody marks on her neck and body. There was a yolk-size hard lump on her chest and two big lumps on her knee. The lumps did not disappear for one year.
Ms. Wang fainted at that time. The prisoners also grabbed her head and banged it against the wall. The corner of her eyebrow was injured and bled heavily.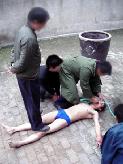 Torture re-enactment: Dousing with cold water
In December, the prisoners opened all windows and doors of a bathroom. They dragged Ms. Wang to the bathroom, stripped off her clothes and poured cold water on her. While pouring, the prisoners also fanned her with fans and stepped on her head. They said they would pour cold water on her once every two hours.
They did not allow Ms. Wang Hong to sleep and kept torturing her for a day and night. Two years later, Ms. Wang's body is still swollen.