Falun Gong Practitioner An Yanli from Penglai City, Shandong Province Recounts the Torture She Was Subjected To
November 08, 2011 | By a Clearwisdom correspondent from Shandong Province, China
Name: An Yanli (安艳丽)
Gender: Female
Age: 30s
Address: Unknown
Date of Most Recent Arrest: September 13, 2011
Most Recent Place of Detention: Beigou Detention Center in Penglai City (蓬莱北沟拘留所)
City: Penglai
Province: Shandong
Persecution Suffered: Sleep deprivation, brainwashing, illegal sentencing, torture, extortion, physical restraint, home ransacked, interrogation, detention
(Clearwisdom.net) Ms. An Yanli, about 30 years old, is a Falun Gong practitioner from Penglai City, Shandong Province. She was arrested on September 13, 2011, and was first sent to the Magezhuang Force Brainwashing Center and then the Beigou Detention Center. Ms. An Yanli recounts her ordeal as follows:
Around 10:30 a.m. on September 13, 2011, a man came to my mobile shop to buy meat. It was a rainy day. I let the man into the shop since it began raining harder. I talked to him about Falun Gong and gave him a copy of truth-clarification materials. Five or six minutes later, several police from Penglai Frontier Police Station showed up. The man got out of my vehicle and left. Later I learned he was Qu Yitao, head of the Penglai Domestic Security Division.
I was dragged into a police car and taken to the police station. Two female officers searched me. One of them was named Wei Sai. They seized my vehicle key and cell phone. I was handcuffed to a metal chair in an interrogation room. A policeman named Liu Yingjian and a policewoman named Guan Caixia came to interrogate me. I refused to tell them my address or home phone number, but they found it by looking up my license plate. Qu Yitao, mentioned above, took led other police to raid my two homes. They took away my PC, two Falun Dafa books, and some truth-clarifying materials and CDs from my homes, and an ebook and MP3 player from my mobile shop.
Around 6:00 p.m. that evening, Qu Yitao, accompanied by Li Yingjian and Guan Caixia, took me to the Magezhuang Force Brainwashing Center where I was placed in an iron chair.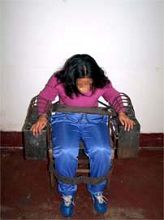 Torture reenactment: Iron chair
That night, two police and two female staff from the Penglaige Resident Office were assigned to watch me. I was cuffed to the chair until 2:00 a.m.. I lied down for a few hours after using the restroom. An officer saw me sleeping through the surveillance monitor. A policeman named Zhao Deliang ordered the cushion removed from the chair and said viciously, "Do not give let her sleep at all. The goal is to make her suffer."
I could only sleep one or two hours each day. They would wake me up as soon as I closed my eyes. My legs and feet became swollen because I was made to sit in the chair for several, long hours. Qu Yitao interrogated me twice in the brainwashing center and got nothing from me. On the fourth day, four higher officials came and took turns threatening me. On the fifth day, Qi Yitao and Gan Caixia came and told me that I would be detained for 15 days in the Baigou Detention Center and fined 1,000 yuan. In the detention center, they came and interrogated me four times. When my family came to visit me, they were denied and were told I had already been sent to the forced labor camp. The following day I was informed that I would be subject to two years forced labor.
Qu Yitao from the Penglai Domestic Security Division has been involved in the persecution of Falun Gong since the start of the Chinese Communist Party's perseuction in July 1999.
Key Persecutors:
Qi Yitao: +86-535-5605803, +86-13780932156
Guan Caixia: +86-535-5605803
Hao Jianwei, head of the Baigou Detention Center: +86-5355642501, +86-13963846266
Wang Cunling, head of the local 610 Office: +86-535-5669610, +86-13853500979
Zhang Shengpu, head of the Magezhuang Forced Brainwashing Center: +86-535-5979610, +86-13954575533
(For more perpetrators' contact information, please refer to the original Chinese article)