After Release from Prison, Mr. Jiang Yabin is Taken Twice to a Brainwashing Center (Photos)
November 08, 2011 | By a Clearwisdom correspondent from Heilongjiang Province
Name: Jiang Yabin (姜亚滨)
Gender: Male
Age: 52
Address: Liumao Township, Hengshan District, Jixi City, Heilongjiang Province
Date of Most Recent Arrest: August 25, 2011
Most Recent Place of Detention: Jixi City No. 2 Detention Center (鸡西市第二看守所)
City: Jixi City
Province: Heilongjiang
Persecution Suffered: forced labor, brainwashing, illegal sentencing, beatings, torture, home ransacked, detention
(Clearwisdom.net) Mr. Jiang Yabin was released after a three-year prison term on May 25. Instead of allowing him to go home to take care of his mother, he was directly taken to a brainwashing center. He was detained twice within three months after his release.
Thereafter, Mr. Jiang felt too threatened to remain home to take care of his aging mother or harvest the crops, and was compelled to leave home to avoid further arrest and harassment.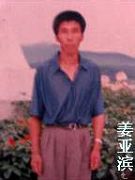 Mr. Jiang Yabin
Taken to a Brainwashing Center after Release from Prison
Mr. Jiang Yabin was released from Mudanjiang Prison on May 25, 2011, and directly taken to Jixi Brainwashing Center. The five individuals responsible for the continued persecution of Mr. Jiang were Chi Yubin, the Party Secretary of Liumao Village, Liumao Township, Hengshan District, Chi Kui, a section police officer of the Township police station, an officer from the District Office of Comprehensive Management, a member of the Jixi City 's 610 Office and Mr. Jiang's wife Zhang Cuiqing. Three days later, Wang En who was in charge of the Jixi Brainwashing Center gave Mr. Jiang two days to visit his lonely mother. Mr. Jiang finally returned home after three years of detention.
Mr. Jiang left home in the early hours to avoid being persecuted by the Chinese Communist Party (CCP). He returned home after more than 20 days. Mr. Jiang simply wanted to live a peaceful life. However, three months later while he was helping his neighbors he was arrested by Chi Kui, a section police officer and Wang En from the 610 Office. They claimed that they wanted Mr. Jiang to go to the police station to discuss a few matters. However, on arriving at the police station, the police demanded that Mr. Jiang write a so-called Repentance Statement. Mr. Jiang refused, so they took him to the Hengshan District Police Sub-bureau where they asked him to sign some documents. Mr. Jiang refused again, so they took him to Jixi No. 2 Detention Center.
Wang En from the 610 Office said to Mr. Jiang on August 27, "You went into hiding and also wrote an article exposing the treatment you've received at the brainwashing center. Therefore, you must sign the Three Statements." Mr. Jiang refused, as he was asked to slander Falun Gong, a spiritual practice that brought physical and mental benefits to him and countless others.
The following day, they used the same methods to force Mr. Jiang to renounce Falun Gong. Mr. Jiang refused. When Wang En realized that Mr. Jiang would not do their bidding, they began to threaten him. They said that if he didn't write the statement they would take him to Suihua Forced Labor Camp in Heilongjiang Province, which is notorious for persecuting Falun Gong.
The four individuals, with Wang En in the lead, were at their wits end. Therefore, they took Mr. Jiang to a newly established provincial brainwashing center – Yichun Brainwashing Center – at 2 p.m., September 1, 2011. When the car arrived at Yichun one of the tires burst. This gave Mr. Jiang the opportunity to escape.
Mr. Jiang arrived in another city after 4 days and nights of walking. When arriving there he was still in handcuffs. He had to beg to survive. Some kind-hearted people unlocked the handcuffs. He walked without wasting a single minute another four days and three nights and finally arrived in another city.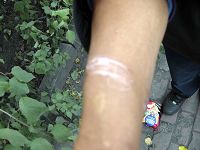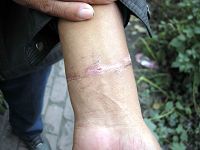 Scar on Mr. Jiang Yabi's arm 20 days after he was wounded.
Repeatedly Persecuted for Practicing Falun Gong
Mr. Jiang Yabin benefited from practicing Falun Gong. Before practicing Falun Gong he suffered several kinds of illnesses. When his stomach trouble recurred, the pain made him fall to is knees and he was unable to move. Immediately after that he had blood in the stool. Only when his backache subsided did he dare to move. Mr. Jiang began to practice Falun Gong in 1997 and ever since then he was healthy. This was something he had never dreamed of.
He followed the Falun Gong principles Truthfulness, Compassion and Forbearance and no longer drank, smoked or gambled. He hoped that more sentient beings could practice Falun Gong, so that they could attain good health and would think of others first when doing or saying something. He actively helped spreading Falun Dafa, taught people the five sets of exercises and advised them to study the Fa. His life became harmonious and he always wore a smile. Mr. Jiang often recalled that time
Twelve years elapsed, the CCP's persecution of Falun Gong has not subsided. For speaking up for Falun Gong, Mr. Jiang had been arrested several times, sentenced to forced labor or imprisonment and held at a brainwashing center where he suffered brutal torture. In March 2000, Mr. Jiang went to Beijing to appeal for the right to practice Falun Gong and was escorted back to his hometown where he was detained for 15 days. He went to Beijing again in April 2000. Zhang Zhilu, the head of the local police station, threatened Mr. Jiang's mother, "We went to Beijing by air to pick your son back home. If you do not give us money we will send him to the northwest." The police extorted 3,000 yuan. Mr. Jiang was detained for four months. Mr. Jiang went to Beijing for the very third time on November 19, 2000 and was sentenced to one year of forced labor.
Mr. Jiang Yabin was working in his fields at 10 a.m. on May 26, 2008 when police arrested him. More than 20 policemen from Liumao Township Police Station and the Hengshan District Police Sub-department in five police cars were involved in the arrest. They also ransacked Mr. Jiang's home in the name of searching for gunpowder. They even climbed on top of the roof and removed the tiles. They searched two rooms and the storehouse, and confiscated more than 8,000 yuan worth of goods and cash. Mr. Jiang's mother fell ill and lay in bed for five or six days because she was so terrified.
In the detention center, the guards kicked Mr. Jiang's private parts and then claimed that Mr. Jiang kicked the guards. They punished him for attacking the guards. Mr. Jiang was sentenced to a three year prison term on October 9, 2008 and the 610 Office forced him to give up his right to appeal. During the trial, the prosecutor wasn't able to charge Mr. Jiang with anything and his hands were shaking when reading the charges. When he was reading the section about the confiscated items Mr. Jiang was allowed to only respond with yes or no.
More than 400 Villagers Appeal for Mr. Jiang's Release
When the local villages learned that Mr. Jiang was sentenced, more than 420 villagers (There were only 500 households in the village.) wrote a joint guarantee statement and delivered it to the Hengshan District Court, calling on the court to release Mr. Jiang who was an honest man, and respected the aged and cherished the young. The text of the document they prepared follows:
The Guarantee Statement of Liumao Village, Hengshan District
"We, the villagers of Liumao Village, Liumao Township, Jixi City, are willing to provide a joint guarantee for Falun Dafa practitioner Mr. Jiang Yabin because he is simply an extremely kind man. The verdict by the court was unjust. Jiang Yabin was not in good health, but since practicing Falun Gong he became healthy. His was cured of his hemorrhoids, which often caused bleeding, and all his other illnesses without taking medication. He respects the old and loves the young, and treats all people kindly. He finds it a pleasure to help others and has a heart of gold. Everyone in the village considers him a good man. The Constitution stipulates that people have the freedom of believe, freedom of speech and freedom of publication. It also stipulates that people have the freedom of appeal and freedom of staging a demonstration. What Mr. Jiang has done is completely in line with the law and he hasn't harm anyone or the society. He hasn't committed any crime.
"We, the villagers, demand that the court release Mr. Jiang Yabin immediately!"
Mr. Jiang's father fell ill because this kind-hearted old man couldn't take the pressure. He chanted his son's name while lying in bed. In February 2009, Mr. Jiang's father passed away at the age of 78. He couldn't see his son before he died.
Work units and individuals involved in the persecution:
Area code: +86-467
Xu Hexiang, the Secretary of Jixi City Political and Judiciary Committee
Yang Bosheng, Head of the 610 Office of Jixi City Political and Judiciary Committee
Wang Encong,perpetrator of he 610 Office of Jixi City Political and Judiciary Committee
Hengshan District Police Sub-department,Jixi City
Qi Xiujie, Head of the department: 2566888(office)
Political Commissar: 2462292
Deputy Head of the department:2462146, 2566555, 2462580
Meng Xiancheng, Head of the Liumao Township Police Station, Hengshan District, Jixi City: 2469137