Crimes Committed at the Hegang City Brainwashing Center
November 06, 2011 | By a Clearwisdom correspondent from Heilongjiang Province, China
(Clearwisdom.net) The 610 Office has established many brainwashing centers all over China. They are named "Legal Education Schools," but in fact they are prisons for persecuting Falun Gong practitioners. The Hegang City Brainwashing Center in Heilongjiang Province started to detain Falun Gong practitioners in January 2011. Practitioners detained there have included Ms. Liu Chunlan, Mr. Ma Yingquan, Ms. Liu Hui, Ms. Zhou Yuqin (all from Hegang City) and Mr. Mo Jianyou who is from Qitaihe City. The police arrested the practitioners from the Hebei Forestry Bureau and Jiamusi City on October 18, 2011.
Practitioners are forced to view videos that slander Falun Gong three times per day, and afterwards they are told to write their "understandings" of the videos. If what practitioners write is not up to the brainwashing center's "requirements," the practitioners are slapped, shocked with electric batons, and tortured in other ways including sleep deprivation. Collaborators, including Du Guijie, Zheng Xingmei and Zhu Lina, monitor practitioners around the clock. The guards said openly, "There are no human rights here!" All who succumbed to the brainwashing were video recorded, then all the practitioners who were brought into the brainwashing center afterwards were forced to watch those videos.
Cruel Torture of Ms. Liu Hui
Beside the guards that torture practitioners, two collaborators Du Guijie and Zhang Guizhi tortured Ms. Liu Hui. Because Ms. Liu refused to renounce Falun Gong, they tried to force Ms. Liu to sit on Master Li's photo. Against her will, Ms. Liu wrote the Three Statements after being subjected to sleep deprivation. Three days later, Ms. Liu regained a clear mind and declared in writing that her three statements were null and void. Another collaborator Gu Songhai slapped her countless times. Ms. Liu's left ear was injured and she had a humming sound in her ear for more than two weeks. She finally recovered after three months. Not a single person tried to stop Gu from slapping Ms. Liu Hui. Gu also suggested that the brainwashing center's deputy director Zhang Zilong handcuff Ms. Liu Hui's wrists behind her back, with her left hand over right shoulder and her right arm up from her waist. This excruciating torture is called "carrying a sword in the back." Zhang beat and kicked Ms. Liu and forced her to tear her solemn declaration to pieces.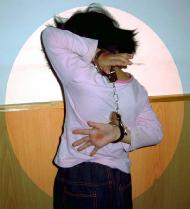 Torture re-enactment: "Carrying a sword in the back"
Ms. Liu Hui almost suffered a nervous breakdown under the mental and physical torture at the brainwashing center. She agreed to write the Three Statements again, in exchange for the guards to stop torturing her. But she was not released, and she was still deprived of her visitation rights.
Ms. Zhou Yuqin Shocked with Electric Batons on Her Genitals
Ms. Zhou Yuqin, also called Zhou Hui, lives in Shuangquan Village, Tuanjie Township, Hegang City. The police arrested her at her home on August 15, 2011, and took her to the brainwashing center. Deputy Director Zhang Zilong sat on her, brutally beat her, shocked her eyes with an electric baton, and shocked the insides of her thighs, and her private parts. He said that if Ms. Zhou refused to give up her belief in Falun Gong, he would order two men to strip her clothes off.
Personnel involved in the persecution of Falun Gong practitioners:
Zhang Dali, Hegang City 610 Office director
Jin Qiqing (female), Xiangyang District 610 Office director
Ai Hongwu, "Legal Education School" director
Zhang Zilong, deputy director
Huo Guangmin, deputy director
Huang Baohui, in charge of collecting practitioners' information, to recommend that they be brought to the brainwashing center
Fang Chunguang, guard that monitors male practitioners