Taiwan: Progressing Diligently Together at the Falun Dafa Asia Fa Conference (Photos)
November 30, 2011 | By Liu Wen-Hsin
(Clearwisdom.net) Since it was first introduced in China in 1992, Falun Dafa is now practiced in over 100 countries. Because of the Chinese Communist regime's ongoing persecution of the spiritual practice, some 100 million practitioners in China are unable to practice their belief freely. Taiwan has the highest number of practitioners outside mainland China. On November 27, 2011, the Asia Falun Dafa Experience Sharing Conference was held in the NTU Sports Center in Taipei, Taiwan. More than 8,000 practitioners from a dozen countries in Asia-Pacific, Europe and America gathered to share their experience in the practice and to improve their xinxing.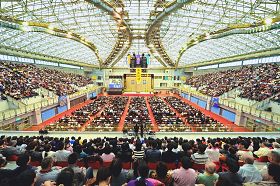 On November 27, 2011, the Asia Falun Dafa Experience Sharing Conference was held in the NTU Sports Center in Taipei, Taiwan.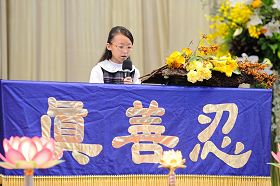 A young practitioner shares her experience of improving her in her cultivation while calling China
Eighteen practitioners ranging in age from 11 to 80 spoke at the conference. They talked about how they study the teachings, look within, assist Teacher in Fa rectification, expose the Chinese Communist Party's (CCP) lies, and help the Chinese people quit the CCP and its affiliated organizations.
Ms. Tsai from Taoyuan talked about how she helped promote ticket sales for Shen Yun Performing Arts in mainstream society. To prepare for her speech at a Shen Yun presentation workshop, Ms. Tsai practiced her speech in front of a mirror over 100 times, knowing that she could not afford to fail in even one workshop. Several other practitioners helped with the equipment, public relations, and coordination. With every practitioner in the locale working together, they gave 50 workshops in a month. Ms. Tsai at one point faced financial troubles because her husband was out of work. She held her righteous thoughts and strove to conquer her tribulations. She understood that as long as she had the heart to save people, Dafa's miraculous power would manifest.
Chitra from India talked about how students in many schools in India now exercise and study the teachings on a regular basis. She shared her experience of inviting an Divine Land Marching Band to India and how she passed her tests. She also shared how she found out the power of looking within and how she could remain unmoved when facing big conflicts. One time she went to a school to talk to the principal about teaching the exercises there, the principal arranged the auditorium for her and over 1000 students came to learn.
A phone rang in Mainland China. When the person picked up, he heard a young voice, "Hi sir, I am an elementary school student in Taiwan and I want to tell you something important. Falun Dafa is good and quitting the CCP can help you stay safe. I will help you quit the CCP and its affiliated organizations." The person answered, "OK." Eleven-year-old Jiang Hsin-ru's pure heart allowed her to help a dozen of people quit the CCP each day. She encourages young practitioners to study the Fa with her and to make calls to China to clarify the facts about the persecution.
A group of practitioners welcome the Chinese tourists on Taiwan's scenic Ali Mountain every day. They eat picnic lunches and spent most of their time talking to people visiting from Mainland China about Falun Dafa. Ms. Huang has been clarifying the truth of the persecution in Ali Mountain for six months. She said that many tour guides and tourists from the mainland were moved by the spirit and persistence of the practitioners and, in time, quit the CCP and its affiliated organizations. Two years ago, a typhoon cut off the roads in Ali Mountain and practitioners were stranded on the mountain for two weeks. They were worried that Chinese tourists would miss the opportunity to hear the truth.
A practitioners at the conference said that every year he was very touched at the conference. The sharing of each practitioner is an opportunity for him to see his shortcomings. He saw that this year the new practitioners did very well and he was able to look inward and found his attachments.