Vehicle Filled with Officials from Lushan County Court Overturns, Killing Three Top Court Officials
November 03, 2011 | By a Minghui correspondent in Shandong Province
(Clearwisdom.net) A horrific accident occurred at the 102 kilometer mark of Zheng Yao expressway in China's Shandong Province at around 5:00 p.m. on August 14, 2011. On its way back from Zhengzhou, a Lushan County Court vehicle rolled over due to a failed rear tire (see photo below). Of the ten people on board, three were killed and seven injured. The three who died were sitting in the back row of seats.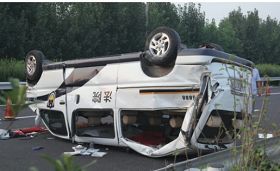 Overturned vehicle belonging to the Lushan County Court. Three court officials died in the crash, and the seven other occupants were injured. The bumper of the vehicle was thrown some 150 feet from the wreckage.
According to the driver, Mr. Ji, the people in the car, all officials from the Lushan County People's Court, attended a training session in the city of Zhengzhou. The tribunal and vice presidents of the court attended. Mr. Ji states, "The car belongs to the court. Originally, the training was supposed to end on August 15. For some reason, it ended early."
There were ten people in the vehicle when the accident occurred. Eight were judges of the Lushan County Court. Zhu Xinzheng, the tribunal vice-president of the third civil tribunal, Chen Dongyang, the tribunal president of Ranhe Court, Yang Dongsheng, the tribunal vice-president of Ranhe Court (former criminal court vice-president of Lushan County Court) died on the scene, and the other seven occupants were injured.
The vehicle lost control and collided with the highway guardrail after a rear tire blew. The three presidents who sat in the back row were thrown out of the vehicle and landed on the other side of the guardrail. Two other vehicles were approaching from the other direction and were unable to stop. One vehicle hit one president and another hit the other two, dragging them over a hundred meters. They were immediately killed. With multiple fractures and broken bones exposed, it was a horrific sight.
What Caused the Accident?
Of the ten people in the vehicle, three died instantly and seven were injured. One of the injured, a judge, has since died after hospital treatments proved ineffective. The tragic accident shocked people across Lushan County, and even throughout the entire Pingdingshan area. This tragic, freak accident makes one wonder, could there be a mysterious force beyond human power at play?
Think about the scene of the horrific accident. In the miserable scene at the funeral parlor, the deceased's families were screaming in pain and crying. On this occasion, the deceased's lifetime friends, coworkers, and colleagues came to offer condolences. But in spite of this sympathy, could it not have been the terrible acts committed by the Lushan Court which caused the accident to occur?
Moral standards in today's China are rapidly declining, with many social problems surfacing, including corruption, proliferation of counterfeit goods, and forced home demolitions. These days, citizens have nowhere to complain and innocent petitioners are arrested and beaten. After seeing the numerous failures of justice, are the officers who wear police uniforms and the national emblem really enforcing the law? Are there officers who will enforce the law and be advocates for the innocent? Perhaps a few; perhaps none.
During the last decade-plus of the persecution of Falun Gong in China, the police have known that the Falun Gong practitioners they persecute are good people. Yet when Falun Gong practitioners were persecuted and wrongly accused, did the judicial system seek to ensure justice for Falun Gong? Over the years, the Lushan County Court has closely followed the Chinese Communist Party (CCP) and Jiang Zemin's directions.
In what ways has the court followed CCP directions? During the past ten years, the Lushan County Court has sentenced a number of Falun Gong practitioners with heavy penalties. There are those who believe that this tragic car accident was thus not accidental. They believe that a direct relationship exists between the tragic deaths of the three judges and the persecution of Falun Gong by the Lushan County Court. Did the CCP push the deceased into their early graves? Many would answer yes.
Examples of Lushan County Court Involvement in the Persecution of Falun Gong
The Lushan County Court has sentenced at least nine Falun Gong practitioners. Yang Dongsheng himself had illegally sentenced two of them. Two years ago, in July 2009, Falun Gong practitioner Tian Congling was taken away from her home for no reason by Lushan County Domestic Security Brigade guards. She was detained at the Lushan County Detention Center for four months. then illegally sentenced to a six-year term by the Lushan County Court. She is serving her term in Xinxiang Women's Prison. Yang Dongsheng was the vice-president of the court's Criminal Division, and in charge of Tian Congling's trial. In order to rescue Tian Congling, and even more so to save the officers involved in this case who didn't know the truth, during the four months of so-called "proceedings," local Dafa practitioners made intensive efforts to expose the truth about the persecution.
The practitioners sent out a large number of open letters to the entire Lushan County public, prosecutors, and judicial system to clarify the the truth about Falun Gong. Some practitioners sent kindhearted letters to Yang Dongsheng's residence. Some called him to clarify the truth (several officers in the Court also received such calls). The letters and calls were to persuade them to develop a clear understanding of the matter, not do evil, not harm the Dafa practitioners, and to give them a way out. Unfortunately, however, the judges refused to listen to the advice and took a tough stance. They claimed that no matter what the faith is, what the law is, they vowed to remain consistent with the party line. They stated that no mercy will be given to the Falun Gong practitioners. Due to the CCP's lies and brainwashing, many officers in China have similar paranoia and abnormal mentalities to Yang Dongsheng's. It is something both sad and regrettable.
Falun Gong practitioner Shi Dashao was a humble farmer in his sixties. He was taken away in the fall of 2008 by Lushan County Domestic Security guards and sentenced to ten years by the Lushan County Court. Everyone knew that Shi Dashao and Tian Congling were good people, and that they had committed no crimes.
These two cases were unjust, but no one could stop judges such as Yang Dongsheng from criminally prosecuting Dafa. These judges persecuted Falun Gong to increase their standing with the CCP. In the past few years, they illegally sentenced several Falun Dafa practitioners without regret. It is not surprising then, that many people believe their deaths were a direct result of their involvement in the persecution of Falun Gong. They believe it was an inevitable consequence of their misdeeds. There is a law of the universe that good is rewarded with good, and evil meets with evil. This is the law of karmic retribution, that "we reap what we sow," as many in the West say.
Xin Guoqi is another example. He died in 2007 at 40 years old. Xin Guoqi was a temporary police officer at the Lushan County Police station. In April 2007, three female Dafa practitioners from Baofeng County were visiting their relatives in Zhangdian, Lushan County. On the way there, they talked to local farmers about the persecution of Falun Gong. After receiving a report about this, Zhangdian police officers arrived and arrested the three practitioners. Xin Guoqi was one of the police guards. The guards beat the Dafa practitioners, causing them both mental and physical pain. The practitioners tried to persuade the guards to stop the evil deeds. Xin Guoqi didn't listen, and continued to beat them. Just two months later, while driving home on his motorcycle, Xin Guoqi crashed into a truck. His skull was crushed, and he was immediately killed.
More Incidences of Karmic Retribution?
According to the Minghui website (Chinese version of Clearwisdom.net), at least 3,427 Falun Gong practitioners have died as a direct result of the persecution since it was begun by Jiang Zemin in July 1999. Hundreds of thousands of Falun Gong practitioners have been put into prisons, labor camps, and psychiatric hospitals. Many were brutally tortured. Moreover, the Chinese military, public security, justice, and health care systems have colluded to harvest organs from living Falun Gong practitioners to garner huge profits in the illicit human organ trade. They have committed what many believe to be the most evil crimes in human history. Out of jealousy and selfishness, the persecution of Falun Gong that Jiang Zemin and the CCP launched is a campaign of persecution against humanity. Deceived by the CCP, people are unaware of the truth about the scope, severity, and horror of the persecution. Relentless propaganda has led them to fear and hate Falun Gong, and many have thus unwittingly participated in persecuting Falun Gong. Ignorance doesn't exclude one from karmic retribution however, as suggested by the following:
Zhou Libo was born in Huangjiao Village of Lishi Town. He was a director of the Jiasizhen Police station in the Jaingjin District of Chongqing City. He was around forty years old when he suffered from skin cancer and died in severe pain on December 26, 2010. According to a doctor who had witnessed his death, before he died, he wailed: "I won't persecute Falun Gong any more. Please forgive me------forgive me, please!------"

In early 2009, over one hundred police officers received a physical check-up organized by the Liaoning Dalian Nanguanling Prison. The result was that ten out of the one hundred had cancer. Some were very scared when they heard this news.

Many officers from the Beijing Haidian District Police Station have experienced sudden death consistently for many years. Fear was thus widespread. This police station later merged with another police station.

The number of officers from the 610 Office (an organization which is controlled by the CCP to specifically persecute Falun Gong practitioners), the public security organizations, the people's courts, and other government organizations who have "died in the line of duty" or experienced "sudden death" has increased tremendously. Some were quite young with strong physiques, yet suddenly developed a strange illness and quickly passed away. Some were involved in car accidents or died without any acceptable reason. They did not die pain-free deaths. Some of them suffered from incurable diseases, some became disabled, or their families met with adversities.
The CCP authorities have hidden and sealed this news in order to assure that these officers were glorified. News of many of these deaths has spread widely nonetheless. According to some estimates, over ten thousand of these villains have died. Some were in car accidents, some developed illnesses, some were struck by lightning, some fell from great heights, and some committed suicide. Others became paralyzed, were sentenced to jail, or dismissed. Some of them negatively impacted their families. Not surprisingly, nearly all were lead propagators of the persecution against Falun Gong practitioners.
Here are more examples:
Li Taiwen, a director of the Shentanghai Detention Center, ordered prisoners to beat Dafa practitioners. He died from a sudden illness. When he was alive, he shouted to Dafa practitioners, "I don't believe that God hath leaden feet, but iron hands. I only believe in the reality that one cannot live without money. No one can betray the CCP. You guys mentioned something like heaven and hell, which I don't believe in at all. Why not let me go there to see if it is real or not?" During the night, he developed a sickness and died within several days.

Another example is Ren Changxia from Dengfeng City, Henan Province. The CCP named her a National Model Police Commissioner. Her car was hit by another car on April 13, 2004. Although her seat was in the safest location in the car, she died, while none of the other passengers were hurt. Her eyes were not able to close for three days. Most of the police officers knew that she severely persecuted Falun Gong. On the day before her death, she ordered the arrest of twenty Falun Gong practitioners. Even her younger sister believes that her death was retribution for her misdeeds. Four years later, Ren Changxia's husband Wei Chunxiao (45 years old) died of cerebral apoplexy, on October 29, 2008. Their single child survives them.

On November 25, 2005, He Xuejian, an officer at the Dongchengfang Town Police Station in Zhuzhou City, Hebei Province, beat and raped Liu Jizhi, who was a Falun Gong practitioner approximately the same age as his mother. He was later sentenced to eight years of imprisonment. In prison, he developed penile cancer. The doctor had to amputate his penis and testicles. He tried to commit suicide three times by jumping off the building, but failed each time.

Cao Gang, a director of Henan Yuzhou Police Station, was forty eight years old. He was born in Xuchang. He was a director of the Xuchang Detention Center in late 2000. He made police officers and prisoners beat, abuse, torture, and brutally force-feed detained Falun Gong practitioners. He became a director of the Renyuzhou Police Station in 2004. He aggressively arrested and sent Falun Gong practitioners to forced labor camps. Many places where Falun Gong truth-clarification materials were being produced were destroyed. A Falun Gong practitioner named Sun Guanzhou was 62 years old and a professor at Yuzhou Normal College. He was arrested on March 3, 2008 by Yuzhou National Security agents, and died on March 9, 2008. The murder still remains unsolved. Cao Gang, as the police station director, is responsible. In March 2010, Cao Gang was brought to trial and sentenced to a ten-year jail sentence for graft and bribery. He is currently in jail.
There is an old saying, which goes, "Every man brings it on himself. Fortune or misfortune is created by man himself. Good begets good and evil begets evil." Good or bad fortune is made by the person himself. Please take this to heart.