CCP Head Visits Austria, Practitioners in Europe Protest the Persecution (Photos)
November 03, 2011 | By De Xiang in Austria
(Clearwisdom.net) The Salzkammergut near Salzburg is widely recognized as one of the most popular tourist areas in Austria. On the morning of November 1, 2011, the head of the Chinese Communist Party (CCP), Hu Jintao, came to visit Austria, and his motorcade passed by this area. Along the path from Fuschlsee (a lake) to Wolfgangsee (another lake), there were a banners held up by practitioners from Austria or Germany, protesting the CCP persecution, and calling for the chief persecutors Jiang Zemin, Luo Gan, Zhou Yongkang and Liu Jing to be brought to justice.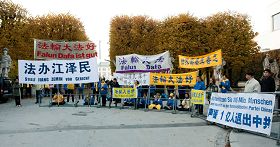 Practitioners peacefully protest at the entrance to the Mirabell Garden in Salzburg
Hu Jintao's accompanying convoy and banners held by Falun Gong practitioners to protest the persecution and urge that Jiang Zemin be brought to justice
Practitioners' banners conveyed such messages as: "Falun Dafa is good," "The world needs Truthfulness-Compassion-Forbearance," "Support 100 million people quitting the CCP organizations," "Bring Jiang Zemin, Luo Gan, Zhou Yongkang, and Liu Jing to justice," and "Stop persecuting Falun Gong." The Austrian National Television and several newspapers in Salzburg interviewed practitioners. People in passing vehicles gave a "thumbs-up" to express their support to the practitioners.
Many on-duty Austrian police officers had read information about Falun Gong, especially the CCP's harvesting of organs from living practitioners, and many of them said that human rights cannot be ignored despite economic interests. Some of the police were rather stiff at first, but after learning about the CCP's persecution of Falun Gong, their attitude started to change, and they even urged the practitioners to be quick to unfold their banners when Hu Jintao's motorcade arrived. When Hu's motorcade passed by, some officers in his accompanying convoy waved to practitioners and many took photos of the practitioners' protest.
In the afternoon, Hu Jintao and his entourage went to visit Mozart's residence in Salzburg. Falun Gong practitioners held a peaceful protest at the entrance to the Mirabell Garden opposite Mozart's residence. They protested the persecution and urged China to bring Jiang Zemin and other chief perpetrators to justice. They quietly did the exercises and distributed informational materials about the persecution of Falun Gong to passersby.