Villagers Co-sign a Letter Demanding the Release of Mr. Zhang Guoxiang
November 28, 2011 | By a Clearwisdom correspondent in Liaoning Province, China
(Clearwisdom.net) Mr. Zhang Guoxiang, a Falun Gong practitioner from the Chaoyang area in Liaoning Province, has to support his blind mother, who is in her 80s, and his nephew Zhang Guobo, as his older brother and sister-in-law recently passed away. He found a part-time job a long distance away in the Jinzhou New Area in Dalian City, and has to be away from home for long periods of time.
Mr. Zhang was arrested on June 29, 2011 while he was in his dormitory in the Jinzhou New Area. Villagers from his hometown accompanied his mother to travel the long distance to Jinzhou. They presented a letter to the officials at the Jinzhou Domestic Security Division, to demand Mr. Zhang's release. The letter was co-signed by villagers and was stamped with their village seal. They also demanded the return of 6,000 yuan which the police had confiscated. However, the officials ignored their request.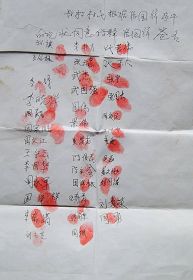 Letter co-signed by villagers supporting Mr. Zhang Guoxiang's release
Local practitioners from Jinzhou accompanied Mr. Zhang's mother to the Jinzhou Police Department on the morning of October 21. They wanted to see Bi Kefeng, who is the officer in charge, but he wasn't in. They then went to Xianjin Police Station, where Mr. Zhang was being held. Head of the Vice Squad Wang agreed to return the money that was taken.
Mr. Zhang's mother went to the police station again on October 24 to collect the money. However, officers didn't return all of the confiscated money, and kept those bills with truth clarification messages written on them.
Mr. Zhang is currently being held in Fushun Brainwashing Center.
Related article:
"Many Citizens from Dalian City Detained at Fushun Brainwashing Center; Their Family Members Demand Their Release"
http://www.clearwisdom.net/html/articles/2011/11/13/129444.html