Australia: Introducing Falun Dafa at a Multicultural Festival at a Centenary Town (Photo)
November 25, 2011 | By a practitioner in Australia
(Clearwisdom.net) Berri is a small town located beside the Murray River in Southern Australia. On October 15, 2011, the residents of Berri celebrated the centenary anniversary of the town and held their annual Riverland multicultural festival.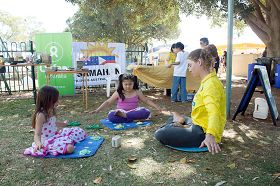 Young girls learn the sitting meditation
Falun Gong practitioners in Southern Australia were invited to participate in the multicultural festival. At noon, the first program was the Falun Gong exercise demonstration. Nine practitioners lined up and demonstrated the exercises with the music. The audience was very attentive.
The practitioners set up posters showing how Falun Dafa is practiced around the word, and exposing the Chinese Communist Party's (CCP) persecution. They offered free exercise instruction. Several young girls learned the sitting meditation. A tourist came over and said that the exercises looked peaceful and serene. A practitioner explained Falun Gong to her told her the facts about the persecution of the practice in China. The practitioner told her that because this good practice is persecuted in China, many practitioners have been imprisoned and more than 3000 are documented to have died, and that the CCP even harvests organs from living practitioners for lucrative profits. The tourist was shocked. After being told that Falun Gong is supported in more than 100 countries except China, the tourist said, "That is the CCP's problem. Isn't it crazy to ban the practice and kill people?" Like many tourists, she signed the petition to the United Nations to help stop the torture and persecution.
The event last until evening. The practitioners were delighted for those who had learned the facts about Falun Gong.