Kaohsiung, Taiwan: Condemning the CCP's Atrocity of Live Organ Harvesting (Photos)
November 13, 2011 | By Jung Su and Po-kao Sun, Clearwisdom correspondents
(Clearwisdom.net) On October 5 and 9, 2011, two seminars entitled "Inside Stories of Taiwanese Getting Organ Transplants in Mainland China" were held in Kaohsiung, Taiwan. They were the 7th and 8th seminars in Taiwan sponsored by the Broad International Culture Corporation in an attempt to inform more people about the Chinese Communist Party (CCP)'s atrocity of live organ harvesting from Falun Gong practitioners for profit.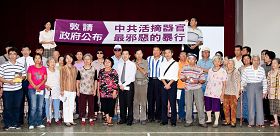 Group photo at one of the seminars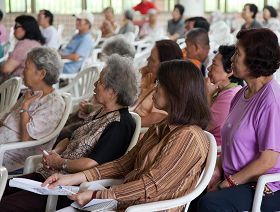 Local residents are surprised by the video "Inside Stories of Taiwanese Getting Organ Transplants in China"
Attendees included people from the military, police, lawyers, and local residents. A senior resident was disheartened after attending the seminar, saying, "I did not know that having a kidney transplant in China could lead to the killing of a kindhearted person that practiced Falun Gong. I think that is horrible. How could such a thing occur?"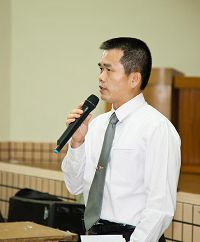 Attorney General Lee Cheng-hsiung of the South Taiwan Regional Military Court, Department of Defense
Attorney General Lee Cheng-hsiung of the South Taiwan Regional Military Court, Department of Defense, said, "Organ transplantation is generally handled by medical organizations. But in China, it is operated behind the scenes by military and there are concentration camps detaining live donors. Those responsible would be brought to justice if such a thing occurred in Taiwan. When Anne, who was mentioned in the video, stood up to disclose the issue, I was in the United States. Americans and Chinese there could not believe that such a crime could occur in the 21st century. Two Canadians conducted investigations and confirmed the allegation. It is horrible. Everyone should help to stop the CCP's atrocities."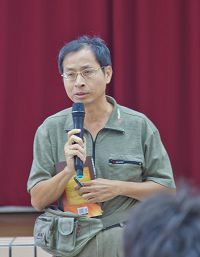 Human rights lawyer Chen San-erh
Human rights lawyer Chen San-erh said it was suspicious that the waiting time for an organ was one to two weeks in China, because there are few donors due to cultural reasons, while in the United States, where there are many volunteer donors, there is a long waiting list for an organ. He said, "Someone said that the greatness of a country does not rest on how developed its economy is, but how high the moral levels of its government and people are. I agree with this. I've heard it said: 'The reason that evil can get the upper hand is because good people are silent.' I did not want to come and speak initially. But after thinking about this saying, I decided to come and speak out today."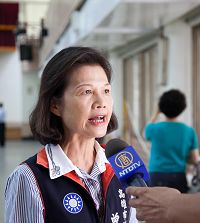 City council member Tseng Li-yan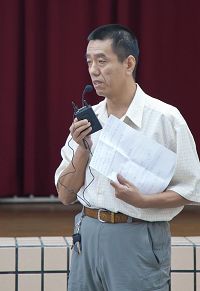 Police Officer Huang Cheng-hsian
Police Officer Huang Cheng-hsiung said, "The duty of a police officer is to safeguard people's lives and property, as well as human rights and freedom, so I need to speak out. I hope that those who see the video will tell their family and friends to help stop this persecution and violation of human rights. When we need an organ transplant, we need to get it done through respectable medical facilities and pay attention to the relationship of human rights to morality and medicine. It would be a big issue if one wants to live for a few years longer at the expense of an innocent person's life."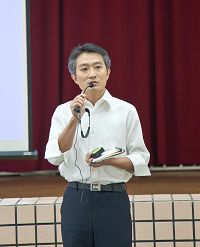 Medical examiner Huang Yu-feng of Changgeng Hospital
Medical examiner Huang Yu-feng of Changgeng Hospital said, "I was shocked when I read David Matas and David Kilgour's new book and learned that doctors in China take organs from living Falun Gong practitioners. I bought a few more copies of this book and gave them to my friends in hospitals. A famous person once said, 'Silence is golden. But in the face of a crime, silence betrays one's own conscience.' I call on everyone to tell their friends and family members to help stop this crime."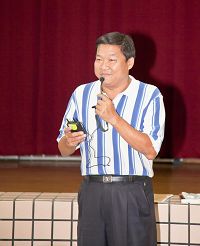 Cheng of Chengcheng Township
A student with the surname Yang from National Kaohsiung University of Applied Sciences said, "I would have not believed such a horrible thing if I hadn't seen the video. It is imperative to let our family members, friends, and classmates know about the CCP's atrocities by sharing this information."
Another student with the surname Chang from Taiwan University of Science and Technology said, "I think that we all need to work together to stop the persecution. If we don't, the evil will continue. A guest speaker today mentioned that the silence of good people allows evil to run rampant. More people should know about such atrocities and work together to stop them. It is precious if even just one person tells one of his friends."
After the seminar, guests and local residents had a group photo taken and called on the government to officially recognize that that CCP's live organ harvesting is an unprecedented atrocity and to help stop the 12-year-long persecution of Falun Gong.