Ms. Huang Duohong in Xiangtan City on a Hunger Strike for Nearly Two Months (Photo)
October 28, 2011 | By a Clearwisdom correspondent from Hunan Province
Name: Huang Duohong (黄朵红)
Gender: Female
Age: 42
Address: Unknown
Occupation: Owner of stationery store
Date of Most Recent Arrest: August 19, 2011
Most Recent Place of Detention: Xiangtan City Detention Center (湘潭市看守所)
City: Xiangtan
Province: Hunan
Persecution Suffered: Illegal sentencing, forced injections, beatings, imprisonment, torture, force-feedings, physical restraint, detention in mental hospital, home ransacking, detention

(Clearwisdom.net) Hunan Province practitioner Ms. Huang Duohong has been on a hunger strike for nearly two months. She is emaciated and was at one point in a coma. Despite her poor health, 610 Office agents are still holding her at the Xiangtan City Detention Center.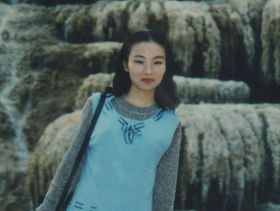 Ms. Huang Duohong
City Police Department head Zhou, together with 610 Office agent Zhao Yuefeng and other officers, went to the detention center on September 30, 2011, and threatened Ms. Huang to stop her hunger strike. In early October she was taken to the Xiangtan City Mental Hospital and was injected with drugs.
Details of the Persecution
Ms. Huang visited her friend and fellow practitioner Mr. Li Zhigang on August 19, 2011. That afternoon, Chaoyangjie Police Station agents arrested Mr. Li and Ms. Huang, and also ransacked Mr. Li's home. The agents then took both of them to the "Hunan Law Enforcement Education Center," a brainwashing facility. She was transferred to the Sanjiaoping Detention Center in Xiangtan City on August 26. She has been on a hunger strike for the past two months.
Ms. Huang, 42, once owned a stationery store in Yuhua District. She recovered from all her illnesses after she began practicing Falun Gong in 1996. She is very generous and has often helped students from poor families. She is always honest and would go out of her way to return something that wasn't hers to its rightful owner.
After the Chinese Communist Party (CCP) began persecuting Falun Gong in 1999, Ms. Huang went to Beijing to appeal, and was beaten by authorities. She was then sent to the Baimalong Forced Labor Camp in Zhuzhou City in 2001 for two years. Guards mistreated her in many ways at the labor camp, including stuffing her mouth with dirty rags, slapping her face, kicking her lower body, stomping on her toes, and so on. She had pus and sores all over her body, which caused her great pain.
Ms. Huang's home has been ransacked numerous times since the persecution began in July 1999, and many of her personal belongings were taken. Under pressure from Xiangtan City 610 Office and local police, her husband divorced her. In addition, without agreement from Ms. Huang, the court officials decided that all the money in the bank, the house, and all valuables belonged to her husband.
After these incidents, Ms. Huang has had to stay away from her home during the past six years to avoid further persecution.
Ms. Huang was arrested and detained again in August 2011. Because she held a hunger strike to protest the mistreatment, she was force-fed for one month. Five or six people pushed her to the floor to force-feed her, making it very difficult for her to breathe, and she almost suffocated. She is emaciated due to the torture. Detention center officials took her to the Xiangtan City Mental Hospital on September 23 and force-fed her with milk. Because of Ms. Huang's failing health, detention center head Liu requested that Xiangtan 610 Office officials release Ms. Huang, but the request was denied. She was taken back to the Xiangtan Detention Center on September 27.
Ms. Huang is currently continuing her hunger strike to resist the persecution.
Contact information for responsible individuals:
Zhao Yuefeng, agent from Xiangtan City Police Department: +86-13507329152
Liu Gui, agent from Xiangtan City Police Department: +86-13873228348
Xu Fumin, Xiangtan City 610 Office head: +86-731-58583196 (Office), +86-731-58217696 (Home), +86-13907320779
Zeng Wei, Xiangtan State Security Bureau head: +86-731-52345980, +86-13607311591
Yuhu District Domestic Security Division: +86-731-58392578, +86-731-8399389
Song Shanwu, Yuhu Political and Judicial Committee head: +86-731-58205769 (Office), +86-731-52314333 (Home), +86-13507324313
(More perpetrators' contact information is available in the original Chinese article)