St. Louis, Missouri: Introducing Falun Gong at the "Your Journey to Wellness Expo" (Photos)
October 27, 2011 | By a practitioner in St. Louis
(Clearwisdom.net) The "Your Journey to Wellness Expo" was held on October 22, 2011, at the Convention Center in St. Charles, Missouri, drawing many people who were interested in health and spirituality. Falun Gong practitioners participated in the event and introduced Falun Dafa's beneficial effects on uplifting people's physical health, spiritual well-being and moral character to the local audience. They also demonstrated the Falun Gong exercises.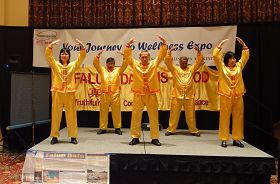 Practitioners demonstrate the exercises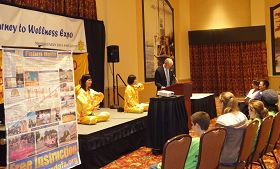 Dr. Kosinski talking about Falun Gong and the persecution happening in China
Many people enthusiastically watched practitioners demonstrate the exercises. Falun Gong practitioner Dr. Kosinski from St. Louis explained the five exercises and told the spectators that millions of people in China and around the world are practicing Falun Gong to improve their physical and mental wellbeing by following the principles of Truthfulness-Compassion-Forbearance to become physically and mentally healthy and elevate their spiritual lives. But today, he remarked, this group of people is being subjected to a brutal persecution carried out by the communist totalitarian regime in China.
A lady who walked with slight limp took a flyer from a practitioner and said immediately, "I'm glad to get to learn about Falun Gong. I want to learn it." She asked if there was a Falun Gong booth at the expo, and the practitioner told her that if she wanted to learn the exercises, practitioners could teach her free of charge that day. If she wanted to learn it at another time, she could download the exercise instruction video free of charge. She could also find information about practice sites and contact persons from the website (http://www.falundafa.org/eng/home.html) and learn free of charge. The lady appeared visibly excited and put the flyer into her pocket very carefully.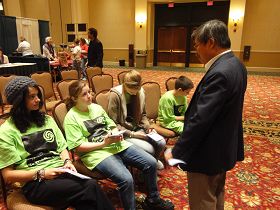 Students listen to the presentation and want to find out more about Falun Gong on the Internet
A group of young students volunteering at the expo watched practitioners demonstrate the exercises attentively. A practitioner told them that many students their age around the world practice Falun Gong, because it can open up their intelligence and inspire them. Falun Gong benefits people in many ways.
Foot massage therapist Sina had a booth at the expo. She watched the exercise demonstration from beginning to end and then told the practitioners that she used to practice Falun Gong but later lost contact with local practitioners and didn't have an opportunity to find it again. She didn't expect to see it at the expo. A practitioner who lives in the same district as Sina does asked her if she had learned Falun Gong from a Chinese practitioner, and Sina said she had.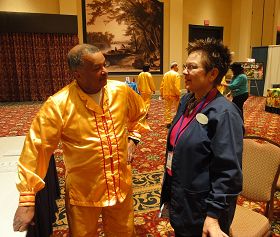 A practitioner tells Ms. Sina about his cultivation experiences
A young man told a practitioner that he also practiced a Chinese qigong. The practitioner hoped that he would learn more about Falun Gong, because Falun Gong not only includes exercises, but also cultivation. It has profound meaning and guides practitioners according to the principles of Truthfulness-Compassion-Forbearance.
People near the Falun Gong booth felt an atmosphere of peace and serenity, and many wanted to learn more about the practice.