Mudanjiang Railroad Employee Mr. Zheng Jingjiang Taken to the Yichun Brainwashing Center
October 02, 2011 | By a Clearwisdom correspondent from Heilongjiang Province, China
(Clearwisdom.net) Falun Gong practitioner Mr. Zheng Jingjiang is an accountant in the Mudanjiang Division of the Harbin Railroad Bureau. On September 6, 2011, he was taken to the Yichun Brainwashing Center by two leaders from his work unit, officers from the Heilongjiang Railroad Security Section and agents from the Domestic Security Division. Another employee, Mr. Zhan Xingchao, who also practices Falun Gong, was arrested on the same day.
The Yichun Brainwashing Center was set up by the Chinese Communist Party (CCP) authorities on November 15, 2010. It is called a "Legal System School," but is actually a secret prison specially used to brainwash Falun Gong practitioners in an attempt to force them to renounce their belief. Many Falun Gong practitioners from Yichun have been severely persecuted both physically and mentally in the brainwashing center. Their basic freedom and human rights are taken away and as part of the brainwashing, practitioners are forced to watch videos and read literature that slander Falun Dafa.
Prior to this recent round of persecution, Mr. Zheng Jingjiang was detained and tortured in the Sidao Forced Labor Camp in Mudanjiang at the end of 2002. Under prison guard Wang Xuewen's orders, Jin Xiangzhe and Zheng Haipeng pinched Mr. Zheng's fingers with pliers and kicked him. Although Mr. Zheng's fingers and ribs were injured, the guards still subjected him to forced labor.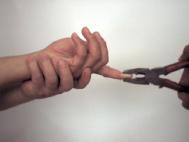 Torture reenactment: pinching fingers with pliers
In the Fall of 2003, guard Tan beat four Falun Gong practitioners who were detained in the Fourth Unit, including Mr. Zhang Minghui, Mr. Zheng Jingjiang, Mr. Sun Yusheng and Mr. Yu Bo. The guards claimed that the beatings were because they found Master Li's articles on Yu Bo. Guard He Xuhai personally beat every Falun Gong practitioner with a wooden stick. Guard Qiu Cheng slapped the practitioners' faces with his shoes. Guard Wu Yingzhi ordered Zhao Shun and Shui Hongjun to beat the Falun Gong practitioners. After the practitioners were released from the labor camp, policemen of the Railroad Public Security Section went to Mr. Zheng Jingjiang's home and the company where his wife works to harass them many times.
The Yichun Brainwashing Center
The Yichun Brainwashing Center is located on the fourth floor of the Xingxingsuo Karaoke Bar which is across from the old Yichun Town Hall. An armed police unit is headquartered on the left side. All rooms above the third floor are decorated as hotel rooms. Every room has four beds. Wang Shu from the Heilongjiang 610 Office often visits the Yichun Brainwashing Center. He and Liang Baojin and others intend to hold brainwashing sessions there for three years (since 2010).
Personnel involved in the persecution of Falun Gong practitioners:
Liu Wei, Male, 50 years old, chief of the Yichun Brainwashing Center
Liang Baojin, Male, 58 years old, deputy chief: +86-13845813057(Cell)
Yu Jingzhi, Female, 57 years old, worked at the Sunjia Train Station and then transferred to the Harbin Train Station ticket office (now retired): +86-13936822054(Cell)
Wang Chunfeng, Female, 34 years old, from Xilin District, Yichun
Wang Changhui, Male, 50 years old, a former agent of the Yichun 610 Office
Gao Bin, in his 40s, from Wumahe, Yichun
Wang Hong, in her 40s, Party Secretary of the Tuanjie Neighborhood Committee in Tieli City: +86-15094589458(Cell), +86-18645815696(Cell)
Liu Jingqiu, in her 40s, director of the Tuanjie Neighborhood Committee: +86-18645818388(Cell)
Zhang Zhihong, Sun Xiaolan, Li Linmei, Pang Jinying, Yu Jinying and Li Jiqiu