India: Raising Awareness about Falun Dafa and the Persecution in Ladakh
(Clearwisdom.net) Ladakh, the highest plateau of the Indian state of Jammu and Kashmir, is renowned for its remote mountain beauty and culture. Ladakh is sometimes called "Little Tibet" due to strong cultural and geographical similarities with Tibet. Buddhism is the religion of the majority of its population.
This year, in addition to general truth-clarification in the region, Falun Dafa was introduced to a school in Leh and five schools in nearby villages.
Teachers and children watched short films about Dafa, saw photos of people learning the exercises in other schools in India and about events like the Divine Land Marching Band in India, and listened to the program "Ancient Tales of Wisdom." They were attentive and deeply touched, especially after videos about July 20, 1999, and about rescuing the orphans of killed Falun Dafa practitioners. They asked many questions afterward.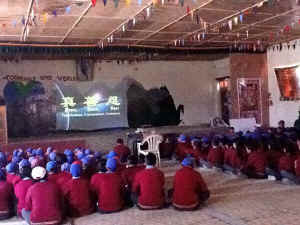 Students watch a video about Falun Dafa
In four of the schools, the children sang the song "Falun Dafa Hao." One boy even wrote down the words. The five exercises were demonstrated to the children and many teachers also participated. Most of the children were very attentive and enthusiastic, and experienced various states of peace and happiness, as if flying, and as if being in a temple, etc., while practicing the fifth exercise.
Students learn the exercises
Locals helped with putting up posters, giving discounts for photocopies, printing, Internet use, DVDs, and transport, and other forms of cooperation.
An invitation was also given out to introduce Falun Dafa next year to other far away places, in nomadic schools, and in other parts of Ladakh. Some people expressed their wish to see Shen Yun Performing Arts live, as they were deeply moved by the preview. An old Tibetan man said, "This is real Chinese culture," and a Ladakhi man said, "I am 65 years old and have never seen anything like this in my life." In one school more than 60 children watched Dafa videos via iPad, while on another occasion they were shown videos via a projector. Although there are no local practitioners here, with Master's grace, Falun Dafa has begun to take root in Ladakh.