Additional Persecution News from China – October 7, 2011 (8 Reports)
(Clearwisdom.net) Today's News from China includes incidents of persecution that took place in eight cities or counties in seven provinces. In this report, two Falun Gong practitioners were subjected to mistreatment during their detention, and at least ten practitioners were illegally arrested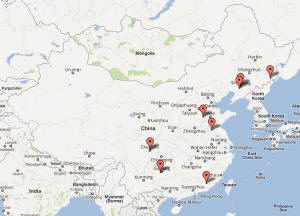 [Xuzhou, Jiangsu Province] Mr. Dai Jikui and Others Persecuted
[Liaoyang City, Liaoning Province] Ms. Fan Xiuyun Arrested
[Shenyang City, Liaoning Province] Ms. Wang Yingqin Persecuted
[Guan County, Shandong Province] Ms. Wang Suzhen Arrested by Patrolling Officers in Guan County on the Evening of October 6, 2011
[Tureen City, Jilin Province] Additional Information about the Arrest of Mr. Mu Hengshun
[Pingba County, Guizhou Province] Ms. Yang Xiuqiong Arrested
[Mei County, Guangdong Province] Ms. Xie Guofen Sentenced to Forced Labor
[Chengdu City, Sichuan Province] Ms. Wang Mingrong Died from Torture
1. [Xuzhou, Jiangsu Province] Mr. Dai Jikui and Others Persecuted
More than ten officers from the Suining County Domestic Security Division, the Suining 610 Office and the Putang Township Police Station charged into Dinglou Village and arrested practitioners including Mr. Dai Jikui, Mr. Li Quanguang and Ms. Zhang Siying. They tortured practitioners and held them in a detention center. Later they arrested Mr. Dai Jikui's son, Mr. Dai Shaodong, from his workplace. Xu Jun, chief of the domestic security division, and other officers interrogated and tortured Mr. Dai Shaodong. Without getting any evidence or confession, they sentenced Mr. Dai Shaodong to one year of forced labor.
In the middle of July, 2011, the 610 Office collaborated with the Procuratorate and the court to try Mr. Dai Jikui despite the fact that he had been on a hunger strike for more than half a month and was very weak. They sentenced him to four years of forced labor and sent him to the Sihong Forced Labor Camp. Mr. Dai has continued on a hunger strike for over 60 days now. He is very weak and has difficulty walking.
2. [Liaoyang City, Liaoning Province] Ms. Fan Xiuyun Arrested
Ms. Fan Xiuyun was arrested by officers from the Baita Police Department of Liaoyang on the afternoon of August 26, 2011. She was later sent to the Liaoyang Detention Center.
3. [Shenyang City, Liaoning Province] Ms. Wang Yingqin Persecuted
Officers from the Sujiatun Domestic Security Division barged into Ms. Wang Yingqin's home, arrested her and confiscated her printer and Falun Gong books on the evening of September 19, 2011. Ms. Wang is now being held in the Zaohua Detention Center in Yuhong District, Shenyang. Family visits are not allowed.
4. [Guan County, Shandong Province] Ms. Wang Suzhen Arrested by Patrolling Officers in Guan County on the Evening of October 6, 2011
5. [Tureen City, Jilin Province] Additional Information about the Arrest of Mr. Mu Hengshun
Mr. Mu Hengshun from Tureen was arrested at his workplace on September 26, 2011. His home was ransacked the next day. Mr. Mu is being held in the Helong Detention Center.
6. [Pingba County, Guizhou Province] Ms. Yang Xiuqiong Arrested
Ms. Yang Xiuqiong, a retired employee at the Liyang Corp. in Pingba County, was arrested for talking to people about Falun Gong in a farmers' market on October 4, 2011. She is being held in the Pingba Police Department.
7. [Mei County, Guangdong Province] Ms. Xie Guofen Sentenced to Forced Labor
Luo Zhanxiong, chief of the Mei County Domestic Security Division, sentenced Ms. Xie Guofen to forced labor on October 5, 2011.
8. [Chengdu City, Sichuan Province] Ms. Wang Mingrong Died from Torture
Ms. Wang Mingrong from Chengdu City, 53, was a head nurse at Chengdu Rehabilitation Hospital. She was arrested by agents from the Jinquan Neighborhood Office, the Jinquan Police Station and the 610 Office in Jinniu District, Chengdu on September 7, 2011 and was tortured with inhumane methods. She died from torture in the Xinjin Brainwashing Center on September 17, 2011. She was beaten and her body was covered with cuts and bruises. Her body was cremated on September 23, 2011.
Parties involved in the persecution:
Yin Shunyao, deputy director of the Xinjin Brainwashing Center: +86-13880590177
Bao Xiaomu, section chief at the Xinjin Brainwashing Center: +86-18980097136
Wang Xiuqin, staff member at the Xinjin Brainwashing Center: +86-13608177484