Former Head Nurse Ms. Wang Mingrong Died in Less Than Ten Days at the Xinjin Brainwashing Center in Chengdu, Sichuan Province
October 10, 2011 | By a Clearwisdom correspondent in Sichuan Province, China
Name: Wang Mingrong (王明蓉)
Gender: Female
Age: 53
Address: Provence Residential Area, 6 Shuyue Road, Chadianzi, the Jinniu District, Chengdu City, Sichuan Province
Occupation: Former head nurse at the Kangfu Hospital in Chengdu City
Date of Death: September 17, 2011
Date of Most Recent Arrest: September 7, 2011
Most Recent Place of Detention: Xinjin Brainwashing Center (新津洗脑班)
City: Chengdu
Province: Sichuan
Persecution Suffered: Beating, forced-feeding
(Clearwisdom.net) Falun Gong practitioner Ms. Wang Mingrong from Chengdu City was arrested and taken to the Xinjin Brainwashing Center around September 7, 2011. (To disguise its true function to the outside world, the brainwashing center is officially called the "Chengdu City Law Education Center.") Ms. Wang died of severe physical abuse and mistreatment around September 17, less than ten days after being incarcerated. According to a witness, she was subjected to beatings and her body was covered in bruises. A funeral was held on September 22, and her remains were cremated on September 23.
Jinniu District 610 Office agents exerted great pressure on Ms. Wang's family, so her family dared not reveal any detailed information about her death. Most of Ms. Wang's friends have yet to hear about her death.
Ms. Wang Mingrong was head nurse at the Chengdu City Kangfu Hospital. Around September 7, 2011, officers from the Jinquan Street Affairs Office, Jinquan Police Station and 610 Office agents in the Jinniu District arrested her and took her to the Xinjin Brainwashing Center. According to an insider, Ms. Wang held a hunger strike to protest the persecution, and she was force-fed and beaten.
More than 1,000 Falun Gong practitioners have been held in the Xinjin Brainwashing Center, where they were subjected to physical torture and mental torment. They were injected with drugs that damage the central nervous system, and their food and drinking water were laced with unknown substances, which caused them great harm. Due to the severe abuse and pressure, many suffered from nervous breakdowns, developed mental impairment, became physically disabled, developed symptoms of illnesses, and some even died. Practitioners who died as a result of persecution in this brainwashing center include Ms. Deng Shufen, Li Xiaowen, Mr. Xie Deqing, and Ms. Liu Shenglu. The practitioners who suffered a mental collapse as a result of persecution include Ms. Zhu Xia, Ms. Liu Ying and Ms. Tan Shaolan.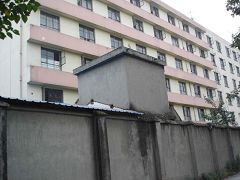 Brainwashing Center in Xinjin County, Chengdu City, Sichuan Province. This six-story building is where Falun Gong practitioners are held. It has iron bars on the windows.
Parties participating in the persecution of Ms. Wang Mingrong:
Li Feng, Xinjin Brainwashing Center head
Yin Shunyao (also called Yin Decai), deputy head: +86-13880590177
Please refer to the original Chinese article for more people and offices involved in the persecution.