Artists Respond to the Message of Shen Yun in Hamilton, Canada
(Clearwisdom.net) Shen Yun Performing Arts performed to a warm welcome on December 29 and 30, 2010, at the city's elegant Hamilton Place Theatre.
New York-based Shen Yun presents world-class productions rooted in China's rich cultural heritage through works of classical Chinese dance and music. It features the folk and ethnic dances of China's various regions and ethnic groups, alongside dances based on beloved Chinese myths and legends and contemporary stories of courage.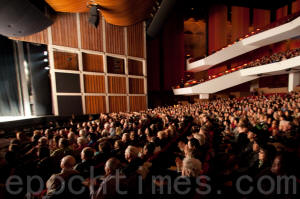 Audience in Hamilton, Canada, enjoying the Shen Yun show presenting 5000-year-old Chinese culture
Lyricist and composer: "The music, the dance, the color, the art, the martial art—all of it is beautiful."
Among the enthusiastic audience members for the Shen Yun performances in Hamilton were several noted artists. Lyricist and composer Jim Garven was moved by many different aspects of the production.
"The music, the dance, the color, the art, the martial art—all of it is beautiful, just beautiful," he said after the show. "And the opera singers—the soprano and the tenor—just beautiful. Their voices and the way they compose themselves when they are singing—it was fantastic." Mr. Garven also said he gained inspiration from Shen Yun's unique orchestra, which combines Western and Chinese instruments. "I think [the instruments] blended together very well and that was unusual because I have never heard that before, the East and the West together."
"Just phenomenal," Ms. Garven said of the orchestra. "Everything was in tune, everything flowed together. So I would say the music lined up with all of what was going on; the themes, all of that, it all lined up perfectly."
The Shen Yun program covers a wide range of Chinese history and culture, from its origins over 5,000 years ago to the present day, including the persecution of the Falun Gong spiritual movement. Mr. Garven was aware of the persecution and he co-wrote the lyrics and background of the song "Blood like Water: The Plight of the Falun Gong," which describes the harvesting of organs from Falun Gong prisoners in China for use in the organ transplant trade.
"It's great that we can just sit here together and listen to this today, whereas in another place they would not be allowed to do that," he added, referring to the fact that New York-based Shen Yun is not allowed to play in China.
"Being a singer I can appreciate that they are very well trained."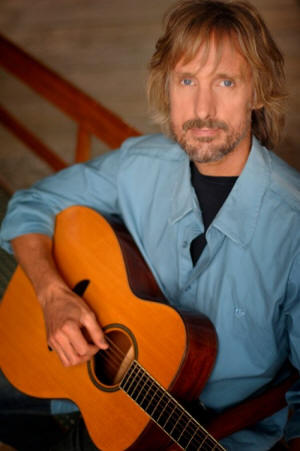 Canadian country singer and songwriter George Fox praised Shen Yun for the caliber of its music. (Daniel Alexander/courtesy of www.GeorgeFox.com)
Juno award-winning country musician George Fox was also impressed by the quality of the mixed orchestra. Like Mr. Garven, he was particularly touched by the playing of a classical two-stringed Chinese violin called an erhu by artist Xiaochun Qi. "I was admiring her . . . [that was] what you would call a virtuoso performance, it's quite amazing, the level of the performance, the standard. I was very impressed with that."
Speaking of the singers, Mr. Fox said, "Being a singer I can appreciate that they are very well trained but also they are very professional, prepared for the performance—very confident." George brought his children Anna May and Ruby, who thoroughly enjoyed the show, "They seemed very captivated with it. There's so much going on for kids with the visuals as well as the sounds."
"We're enjoying the show."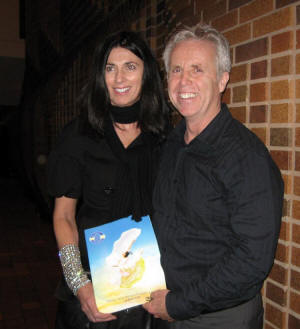 Ed Aitchison and Darlene Watson found beauty and depth in the Shen Yun performance at Hamilton Place Theatre on Thursday.
Artist Darlene Watson, a painter, was invited to the show by her boyfriend. She enjoyed the animated backdrops, "The countryside does look amazing. . .The perspective paintings and the backgrounds are really nice. I love them."
She also highlighted the crystal-clad headdresses worn by the female dancers in some of the pieces and said that they inspired her to sketch something similar. One of the dances, titled "My Beloved Yi Village," portrays young maidens from China's Yi ethnic group dancing in embroidered headdresses while tapping out a steady beat on tasseled wooden boxes.
"I like the colors and I like the sound, the way that they made that little click sound," she noted.
Musician/education director says, "It was beautifully done"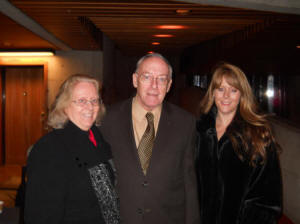 Florrie McGuirl (L) took in Shen Yun on Wednesday with husband Allan and daughter Ruth. Florrie, who teaches music, described Shen Yun as "extremely well-prepared and well-executed."
Mrs. Florrie McGuirl, a music teacher and Christian education director, attended with her family. She said after the show, "The choreography was excellent and the color. The dancers were superb. Extremely well-prepared and well-executed all the way through."
Her husband started an international NGO with two friends that now reaches over 100 countries, and her daughter is a crown prosecutor who also works with the United Nations to crack down on human smuggling.
Mrs. McGuirl herself teaches music in a studio, has written a musical, develops curriculum, and trains teachers in her work as a Christian education director. She also organizes music for her church, while helping her husband in his non-profit work.
Of the singers she said, "It was beautifully done. The pianist was fantastic and the singers were extremely well polished, very technically trained, and yet they had a lot of emotional power in their singing." She concluded, ". . .one of the things that I enjoyed, too, was that it was such a clean program," so that it was possible to bring anyone, including children, to enjoy the show.
One aspect of the show she focused on was Shen Yun's unique symphony orchestra, which combines both classical Chinese and Western instruments. "It was nice to hear the influence of Chinese music but also the influence of the Western classical music sort of woven together. That was beautiful," she said.
Professor of education: "I think it's absolutely wonderful, especially when you're going into the 5,000-year history of China and being able to infuse that with dance."
Liviana Sluga, a professor of education at Brock University, attended Shen Yun Performing Arts' matinee performance on Thursday.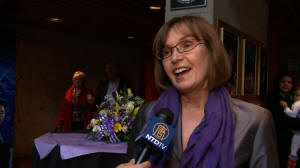 Brock University Professor Liviana Sluga attended the Shen Yun Performing Arts show in Hamilton on Thursday.
"It's beautiful. The costumes are gorgeous, the dancing is perfect. The men are strong. The girls are very agile in their dancing. It's lovely!" she said.

"Obviously there's a lot of work and effort that's gone into the rehearsals. And you can see it in the performance," said Ms. Sluga.

The high-tech animated backdrops also stood out for her. "I thought that was very clever when the figure disappeared into the screen and then appeared from behind the stage . . . neat little diversion," she said.

As an educator, Ms. Sluga was impressed by the show's artistry in depicting this heritage. "I think it's absolutely wonderful, especially when you're going into the 5,000-year history of China and being able to infuse that with dance, and to express it through the movement in dance and through the costumes. Lovely!" she said.

Before each piece, the trilingual hosts provided a brief cultural and historical introduction. Ms. Sluga appreciated that. "It brings you into the scene very nicely," she said. "I'd recommend [Shen Yun] to all my friends."
Lawyer and piano teacher say Shen Yun is "Fascinating"
Retired couple Barbara Newham and Doug Scott attended the Shen Yun Performing Arts show at Hamilton Place on Thursday afternoon after a stroke serendipity led them to buy tickets.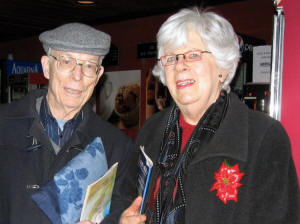 Doug Scott and Barbara Newham at Shen Yun Performing Arts' matinee performance

"I read the Hamilton magazine and saw a lovely picture of a girl in a beautiful costume, and I read when it was on and I thought, 'That'd be lovely to go to,' but we didn't have a plan yet. And then about a week ago Sunday, somebody brought a little brochure to the door and at that moment, we were talking about doing something special for the holiday so we called right then and bought the tickets," said Ms. Newham.

Ms. Newham has taught piano for close to 60 years. She and her husband, a retired lawyer, are avid concert goers—from the Hamilton Philharmonic Orchestra, opera, piano, solo concerts, chamber and choral music, they enjoy all forms of classical music.

"I thought it was wonderful," said Ms. Newham of Shen Yun's performance. She was particularly interested in the erhu performance, as she had been to an erhu concert before. The erhu, also known as the two-stringed violin, is known for its beautiful melancholic sound. Shen Yun's erhu soloist Qi Xiaochun, an award-winning erhu virtuoso, performed the piece "Can you Recall?"

"Her sound was beautiful. From the point of view of a musician, I thought it was beautiful," she said. "It has a very rich sound and there was a lot of expression in her playing."

"And very interesting rhythms. That's what I liked," added her husband. Ms. Newham also expressed admiration for Shen Yun's orchestra, which combines Eastern and Western instruments to produce a uniquely rich sound to complement the dancers.

Mr. Scott was glad to learn more about Chinese culture. "Quite fascinating. I was fascinated with those beautiful costumes—there's a large variety there, too, and marvelous colors."