Detroit: Shen Yun Transports Audience to Divine Realms (Photos)
(Clearwisdom.net) The New York-based Shen Yun Performing Arts Company concluded a spectacular five-show run at the Detroit Opera House in Detroit, Michigan on January 23, 2011.
Shen Yun Performing Arts Company played to a full house at its fifth performance at the Detroit Opera House on January 23, 2011.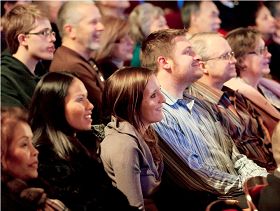 The audience enjoys the second performance presented by Shen Yun Performing Arts Company at the Detroit Opera House on January 21, 2011.
State Representative: Shen Yun "transports you"

Congresswoman Eileen Kowall of Michigan at Shen Yun Performing Arts on January 21, 2011
Congresswoman Eileen Kowall of Michigan, thought that there was "a lot that stood out" about Shen Yun, particularly how the dancers moved.
"It was just a different kind of dance―very fluid, graceful, beautiful, and it transports you out of the movement," she said.
Kowall also thought that the high-tech animated backdrops projected behind the dancers were out of this world.
"I thought it was a very enjoyable evening, and I am glad I came," she beamed.
Michigan senator says Shen Yun reminds Chinese of their history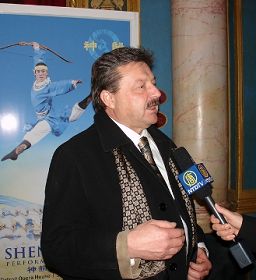 Michigan State Senator Mike Kowall
Michigan State Senator Mike Kowall attended the show with his wife, Congresswoman Eileen Kowall.
Senator Kowall was full of praise for the show. "I would highly recommend it to everybody!"
"It's very much interactive, he said, "and you get into it and you start watching the different movements of the dancers. It's very enjoyable.
"The colors were fabulous, the actors and the dancers were wonderful, and I enjoyed the music very much."
Mr. Kowall was also wowed by the digital backdrops in Shen Yun.
"The screen was interesting, with the actors going from the screen to the stage. It was different—something that I don't think American audiences are used to. It's initially surprising and then you begin to expect it, and you start looking, trying to find the little characters and see which one is going to come down, so it's kind of fun," he said.
Mr. Kowall felt that Shen Yun had the ability to bring back the spirit and history of Chinese culture.
"After visiting China and working there for a while and seeing how ... there's a lot of control over the people and people not being able to practice religions, and a variety of different things, so it's nice to see these types of movements [such as of Shen Yun's dancers] because if you lose your history, you forget where you were, you don't know where you're going," he said.
Mr. Kowall concluded by wishing the performers continued success in the future. "I wish them a lot of success; I hope they do very well."
Founder of Bellini Opera Foundation calls Shen Yun "amazing"
Rosolino LoDuca, founder of Bellini Opera Foundation.
Rosolino LoDuca, founder of the Bellini Opera Foundation, thought that the show was "amazing!" adding, "The music was beautiful."
Mr. LoDuca offered his highest praise for tenor, Mr. Tian Ge, noting that with his powerful voice, Mr. Ge doesn't even need a microphone.
"We really enjoyed the show tonight—very superb, beautiful, fantastic, bellissimo!" he said, using an Italian superlative.
Mr. LoDuca said that he was already familiar with Chinese history, but after seeing Shen Yun, he gained a new respect for traditional Chinese culture.
"I do love history, and I studied it in school," Mr. LoDuca said, adding that he also studied history on his own. "So I know about China, the 5,000 years of history, civilization."
The dance set, No Regrets, which portrayed a young man being persecuted for practicing Falun Dafa, struck a chord in LoDuca.
"It touched my heart," he said, expressing sadness that many people in China do not share the same freedom as in Western societies.
"Man is born to be free in this world, and new leaders need to listen to this: A man is free to do and act within reason. ... I'm a free man because God created us to be free," he said.
"I admire the Chinese tonight more than before because I know about the East and China with thousands of years of civilization, but tonight was the peak, because they've proven to me who they are. They're fantastic people."
Mr. LoDuca said he would definitely recommend Shen Yun to his friends.
Psychiatrist: Shen Yun offers hope for mankind
Dr. Alan Rosenbaum, a psychiatrist with 46 years in the field, felt that the traditional Chinese values presented in the show were beautiful. "It was nice to see something so hopeful."
"There's hope, the idea of going to heaven," he said. "It was very, very nice, opening the gates to heaven."
Dr. Rosenbaum noted that there was a spiritual message behind the music: "[The] singing was still looking toward heaven, toward finding the way."
He said that the Shen Yun Performing Arts Touring Orchestra really impressed him.
"It was interesting because ... there's sort of a Western kind of feeling to it. At the same time it was very gentle and melodic. It was very pretty."
The doctor also appreciated the vibrant, hand-made costumes in the show.
"I thought it was beautiful ... the colors. They just danced so beautifully and in sync. Everything just went together beautifully," he exclaimed.
Opera director: Shen Yun "was like watching an opera chorus in motion"

Ms. DiChiera is the founder and director of Community Programs at Michigan Opera Theatre in Detroit. Ms. DiChiera was with her friend Carol, a nurse, and Carol's 8-year-old daughter, Olivia.
Karen DiChiera, founder and director of Community Programs at Michigan Opera Theatre in Detroit, thought Shen Yun was a "fabulous experience for everybody—people who are of the background in China, and people who are not, and everybody in between."
Ms. DiChiera, who carefully noted the differences between Western and Eastern performances, said that Shen Yun "was like watching an opera chorus in motion."
"It's interesting to see that most of the dances are either men alone or women alone, and then there's a few that were done that had mixed men and women but mostly it was every other one—male dancers or female dancers. It was very interesting and very enjoyable," she explained.
She went on to give her impression of the orchestra, saying, "When one goes to music school, one studies ethno-musicology. I've heard these instruments, this kind of music, but it was fun to see it as well as hear it. I enjoyed watching the percussion.
"I liked the pentatonic scale that is used. It's beautiful, and it's a pleasure to hear and watch."
Accompanying Ms. DiChiera was her friend Carol, a nurse, and Carol's 8-year-old daughter, Olivia, who was adopted from China.
"It's beautiful. I love the history and I sat there thinking that we should bring a lot of the school children down to see it. I thought it was wonderful. The costumes were gorgeous. We loved the orchestra—beautiful," Carol said.
According to Carol, her daughter was mesmerized by the show and "was oohing and ahing" when watching the animated backdrops.
"The animation was fabulous, all the animation, and the orchestra," Ms. DiChiera chimed in.
"I just thought it was perfection. The height of the jumps and all together—just gorgeous. We will be back!" Carol concluded.
Flutist: Shen Yun is beyond all beyonds
Ginka Ortega, a professional flutist who is especially known for her flamenco playing, also attended the show.
"The show is spectacular, and it gave us a chance to see a China that we've never seen before or ever will see," she said.
She said the music was "fantastic!" adding, "I liked the flute very much, which is the bamboo flute, and the erhu player was amazing."
Ms. Ortega described her experience of the show as "stepping into another world but passing through the old traditions. So we were all very surprised and it is truly a magical show."
She was awe-struck by the sight of fairies descending from the backdrop to the stage in several of the dance sets.
"It was sound, it was light, it was speed of flight. We were beyond, beyond, beyond, beyond."
When she was asked to explain what she meant by the word "beyond," Ms. Ortega replied, "Each and everyone was perfect. Each step was perfect, each hand was perfect. Each, I mean, ... when I see dances from India, when I see dances from Brazil—there are so many wonderful companies—but this company is like, past the technique, the beauty, the something beyond beautiful, and I am very excited that we were here tonight.
"Everything was absolutely perfection ... The whole concept of the show is so intelligent. Everybody is spectacular. Everybody nowadays tries to be spectacular. Everything is perfect, everything is beautiful. But this show is beyond everything that I have seen."
Ms. Ortega's thought the message in the show was "very, very strong," adding, "it touches each and every one of us."
"We have seen a lot of shows from many countries, but I think the message of this show is something that we all need today. That we all have one thing in common, which is love, beauty, and freedom; to express ourselves and to say to each other, everyone, that we love each other."
She felt that the Shen Yun performers must be very special people.
"It takes special people to go through these hardships, to take that message to everyone in the world."
Ms. Ortega thought the show's message was one of hope and that this is what sets Shen Yun apart from others shows.
"What is beyond is the hope. We got the message, what the hope is ... we need this hope in this day and age, to be reminded—that hope is beautiful.
"And in this day and age when everything is so fast, when everything is so mechanical, to see this kind of beauty, for two hours, is like we are all renewed."
She noted that people in the audience were intrinsically different after seeing the show.
"We are all different. We are all more beautiful, more loving towards each other. I hope that many, many, many more people will see this show because, really, the message is that we all, at the very end, must hold hands and must believe in each other and must always look for the beautiful things in life because they're a gift and they're here, [and we're] just visitors to enjoy those moments."
Ms. Ortega continued. "I'd just like to congratulate the people who are behind the show, and I'd like to thank them for the concept of the show, and I know that it's just the beginning of a movement ... [where] all the forces in life are put all together—the forces of beauty, of hope, of love, of freedom, of expression, and so that is a message forever."
Ms. Ortega summed up the show by saying, "It is very traditional, but it is very much up to date in the way of effects."