Falun Gong Group Protests Persecution During Hu's Visit in Chicago (Photo)
January 23, 2011 | By Jing Ruyu, Minghui correspondent
(Clearwisdom.net) CCP Head Hu Jintao arrived in Chicago from Washington DC on the afternoon of January 20, 2011 for a two-day visit. Protesters of the CCP's human rights abuses waited for him again. Falun Gong practitioners held banners that read "Bring Jiang Zemin, Luo Gan, Liu Jing and Zhou Yongkang to justice", "Stop persecuting Falun Gong", "Falun Dafa is great," earnestly making their appeal.
Mr. Yang Sen, president of the US Midwest Falun Dafa Association said, "We call on all people of conscience, including the American people and President Obama, not to forget that human rights are of utmost importance. Many people are deceived by China's false appearance of economic strength and dare not to speak out about human rights. Today we would like to let the people of Chicago know that the persecution of Falun Gong is still happening and must be stopped. If we have an opportunity to meet Hu Jintao, practitioners will shout 'Stop persecuting Falun Gong! Bring Jiang Zemin, Luo Gan, Liu Jing and Zhou Yongkang to justice!'"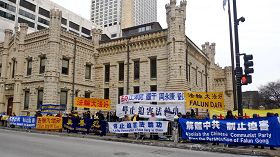 Falun Gong practitioners hold a protest near the hotel where Hu Jintao stayed, calling for an end to the persecution
Mr. Yang said, "Hu Jintao is the current head of the CCP. The persecution of Falun Gong was actually initiated by the former head Jiang Zemin in collusion with the CCP in 1999. The persecution has lasted for 11 years. Many Falun Gong practitioners are being tortured in China, and unlawfully imprisoned in brainwashing session, labor camps or prisons. They are treated inhumanely."
Mr. Yang continued, "Human rights are universal values. Every citizen should have freedom of belief, speech, and assembly. Falun Gong practitioners have their own jobs. They believe in Truth-Compassion-Forbearance and strive to be better people. They have done nothing wrong. In America, we can hold banners on Michigan Avenue and tell anyone, 'Falun Dafa is great.' But in China, if you so much as make a movement resembling the meditative Falun Gong exercises on Tiananmen Square, you will be arrested and even tortured."
Former associate professor of Tsinghua University, practitioner Xu Yin, also spoke at the rally and called for an end to the brutal persecution.