Shen Yun Impresses Audience in Honolulu, Hawaii
(Clearwisdom.net) Shen Yun Performing Arts impressed members of the entertainment industry and other professionals in Honolulu with three performances at Blaisdell Concert Hall on January 15 and 16, 2011.
TV Producer Says Shen Yun 'Most Professional' He's Seen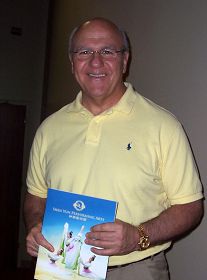 Rick Blangiardi, a TV producer, was wowed by Saturday's performance.
Rick Blangiardi, a TV producer, was among those wowed by the display of 5,000 years of China's traditional culture in Saturday's performance. Mr. Blangiardi is the General Manager of Hawaii News Now, the local NBC affiliate, one of the local sponsors of the Shen Yun show. "I loved the show," said Mr. Blangiardi. "It's absolutely stunning, it's beautiful and I feel like I'm learning an awful lot."
He noted the high quality of the production, calling it "the most professional" he's ever seen. "I think the production is excellent," he said. "I've gone to a number of things. I've lived in Hawaii a long time, and this is the best I've ever seen."
According to Mr. Blangiardi, Shen Yun's overall impact came from a variety of factors. "I think the dance, the choreography is incredible, the timing," he said. "I like the innovation; they use multimedia." The aesthetic quality of the performance and the skill level of the performers also impressed him, "The girls are absolutely beautiful, the young women. The discipline of the dance routines is incredible. It's very good, it's very well done. Beautiful!"
Mr. Blangiardi also believes that seeing Shen Yun is an important way for people to understand traditional Chinese culture. "I think anybody who sees this, since it's classical Chinese dancing, has a whole different appreciation if they've never seen this before. It's gorgeous." He said he felt "very peaceful and tranquil," after seeing Shen Yun and that it is "very soothing."
Chinese attendee: My favorite program is the one on Truth-Compassion-Forbearance
Mr. Rong is from Taiyuan, Shanxi Province. He said in an interview during intermission, "Shen Yun is wonderful. My favorite program is the one on Truth-Compassion-Forbearance ('Our Story'). It reveals the facts of current China. Such programs cannot be shown in China. Thus I like it very much."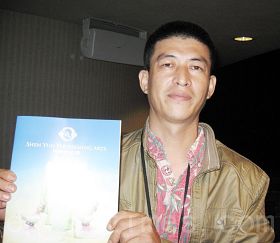 Mr. Rong said, "Next year I'll come to see Shen Yun again. I'll bring my friends and family to watch it."
Mr. Rong said, "I like the dancing programs too, especially the dancing in Mongolia ('Herding on the Grasslands'). The dancing is of a very high level and difficult."
He said, "Even though I just saw the first half of the show, I can say Shen Yun demonstrates the five-thousand-year Chinese culture, from myriad deities transcending to man's world, to the Qin and Song dynasties. I think Shen Yun shows the true history of China. Chinese people should watch Shen Yun if they want to learn about profound Chinese culture."
"My friends recommended Shen Yun to me. Many of my friends have seen it and felt very good. Thus I come to enjoy it... I wish Shen Yun could perform in China."
Audience member from Shenyang: Shen Yun promotes traditional Chinese culture
Ms. Song and her family came to watch Shen Yun for the second year. She said, "Very good! The program that impressed me the most is 'Herding on the Grasslands.' After watching it, one can feel refreshed. How wonderful to ride a horse on the vast grasslands! The choreography is really good!"
Ms. Song enjoys art, dancing and singing. She praised, "The Shen Yun singers have outstanding vocal technique."
She said, "To watch Shen Yun is to enjoy traditional Chinese culture. Shen Yun is truly unique. Chinese officials have to admit that Shen Yun is doing a great thing to promote Chinese traditional culture and have foreigners learn about China. I hope Shen Yun continues to bring us traditional programs."
Ms. Song continued, "Falun Gong is a cultivation practice of both mind and body. There is no doubt that Falun Gong is good. Shen Yun will definitely be able to perform in China in the future, because people will change their notions. I believe that day will come."
Woman from Dalian: It is necessary to watch Shen Yun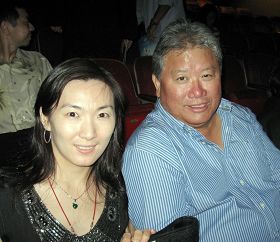 Ms. Yan and her husband. Ms. Yan said, "The dancing is splendid. I felt excited after watching it."
Ms. Yan watched the show on January 15; it was her first time. She said, "Shen Yun is wonderful, so wonderful! I had never seen a show like this in China. I am very impressed."
"I like the program 'The Monkey King Outwits Pigsy' as I knew the story when I was very young. The program that touched me most was 'Our Story,' which reveals the situation in China." She said the persecution in China is more severe than shown on stage. It is a fact.
"Shen Yun has profound connotations. The lyrics of the songs are real and call people to return to their true selves. That feeling is very good. You cannot see this in China. You can see this many times in Shen Yun."
Ms. Yan said, "It is necessary to watch Shen Yun and to expand my view."
Her husband Tim works in a government department as an accounting inspector. He said, "Shen Yun is wonderful. All the programs are very good. I have seen many shows in China. But Shen Yun is unique and very enchanting."
Airline Executive: 'We enjoyed everything'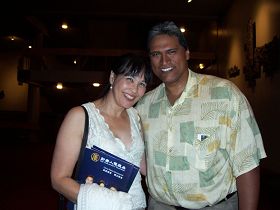 Mr. Ka'anana and his wife caught the last of the three shows at the Blaisdell Concert Hall.
Mr. Ka'anana, an executive in the airline industry, and his wife attended the last performance at Blaisdell Concert Hall. "My wife and I came in this evening, and we enjoyed it very much. This is our second time. We enjoyed everything. … The orchestra, the dancers, the singers [are] really good," Mr. Ka'anana said.
Mr. Ka'anana commented on the animated backdrops that projected behind the dancers. He said the backdrops bring people into the stage. He also said Shen Yun conveys the meaning of life, portraying it through the dancers. He and his wife both appreciated gaining a new understanding of Chinese culture from the performance. "This was an honor. It was such an honor," Mrs. Ka'anana said.
Mr. Ka'anana said he would tell his friends to see the show. "If it's not here, then someplace else in the world" where Shen Yun is performing. "It's well worth it. They need to come," his wife added.
'Lost' and 'Hawaii Five-O' Actors Praise Shen Yun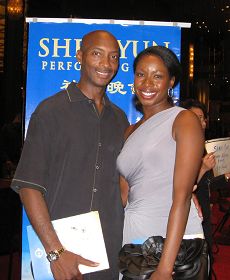 Actor Michael Wells and actress Wendy Pearson
"We loved it, we loved it, it was absolutely beautiful, absolutely beautiful," said Wendy Pearson, an actress who has appeared in two episodes of Lost.

Ms. Pearson described the show as, "quite moving... I felt chills on one of the numbers, it was so pretty."

Michael Wells, who is also an actor and says he is currently working on the TV series Hawaii Five-O, joined her and said he also enjoyed the show. "I liked all of them, I couldn't pick one that I didn't like, so it all was pretty amazing," said Mr. Wells. He added that it was obvious to him from the production that there "was a lot of work" behind the show. "We need a lot more of that here in Hawaii."

Ms. Pearson agreed with that sentiment, "The amount of effort that they put into it you can see it." She added that it's unusual to see such a performance in Hawaii and was glad Shen Yun had come. "I think it was amazing, we do not get very many [groups] of that size coming to Hawaii, and the caliber of the performers is pretty amazing, so anyone who hasn't seen the show should definitely come and see it."