Toronto Officials Praise the Cultural and Spiritual Aspects of Shen Yun (Photos)
(Clearwisdom.net) As part of its 2011 World Tour, Shen Yun Performing Arts Company staged five awe-inspiring shows at the Sony Centre (formerly known as the Hummingbird Centre) in Toronto, Canada, on January 13-16, 2011.
MPP Michael Prue sees Shen Yun as a "primer" on Chinese culture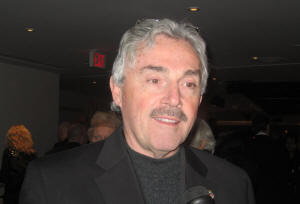 MPP Michael Prue attends Shen Yun performance for the third time
Although Michael Prue, Ontario MPP for Beaches-East York, has already seen Shen Yun three times, he still looks forward to seeing it again.
"It is unique each and every time," Mr. Prue said.
He was very impressed with the artistry and athleticism of the dancers, the beauty of the costumes, and the delightful sounds of the Shen Yun Orchestra.
"The orchestra was brilliant," he said, adding that "[Qi Qiaochun,] the woman who played the erhu, was absolutely brilliant!"
He also enjoyed the spiritual elements of the show, saying, "The spirituality of the Buddhists, some of the wiser and spiritual things of the Confucians, it was all intertwined in the former glories of China. Quite well done. That's why I come back, I like it."
Mr. Prue believes that the culture that Shen Yun presents to the world can be appreciated by both Chinese and Westerners.
"I think it's very good. Not only do traditional Chinese admire and like and probably know most of the concepts, but for the wider Canadian audience, it's a starter, it's a way to understand—it's a primer."
He likened Shen Yun's story-based dances to parables.
"Most of them are parables. They are very much like the parables taught by Christ," he noted.
"They're taught in terms of listening to a story that's funny and you can understand that there's a message behind it, and the message behind most of them is that if you're good, you will be rewarded, and if you're bad, you won't. And even if the bad wins out on earth, in the end, the good will have their day," adding, "It's a pretty simple message."
As a politician, when he met with different Chinese delegations, he raised the issue of democratic dissent in China, as well as the persecution of Falun Gong practitioners.
Mr. Prue noted that part of what Falun Gong teaches is "an old traditional Buddhist, Confucian message that was known in China for thousands of years."
"I've told visiting Chinese delegations, 'Lighten up a little. Let people say and think what they want. In the end it won't harm you and it will probably do you good,'" said Mr. Prue.
"On the day that this happens in China, China will truly be a great nation," he concluded.
Senator appreciates the rich Chinese heritage in Shen Yun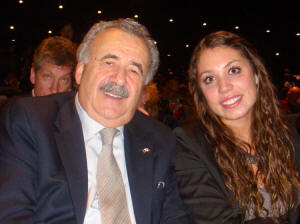 Senator Consiglio Di Nino saw Shen Yun Performing Arts with his granddaughter, Kristin Di Nino, on Friday evening at Sony Centre for the Performing Arts.
Consiglio Di Nino, a Canadian Senator, attended the show with his granddaughter, Kristin Di Nino, a dancer.
"I have seen the show three or four times now and it's always satisfying. The color, the sets, the performers, they are all a feast for the eyes," he said.
"The Chinese culture, the Chinese heritage is rich and ancient and it is truly something that we can learn something from."
Kristin also enjoyed the show, saying, "I think it's wonderful, very, very good. You can tell they perform right from the bottom of their hearts. That definitely comes across on stage," she said.
"I would agree. I think that is some wonderful dancing," said Senator Di Nino.
"I wanted my granddaughter to see it because of her own interest in dance. When it's done well, like this show, it really is a very satisfying experience. It is good for her to see this," he said.
In covering contemporary China, Shen Yun highlights the Chinese Communist regime's persecution of Falun Gong practitioners, which the Senator thought was good for his granddaughter to be aware of.
"I can't, and I think most of the world cannot, see the reasons for the persecution, and it's not a bad idea for the new generation to at least be exposed to that," he said.
"My disappointment is that the Chinese government is so repressive against so many of its people. Otherwise China will be, and should be, one of the world's great nations. And I think it will.
"The people of China, unlike the leadership, unlike the government, unlike the Communist Party, are wonderful people. We have seen this in our own country with more than a million Chinese that have come to make Canada their home and enrich this country," Senator Di Nino said.
City Councilor sees "Heavenly quality" in Shen Yun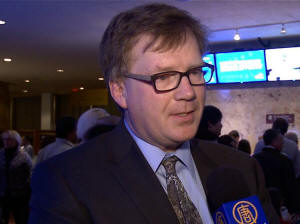 Toronto city councillor Gary Crawford at Shen Yun Performing Arts on Friday night.
Gary Crawford, who is both a Toronto City Councilor and a professional artist and musician, is very passionate about arts and culture.
"Very beautiful!" he said.
"The dancing, the choreography, the colors, the dancers, and just the movement, it's sort of this wonderful, magical feel that I'm seeing."
As an artist, Mr. Crawford especially enjoyed the colors and scenic backdrops in Shen Yun.
"The brilliant, brilliant colors seem to come alive, not only in the backdrop but also in the performance. They seem to like come out of the stage, the backdrop, it's great," he said.
"It's putting the colors together, putting the forms together. It feels almost three-dimensional and in many ways it's like you're floating. The performance seems to be floating out of the backdrops. That's where it brings that magical quality which is absolutely stunning."
Although Shen Yun was aesthetically pleasing to Mr. Crawford, he also sensed a spiritual thread connecting one performance to the next.
"It's spiritual, there's just a sense of something so beyond what we expect on a normal day. There's a heavenly quality to it," he said.
He especially enjoyed the dance set, Little Mischievous Monks, in which young Buddhist monks have a little fun of their own while the abbot is away.
"I loved the dance of the monks. There was a simplicity, and quality of just having fun, that was sort of neat. I enjoyed that," Mr. Crawford said.
He recommended Shen Yun as a must-see for everyone to learn about Chinese history and culture.
"This is something that I think everybody has to have an opportunity to see and experience ... to enjoy what the history is, a little bit of the history of China and what it really brings," concluded Mr. Crawford.