Falun Dafa Around the World: Bangalore, India – Falun Gong's Growing Popularity in India's Silicon Valley (Photos)
January 21, 2011 | By Clearwisdom correspondent Tang En
(Clearwisdom.net) Bangalore is the third largest city in India, with a population of about 6.5 million. After India's independence in 1947, Bangalore, a hub city in mid-southern India, gradually became a center of heavy industry, including aerospace research. In the past decade or so, Bangalore has attracted the attention and support of high-tech firms from around the world. It has become India's information technology center. Engineers in Bangalore account for one-third of all engineers in India. A booming town with over 10,000 companies, Bangalore is known as India's Silicon Valley. It is one of the fastest growing cities in Asia.
On May 13, 2009, a reporter from the Indian Express, a renowned media in India, made a special trip to Bangalore, which also has the highest concentration of Falun Gong practitioners, to interview practitioners. That day was World Falun Dafa Day, marking the seventeenth anniversary of Falun Gong's spread around the world. The reporter took pictures of outdoor group exercises joined by local Falun Gong practitioners.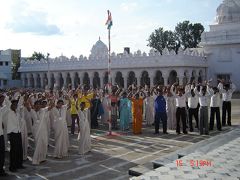 People learning the exercises of Falun Gong at a Bangalore school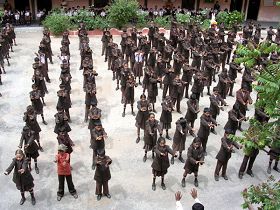 Students doing group exercises at Jyothi School in Chintamani Town, Bangalore
An Ancient Civilization Blessed by Truthfulness-Benevolence-Forbearance
India, where Sakyamuni spread the Buddha law, is known as the Country of Buddha. Indians are a down-to-earth, honest, and kind people, and it's easy for Indians to accept Falun Dafa. The India Falun Dafa Association was registered in Mumbai in September 2004 and has gained recognition by the Indian government. Since then, India, the second most populous country on earth, has been blessed by Truthfulness-Benevolence-Forbearance. People spread Falun Dafa by word of mouth and newcomers continue to join the practice.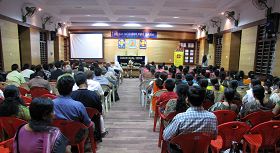 First Fa Conference in India held in Bangalore on December 26, 2009
As early as March 2003, the book Falun Gong was published in the Indian language. Falun Gong practice sites were set up in many Indian cities, including Mumbai, New Mumbai, Pune, Hyderabad, Bangalore, and New Delhi. On December 26, 2009, the first Fa Conference in India was held in Bangalore, and practitioners from various cities in India attended. Mr. Li Hongzhi, the founder of Falun Gong, sent greetings to the conference, encouraging practitioners to "study the Fa well and abundantly--and do so frequently--become true cultivators of Dafa."
Teachers and Students in Over 80 Schools Practice Falun Gong in Physical Education Classes
Falun Gong is practiced in over 80 schools in Bangalore. Students and teachers practice the Falun Gong exercises in physical education classes. Some schools have as many as over 3,000 practitioners. In Chintamani Town, not far from Bangalore, Verkey, principal of Jyothi School and a Catholic priest, spread the word to teachers and students after he experienced the miraculous healing effects of Falun Gong.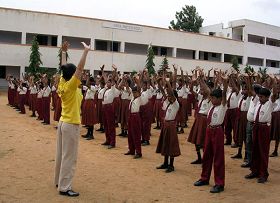 Students and teachers doing Falun Gong exercises at Vidia Jyothi School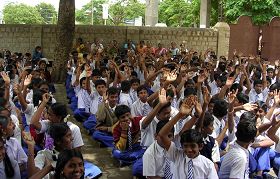 When asked whether they like Falun Gong, all the students raised their hands and replied loudly, "Yes, we do"
Teachers and students at Jyothi School found out that they physically benefited from doing Falun Gong exercises. The school made special arrangements to designate two classrooms for students to study Falun Gong, which set a precedence in India. Principal Verkey used almost his entire savings to purchase several acres of land near the school for building a facility so that practitioners can study the Fa and do the exercises. In India, where medical resources are in short supply, Falun Gong, a practice that is completely free, is no doubt a heaven-sent gift.
School Principals: Falun Gong Benefits Teachers and Students Mentally and Physically
In late November 2007, the National School Association of India celebrated its 50th anniversary. Principals of ranking private schools from all over India attended the celebration conference. Two school principals shared their experiences in promoting Falun Gong in their schools.
Principal Verkey's account of how Falun Gong became popular in his school was well received. He explained how he was experiencing health problems, and how he was amazed at the improvements after he started practicing Falun Gong. Naturally he told teachers and students about Falun Gong. After they started practicing, many students who were hard to educate made significant changes. Not only did they stop making trouble, but their grades improved as well. The uniqueness and effectiveness of Falun Gong is something he had never before seen. He was more than happy to recommend this to other principals, teachers, and students.
Over 60 Schools Interested in Teaching and Practicing Falun Gong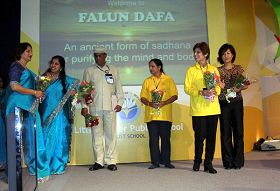 Indian National Association of Schools presents flowers to practitioners who demonstrated the Falun Gong exercises
Practitioners were invited to the conference to demonstrate the Falun Gong exercises. As the practitioners performed the five exercises with elegant, soft, and smooth movements following the appealing music, applause broke out among the audience. Principal Verkey presented flowers to the demonstrators on behalf of the conference sponsoring organization.
After the conference, representatives of over 20 schools invited practitioners to demonstrate in their schools. Later, representatives from over 60 schools, including colleges, expressed their interest in learning Falun Gong exercises and studying the Fa. The number of students in some of these schools was over 3,000.
Lunyu Listed in Textbook, an Indian Precedent
Mr. Sri Ram Reddy, principal of Byreshawara School in Bangalore, took pride in including Lunyu, the preface of the English version of the book Zhuan Falun, into the school's English textbook. Lunyu appears at the very beginning of the textbook. This set a precedent in India. There are over 2,000 students in Byreshawara School. Many teachers study the Fa and do Falun Gong exercises every day. They are active in promoting Falun Gong.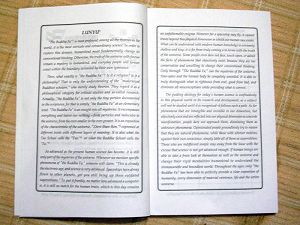 English edition of Zhuan Falun and Lunyu as Byreshawara School's textbook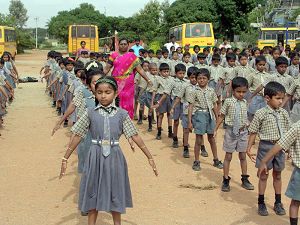 Students doing Falun Gong group exercises in Byreshawara School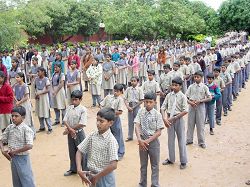 Senior high students in Byreshawara School doing Falun Gong group exercises
Akhila, a teacher at Byreshawara School, has been promoting Falun Dafa for years. Every morning, over 60 practitioners gather at the park near where she lives to do group exercises. India is known for its long history of complex religious practices, and as a result, a barrier that hinders people's acceptance of Falun Dafa lies in their reluctance to give up their previous beliefs. However, because of their down-to-earth way of thinking, many Indians have already immersed themselves in the blessings of Falun Dafa.
Falun Dafa on Remote Campuses
Sri Adichunchanagiri Mahasamsthama Moth, a religious school, is located in a remote village far away from Bangalore. It offers a full range of education from elementary school through college, and has a total of over 2,000 students. Accompanied by religious leaders, teachers have been leading students to do the Falun Gong group exercises.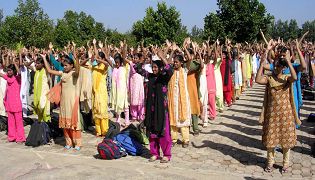 Students in Sri Adichunchanagiri Mahasamsthama Moth school learn Falun Gong
SRIK.V. English language school, with over 800 students, is over 60 miles from Bangalore. The school principal commended Falun Gong, and within three weeks of the practice being introduced, all students were participating in group exercises.

Students in SRIK.V School learning the first set of exercises – Buddha Showing a Thousand Hands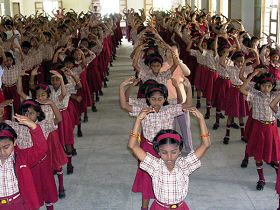 Group exercises on August 20, 2008 by students at St. Anns School, a Catholic school near Bangalore
Media Report on Falun Gong's Popularity in India
On June 29, 2001, Falun Gong was introduced in a nationwide newspaper as "benefiting mind and body." On December 30, 2001, the Deccan Herald published articles on Falun Gong, which was becoming popular.
On April 30, 2003, the Times of India reported Falun Gong under the title "Falun Gong – Peace under Persecution." It published a follow-up report a week later on Falun Gong's wide acceptance in India.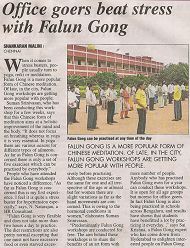 The Deccan Chronicle reported on June 13, 2007 that Falun Gong volunteer teaching classes were becoming more and more popular
On May 14, 2005, the thirteenth anniversary of Falun Gong's being taught to the public, Indian practitioners joined fellow practitioners in over 100 countries in celebrating World Falun Dafa Day. Karnataka, a reporter for one of India's national newspapers, commented in a report that despite Falun Gong's being banned by the Communist regime in China, where it originated, it has taken roots in Bangalore, where Indians embrace it for its benefits to mind and body.
December 20, 2010