Falun Dafa Around the World: Argentina (Photos)
January 13, 2011 | By Tang En
(Clearwisdom.net) The year 2010 had a significant meaning to the Argentine people. It was the 200th anniversary of Argentina's independence from Spanish colonial rule in 1810.
Argentina boasts Cerro Aconcagua, the highest mountain in the western hemisphere, and Iguazu Falls (Catarata de Iguazu), one of the natural wonders of the world.
Federal Judge in Argentina Orders the Arrests of Jiang Zemin and Luo Gan
The Argentina Federal Court reached a historic decision on December 17, 2009. Judge Octavio Araoz de Lamadrid issued arrest warrants for the former leader of the Chinese Communist Party (CCP) Jiang Zemin and Luo Gan, former head of the 610 Office, for their roles in the persecution of Falun Gong. The two high-ranking CCP officials were charged with crimes against humanity, and crimes of genocide and torture. Judge Lamadrid ordered the Interpol Department of the Federal Police of Argentina to make the arrests. Reuters immediately reported the decision, and the Washington Post and New York Times carried the story.
This historic decision was made after a four-year investigation. During this time, Falun Gong practitioners from different countries went to Argentina to testify. Non-practitioners such as Mr. Kilgour and Dr. Matas from Canada also went to Argentina to testify. The judge gathered testimony from over ten witnesses, and also included investigative reports by the United Nations and many organizations regarding Jiang and Luo's persecution of Falun Gong in his files. Of course, the persecution of Falun Gong, which had been well exposed in Argentina, also played an important role.
Falun Gong, also known as Falun Dafa, is a traditional Chinese spiritual discipline for mind and body. Its principles are based on Truthfulness-Compassion-Forbearance. The practice began in China in 1992 and quickly spread by word of mouth throughout China and then beyond. Its beneficial effects in uplifting an individual's physical health, spiritual well-being, and moral character, not to mention its positive influence in the community and society as a whole, have been undeniable. In fact, Falun Gong has been practiced by over 100 million people in some 100 countries. The main published works of Falun Gong are available in over 30 languages.
Falun Dafa Association Founded in Argentina; Spanish version of Zhuan Falun published
The Falun Dafa Association (Asociacion Civil Estudio de Falun Dafa) in Argentina was officially registered on April 16, 2002.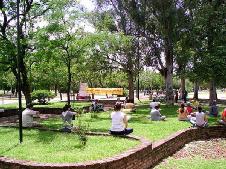 The practice site in Cordoba, Argentina
Argentinean practitioners send forth righteous thoughts in the city of La Plata
5,000 copies of the Spanish-language version of Zhuan Falun were quickly sold out after its initial launch in Argentina in 2004. Spanish-language Falun Gong went into print the next year. Argentinean publishers supplied copies of Zhuan Falun to major bookstores in Spain, Chile, Uruguay, and Mexico.
First Experience Sharing Conference in Argentina and South America
The first nationwide Falun Dafa Experience Sharing Conference in Argentina took place in Buenos Aires on May 4, 2003.
Argentinean practitioners held their first nationwide Falun Dafa Experience Sharing Conference in Buenos Aires on May 4, 2003. Attendees from Tucuman, Cordoba, Santiago Estero, Catamarca, and Formosa traveled long distances by taking 13-hour overnight bus rides. Practitioners from Chile also attended the conference.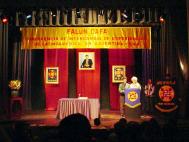 The Latin America Falun Dafa Experience Sharing Conference was held at the First Civic Center in Argentina's capital, Buenos Aires, on March 7, 2004.
The Latin America Falun Dafa Experience Sharing Conference was held at the First Civic Center in Argentina's capital, Buenos Aires, on March 7, 2004. Practitioners from Argentina, Brazil, Peru, Chile, Venezuela, Santo Domingo, and Mexico, as well as Spain, Canada, France, the U.S., and Germany, were among those who attended the conference. Master Li Hongzhi sent a greeting to the conference on March 3, 2004 in which he encouraged Latin American practitioners to share experiences, learn from each other, cultivate diligently, and do well with the three things that Dafa disciples should do.
Introducing Falun Dafa at a Book Fair
The 13th Argentina International Book Fair was held in the largest exhibit hall in Buenos Aires from April 16 to May 9, 2004, and Falun Gong practitioners participated for the first time. The book fair lasted more than three weeks. About 400 major publishers and booksellers from all over the world were present. Each country had its own exhibition booth. Mayors from different cities, members of Congress, and ambassadors from different countries attended the opening ceremony. The President of Argentina also made an appearance. About 1.3 million people visited the book fair over the course of the event. Sometimes the line outside the hall meandered around five blocks.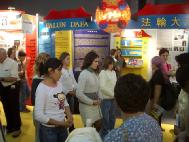 Members of the public learned Falun Gong exercises
Falun Gong practitioners demonstrated the exercises, which was very well received. Thus, participating in the Book Fair to spread Falun Dafa became a tradition for Argentinean practitioners. There was an annual book fair in Cordoba City on September 6, 2004. The fair sponsor specifically invited Argentina practitioners to clarify the truth about Falun Gong and expose the persecution during that book fair.
Clarifying the Truth and Exposing the Persecution
The Chinese Communist Party began persecuting Falun Gong on July 20, 1999. More than 3,300 practitioners have died as a result of persecution, and hundreds of thousands have been sent to prisons and labor camps; thousands taken to mental hospitals and given psychotropic drugs; many others sent to brainwashing facilities or now living away from home. The Party also systematically harvested organs from living Falun Gong practitioners.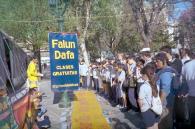 People learn about the persecution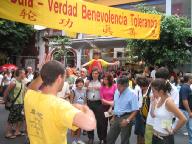 Steady flow of people at the Falun Dafa booth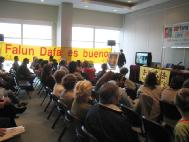 Learning about the persecution
The Falun Dafa booth was among the most popular at every annual book fair. Gathering in front of the Falun Dafa booth, people read Falun Gong books and truth-clarifying materials. After finding out that practitioners are brutally persecuted because of their belief, many people condemn the CCP. Quite a number of people remarked that they learned about the persecution from a top-rated TV program that told about the persecution in China.