Germany: Falun Gong Practitioners Protest Persecution during Li Keqiang's Visit (Photos)
(Clearwisdom.net) Li Keqiang, the Executive Vice-Premier of China, visited Berlin and Munich, Germany, on January 7 and 8. Falun Gong practitioners from Germany held activities in front of the Chinese embassy and the state government offices of Bavaria, protesting the persecution and calling upon the German government to pay to attention to the human right violations in China.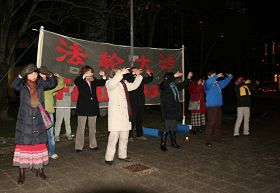 Group exercises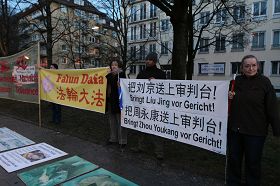 Calling upon the German government and people to pay attention to the persecution of Falun Gong
Practitioners held banners which read "Truthfulness-Compassion-Forbearance" and "Bring Jiang Zemin, Luo Gan, Liu Jing, and Zhou Yongkang to Justice." Many local citizens talked to the practitioners. Some of them accepted truth-clarifying materials and signed the petition calling on the German government to help stop the persecution. A gentleman said that the Chinese Communist Party is worse than the Nazis were.
Mr. Chen, the organizer of the activity, said, "'Bring Jiang, Luo, Liu, and Zhou to justice' is the message that we try to pass on to the Chinese government officials in Li Keqiang's group. We want the murderers who have been involved in the persecution to know that we will track them down no matter how long it takes."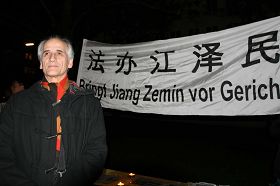 Mr. Jurgen Thierack, the head of the Munich branch of an international human rights organization
Mr. Jurgen Thierack, the head of the Munich branch of an international human rights organization, has been concerned about the human rights situation in China. He said that his organization wants to know if, besides purely business affairs, the German government raises the issue of human rights during their meetings with their Chinese guests. Mr. Thierack said that it is important that non-governmental human rights organization call frequent attention to the human rights violations in China.
He said that from the United Nations' reports people can see that the Chinese government hasn't made significant improvements in human rights.