Falun Dafa Around the World: Toronto, Canada (Photos)
(Clearwisdom.net) Toronto is the largest city in Canada, the capital of the province of Ontario, and also the nation's industrial and business capital. Its population is over 2.5 million, with over 5.5 million in the Greater Toronto Area, and it is the seventh largest city in North America.
The first Falun Dafa workshop in Toronto took place in 1995. Since then, the practice has spread quickly in the city and suburban areas. Today, Toronto is the city with largest Falun Dafa practitioner group in Canada. In the past 15 years, the practitioners have been to almost every corner of the Greater Toronto Area, and their service and contribution to the community has received recognition.
On May 18, 2002, the fifth Canada Falun Dafa Experience Sharing Conference was held in the Toronto Sheraton Hotel and received over 10 proclamations and congratulatory letters from federal and local governments.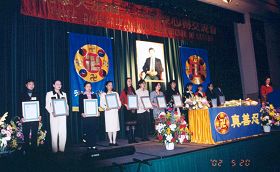 Recognition from Canadian federal and local governments
On the afternoon of May 19, 2002, about 1,500 practitioners from 15 countries held a grand parade to celebrate the tenth anniversary of Falun Dafa's introduction to the public. The parade traveled along University Avenue and then marched through Toronto's Chinatown.

Practitioners pose for group photos after the parade in front of provincial parliament building
On May 27, 2006, over 2,000 Falun Gong practitioners from around the world gathered on Dundas Square in downtown Toronto to participate in a rally and grand parade to celebrate the 14th anniversary of Falun Dafa's public introduction. Besides praising the grace of Falun Dafa, the practitioners called on people to help stop the Chinese Communist Party (CCP)'s persecution of Falun Gong.
Stephen Harper, Prime Minister of Canada; Jack Layton, leader of the New Democratic Party of Canada; Peter Julian, Member of Parliament; and other officials sent congratulatory letters for World Falun Dafa Day and Falun Dafa Month in May.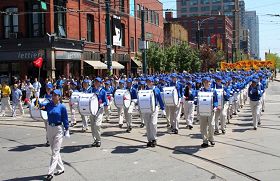 The Divine Land Marching Band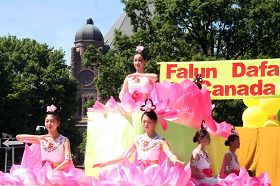 Practitioners demonstrate the exercises on a float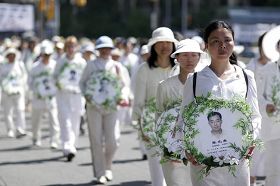 Commemorating practitioners tortured to death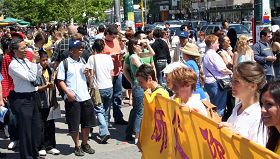 Passersby stop to watch the parade
During the 2008 World Falun Dafa Day and Canadian Falun Dafa Month, Prime Minister Harper and a number of elected officials wrote congratulatory letters to the Canadian Falun Dafa Association to recognize the practitioners' contributions to society.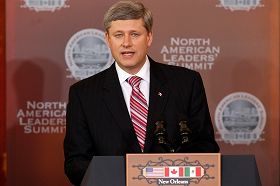 Canadian Prime Minister Steven Harper(Getty images)
On the morning of May 13, 2009, Falun Gong practitioners held a grand rally and parade in front of Ontario's Provincial Government building at Queen's Park. It was World Falun Dafa Day, the 17th anniversary of Falun Dafa's public introduction, and the birthday of Falun Gong's founder, Master Li Hongzhi.
Mr. Michael Walker, a member of the Toronto City Council, attended the rally. He said his feelings were a little complex, noting that, on the one hand, the rally was to celebrate the 17th anniversary of Falun Dafa's public introduction, while in China, Falun Gong practitioners' rights are trampled at will. Practitioners are unlawfully arrested, tortured, forced to do hard labor, and even end up missing. The CCP defames Falun Gong using its propaganda machine.
As a Toronto City Council member, Mr. Walker said he felt fortunate to be able to help practitioners reclaim their freedoms and rights.
On May 13, 2010, Falun Gong practitioners and supporters in Toronto held a rally on Nathan Phillips Square. The day's activities included group practice of the Falun Gong exercises, performances and speeches from local practitioners and dignitaries. Some elected officials also attended the celebration to recognize Falun Dafa and express their support.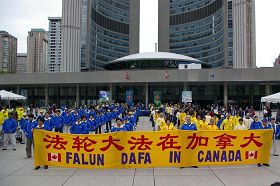 Group practice on Nathan Phillips Square on May 13, 2010, celebrating the eighteenth anniversary of Falun Dafa's public introduction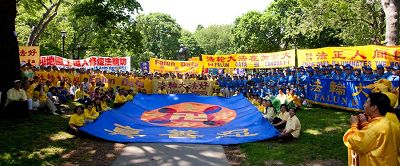 Mr. Joe Oliver, former chairman of the Canadian Financial Services Board and Federal Conservative Party candidate for the Eglinton-Lawrence District, said he was happy to participate in the celebration of World Falun Dafa Day. He read out Prime Minister Harper's letter of congratulations for Falun Dafa Month.
During the celebration, several new practitioners shared their experiences with Falun Dafa:
Ms. Xiaozhen Hu, who has practiced Falun Dafa for 7 months, said: "I am very new, and this is my first time participating in the Falun Dafa Day celebration. I feel so grateful as Falun Dafa and Master Li have cleansed my body and spirit and given me a new life."
David is a doctor and he met a practitioner in the Tokyo airport one year before on a business trip. "The practitioner introduced Falun Dafa to me. On my return to Toronto, I bought Zhuan Falun and started to practice Falun Dafa… I felt I was surrounded by great energy during the group practice today. I was lost before. However, after I read Zhuan Falun, I found the meaning of life. I think I was waiting for the practice for a long time."
Mr. Huang had lymphoma. He started to practice Falun Dafa one year before. He said that he was touched by the teachings of Falun Dafa and thus started to practice. About six months later, his cancer disappeared.