New York City: Falun Gong Chinatown Rally Inspires Spectators (Photos)
(Clearwisdom.net) On the morning of September 4, 2010, over 2000 Falun Gong practitioners from all over the world rallied at Roosevelt Park in Chinatown after a large group practice. The rally was followed by a grand march. Many local residents and tourists expressed their support for Falun Gong.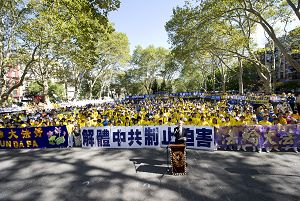 Rally in Manhattan's Chinatown on September 4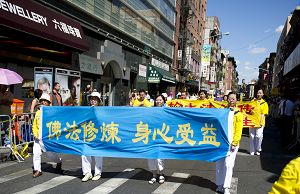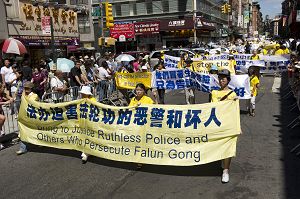 Grand March in Chinatown to call for an end to the persecution
At the rally, a young lady held a portrait of her mother who was arrested by the Chinese Communist regime. Ms. Zhaoyu Jin, daughter of Chinese practitioner Zhenping Chen, is now a resident of Finland.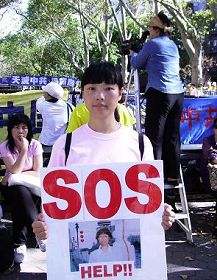 Jin said: "My mom raised me and my sister alone. She was introduced to Falun Dafa when she was at stage IV of liver cancer. Miraculously, she soon regained her health and also became a calmer person. Falun Gong brought new life to our family. After the persecution started in 1999, because she refused to give up Falun Gong and continued clarifying the truth, my mom was arrested and detained many times and subjected to both physical and mental torture. Before the 2008 Beijing Olympics, my mom was arrested again and sentenced to 8 years in prison. Since last November, I have not heard from her. I have become increasingly concerned after reading reports on how they often inject various drugs into arrested practitioners that can damage their nervous system. "I am very worried," she said as tears rolled down her face.
"My home was ransacked many times, and my little sister was arrested with my mom when she was just 10 years old. She was later expelled from school. All these things deeply traumatized her. My husband is a Finn, and we have appealed to the Finish government many times for my mom. Accordingly, the Finish government has demanded the Chinese Communist regime many times to release her. However, she is still in custody, and the regime has escalated its persecution against our family. Last month, the home of friend of mine, Mr. Zhu Baoben, was ransacked. He recently helped me to sell our real estate in China. The National SecurityBureau took away the proceeds and arrested him."
"This is my first trip to the US from Europe. I am here to attend the New York Fa Conference, and to call for support to end the persecution and rescue my mother. I will not be silenced by the communist regime, and I will persist until the persecution ends."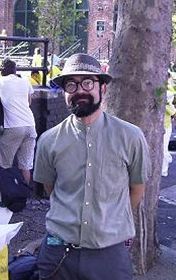 Jason Eisner is a painter and stage artist. On weekdays, he eats breakfast at Roosevelt Park and thus is used to the morning crowd and festival atmosphere. However, the Falun Gong group practice moved him:
"I am surprised. Of course, this is a pleasant surprise. These people, old and young and of all ethnicities, brought me a positive and serene feeling. They came together and brought a wonderful atmosphere of peace and beauty. It is amazing and very touching."
Eisner has seen practitioners' activities before. As a strong supporter of human rights, he clearly stated his position: "I cannot imagine any excuse to suppress such a peaceful, apolitical group. Who can disagree with the Truthfulness-Compassion-Forbearance principle? I can only say that any regime which persecutes Falun Gong is ridiculous!
Eisner said that he was very touched by the practitioners unyielding spirit. "They demonstrate the grandeur of faith and I am very touched. I am 100% with them."
Patrick and Robert came from Montreal for sightseeing. On September 4, they rented bikes to pedal in the Big Apple. When passing by Roosevelt Park, they were attracted by the Falun Gong exercise music and touched by the peaceful exercise scene.
Robert said: "I have never seen such a scene, it's very peaceful and relaxing." When they were told that they can find Falun Gong practice sites in Montreal, the two were very excited.
A young Chinese man watched the rally and parade attentively. He told the reporter that his surname is Liu and he came to the US in 1998. He said that he came from Michigan this time just for this event.
"I cannot say exactly why I had to come. This is probably a spiritual calling. Seeing so many people meditate and appeal for their belief, I just feel this scene is so sacred."
Liu said that he left his homeland as people have no freedom of belief or free will in China. He proudly withdrew from the Chinese Communist Party and its affiliated organizations. He also took a copy of the Nine Commentaries on the Communist Party and a set of Falun Gong informational materials.
"I will study them," he said.