Pingtung, Taiwan: Falun Gong Practitioner Invited to Teach "Ethics and Health" Seminar (Photos)
September 04, 2010 | By Hsiu-e
(Clearwisdom.net) On the morning of August 29, 2010, a workshop was held on the seventh floor of the Welfare Center for the Disabled, Department of Public Affairs, Pingtung County. Doctor Wang Yuan-fu, who has a doctoral degree in Chinese Medicine and is also a Falun Gong practitioner, was invited to give a seminar on "Ethics and Health". About 200 people, including members of the Lion's Clubs of Kaohsiung and Pingtung, attended the seminar.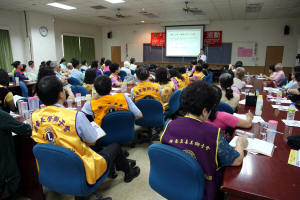 About 200 people attended the seminar "Ethics and Health".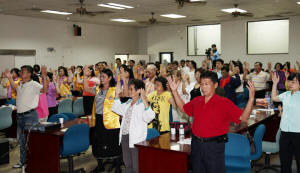 Learning the Falun Gong exercises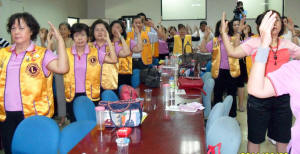 Learning the Falun Gong exercises
Ms. Hsie Hsiu-hsiang, Director of the Pingtung Lion's Club, said, "I did not understand Falun Gong before. Some members of the Lion's Club were even afraid due to misunderstandings, even though some good friends had practiced Falun Gong for ten years. Dr. Wang presented his own experience and medical principles of Chinese and Western medicine. We now understand what Falun Gong is. Some members of our club said, 'Why not hold the event on a larger scale? I should have invited more friends and relatives to attend the seminar. It is a pity!'"
Dr. Wang mentioned that several of his classmates at Tainan High School and Chung Shan Medical University died of cancer in their prime of life. Though current medical science is progressing rapidly, modern people still face three major illnesses: cancer, cardiovascular and cerebro-vascular diseases, and influenza. There are even more diseases without proper names, collectively known as "modern illnesses", threatening people today.
Dr. Wang shared that after he was a doctor for 25 years, to change a life of treating patients every day, he went to Canada with the intention to study towards becoming an M.D. He got a chance to learn Falun Gong and understand many supernormal phenomena, which gave him the inspiration to learn Chinese medicine. He said the Falun Gong book Zhuan Falun was a key for him to get a Chinese Medicine doctorate degree in a short time.
Practicing Falun Dafa, he pays attention to ethics and gets rid of selfish thinking. Thus Dr. Wang likes participating in events benefiting the public. After seeing patients, he conducts seminars to introduce the practice that does not require money or medicine for better health.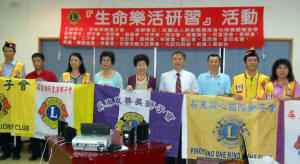 Group photo of Ms. Hsie Hsiu-hsiang (first from right), Director of Pingtung Lion's Club, members of the Lion's Club and Dr. Wang (fourth from right)
The audience enjoyed Dr. Wang's two-hour talk. He and Principal Yang Chiu-nan of the Saichia Primary School of Pingtung County presented Zhuan Falun and other books to the Pingtung Lion's Club with the hope that everyone would learn Falun Gong for better health and a more harmonious society. Ms. Hsie presented an appreciation letter to Dr. Wang and hoped more people could benefit from such an event.