Taiwan: Protests Meet Visiting CCP Official Yang Song Everywhere He Goes (Photos)
(Clearwisdom.net) On September 26, Yang Song, the head of the provincial 610 Office in Hubei, China, who is visiting Taiwan, left Hualian for Taipei. Yang Song is one of many CCP officials involved in the persecution of Falun Gong in China. Falun Gong practitioners from Yilan, Taiwan, gathered at the exits of the highway from Hualian to Taipei holding banners and display boards which read "Stop the persecution" and "Falun Dafa is good". Practitioners also set up speakers, broadcasting the facts of the persecution for all passersby to hear.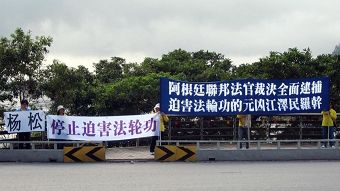 Banner reading "Yang Song, stop persecuting Falun Gong."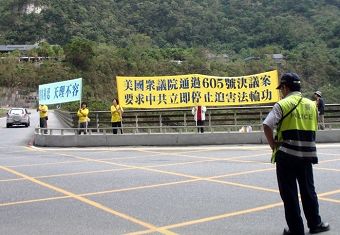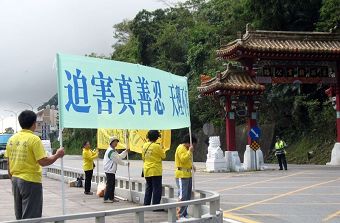 Yang Song traveled from Hualian, Tailuge, to Yilan, and practitioners held a series of protests all along the way. They also followed Yang Song's motorcade and in a car set up with a public address system, and called out "Yang Song, you are being sued. You have violated the human rights. Stop persecuting Falun Gong."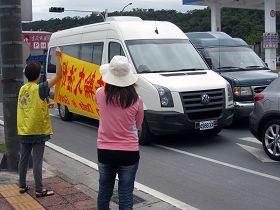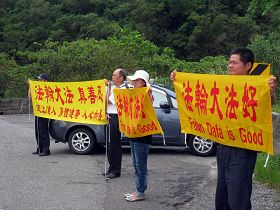 Falun Gong practitioners hold banners on the highway that Yang Song takes from Hualian to Taipei.
Yang Song arrived in Taiwan on September 20. Falun Gong practitioners filed a lawsuit against him right away. Since then, wherever he goes, he sees practitioners protesting his role in the persecution.
On his way from Hualian to Taipei, he encountered many protests, so he canceled visits to several popular tourist spots to avoid confrontation and embarrassment.
Yang Song is head of the 610 Office in Hubei Province, one of the provinces that most severely persecutes Falun Gong. At least 166 Falun Gong practitioners have been tortured to death in Hubei Province. The 610 Office is responsible to systematically direct the persecution nationwide, similar to the Gestapo in Nazi Germany. The World Organization to Investigate the Persecution of Falun Gong (WOIPFG) stated that Yang Song should be condemned and brought to justice anywhere he visits.