The Eighth Austria Fa Conference Held in Vienna (Photos)
September 29, 2010 | By Zheng Qingwei in Vienna
(Clearwisdom.net) The Eighth Austria Falun Dafa Cultivation Experience Sharing Conference was held on September 26, 2010, at the Yamaha Music School in Vienna. More than a dozen practitioners shared their cultivation experiences. Attendees said that the conference enlightened them and helped them discover their shortcomings in their own cultivation and make up their minds to catch up.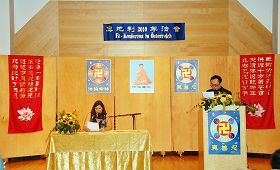 A practitioner shares her cultivation experiences at the Eighth Austria Fa Conference.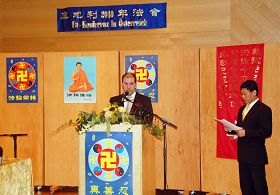 A practitioner shares his cultivation experiences.
A Chinese practitioner talked about her experiences doing translation for a website. Shortly after she started practicing Falun Gong, she began doing translation work. She gradually understood what cultivation is and how to cultivate as a result of translating articles on practitioners' cultivation experiences. She felt the severity of the persecution and the urgency through translating articles on the persecution of practitioners in China. Translating articles on the widespread dissemination of Dafa made her feel proud to be a Dafa disciple. She later became a coordinator on the translation team, overcame her attachment to comfort, and did better in coordination work.
Another Chinese practitioner who recently came to a foreign country in the West shared his joy in rejoining the mighty current of the Fa-rectification and his experience of overcoming his fear to make phone calls to Chinese people to tell them the facts about Falun Gong and the persecution and exhort them to quit the Chinese Communist Party and its affiliated organizations. He also introduces Shen Yun Performing Arts to Chinese students outside of China. He is determined to compensate for the time he has missed in the past years.
A Western practitioner discussed coordinating the media work to promote Shen Yun, how she looked within when others criticized her, and how she found out that she sometimes attached more importance to her personal things, compared to doing Dafa work. She also learned to be considerate of others.
Another Western practitioner shared that she once had a poor cultivation state. By exchanging understandings with other practitioners in a Fa-study group, she found out that she had been too attached to her family life, her children, and her practitioner husband for many years. She is determined to turn her family into a pure land and treat her husband as a cultivator.
A Western practitioner told of how she suddenly had doubts in her belief in Master and the Fa after having practiced cultivation for eight years. Through constant Fa study and looking within, she detected her attachment to living a comfortable life amidst her cultivation. She understands that Master has always given every practitioner opportunities, but the end of cultivation will come. She feels the urgency of the present time.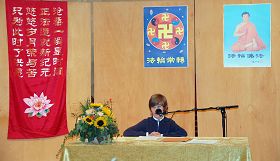 A ten-year-old practitioner shares his cultivation experience
A ten-year-old practitioner talked about his experience of mutual encouragement and improvement with his practitioner mother. He also shared how he introduced Falun Dafa to his schoolteachers and classmates and his experience of participating in a young practitioners' group Fa-study and doing the exercises. He said he felt Master's compassion as a result of his survival of a skiing accident. His non-practitioner father was surprised after the accident and said, "If God exists, then He helped you today."
Some new practitioners shared their joy at obtaining the Fa, and how they have gradually come to understand Falun Gong.
The atmosphere at the Fa conference gave everyone present a feeling of peace and harmony.