Mr. Lv Xinshu, an Elementary Schoolteacher, and Mr. Wang Hongbin Both Die As a Result of Torture (Photo)
September 24, 2010 | By a Clearwisdom correspondent in Hebei Province, China
(Clearwisdom.net) Mr. Lv Xinshu, 59, a teacher who was employed at Tatan Elementary School, Suncun Township, Shijiazhuang City, Hebei Province, passed away at 3:00 a.m. on May 23, 2009.
Mr. Lv Xinshu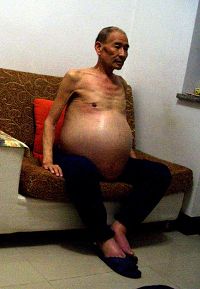 Mr. Lv Xinshu was tortured at Heibei Province No. 1 Prison, also called Baoding Prison. The torture caused liver ascites, which is an advanced stage of liver damage because fluid collects in the lungs
Mr. Lv Xinshu Sentenced to an Eight-Year Prison Term
At 2:00 p.m. on December 5, 2000, officials from Shijiazhuang City Police Bureau and police officers from the Sucun Township Police Station apprehended Mr. Lv at Tatan Elementary School. The same day they ransacked his home and took him to the Shuanghuan Hotel in Shijiazhuang City.
Police officers forged "evidence" to try to make Mr. Lv admit guilt during interrogation on December 6, 2000. Mr. Lv didn't admit to anything, even after brutal beatings. They knocked out several of his teeth trying to extort a confession. In the end, they took him to the Shijiazhuang City No. 2 Detention Center. One side of his face and his eyes were black and swollen from the beatings.
One year and four months later, Mr. Lv was sentenced to an eight-year prison term. On April 11, 2002, he was transferred to the Luquan Prison. On April 13, he was transferred to Hebei Province No. 1 Prison in Baoding where he was forced to watch videos defaming Falun Dafa in the Education Building.
In the prison, guards ordered about seven prisoners, who were in the prison on murder charges, to monitor Mr. Lv. They prevented him from studying the Fa and practicing the Falun Gong exercises. He was tortured physically and mentally. He displayed severe symptoms of liver ascites, was emaciated, and his feet were swollen. He was so ill that he couldn't even eat. Due to the liver ascites, his belly extended quite a bit. He couldn't lie down and sat through many sleepless nights.
On July 19, 2008, the guards didn't want to be held responsible for his death, so they released him. His family immediately took him to the emergency hospital, but it was too late. On May 23, 2009, Mr. Lv Xinshu passed away.
In Desperation, Mr. Lv's Wife, Ms. Sun Xiangju, Jumped Off a Building
On January 16, 2010, officers from the Suncun Township Police Station went to Ms. Sun Xiangju's home and harassed her. They wanted to arrest her, so she didn't open the door. The police kept close watch outside her home for an entire day. On the afternoon of January 17, they pounded on her door. To escape, she jumped off the building from the fifth floor and fractured a bone. She no longer could take care of herself.
Further information about Ms. Sun Xiangju available at:
http://www.clearwisdom.net/emh/articles/2001/2/3/4842.html
http://www.clearwisdom.net/emh/articles/2001/1/31/4911.html
Mr. Wang Hongbin Tortured to Death
On December 5, 2000, police apprehended practitioner Mr. Wang Hongbin, 39, at home. They took him to the Dongdajie Police Station. When they interrogated him, they used a forged confession attributed to Mr. Lv, which charged him with accepting three DVDs that contained facts about Falun Gong. Mr. Wang denied the allegations, so the police beat him brutally. While he was being tortured, Mr. Wang heard Mr. Lv Xinshu crying out in the adjacent room. Mr. Wang Hongbin was tortured to death on October 9, 2003.
Further information about Mr. Wang Hongbin available at: http://www.clearwisdom.net/emh/articles/2005/8/14/63919.html